Foreign Minister Bui Thanh Son attended the funeral of Queen Elizabeth II
Hundreds of local and foreign royals and global leader are set to attend the funeral of Queen Elizabeth II held by the British royal family at Westminster Abbey at 11am on September 19 (17:00 Hanoi time).
Foreign Minister Bui Thanh Son, under the delegation of President Nguyen Xuan Phuc, will attend the funeral of Queen Elizabeth II in London, the UK, on September 19, according to the Foreign Ministry.
Earlier, on September 10, Foreign Minister Bui Thanh Son went to the home of the Ambassador of the United Kingdom of Great Britain and Northern Ireland to Vietnam to write down a book of mourning and offer condolences on the passing of Queen Elizabeth II.
Minister Bui Thanh Son recorded mourning for Queen Elizabeth II; emphasized the respect for the good feelings and support of the Queen for the promotion of cooperation relations between Vietnam and the UK. The Minister sends his deepest condolences to the royal family, the government and the entire British people.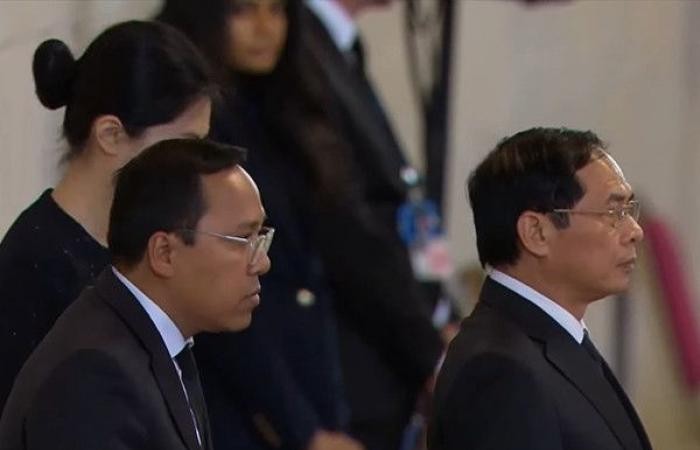 Minister Bui Thanh Son and Vietnamese Ambassador to the UK Nguyen Hoang Long visit Queen Elizabeth II at Westminster Palace in London on September 18. Screenshot Skynews.
The world dignitaries were invited to Queen Elizabeth's funeral
Queen Elizabeth II died on September 8, at the age of 96, after more than 70 years of reign. The series of events during the Queen's national funeral, one of the biggest diplomatic gatherings in decades, took place over 10 days, ending with a funeral at Westminster Abbey in London on September 19.
Westminster Abbey has space for around 2,000 people, and around 500 heads of state and foreign dignitaries and their partners are expected, according to BBC and Sky News reports.
Attending Britain's first state funeral in six decades will be the queen's family members, courtiers, public figures and UK politicians.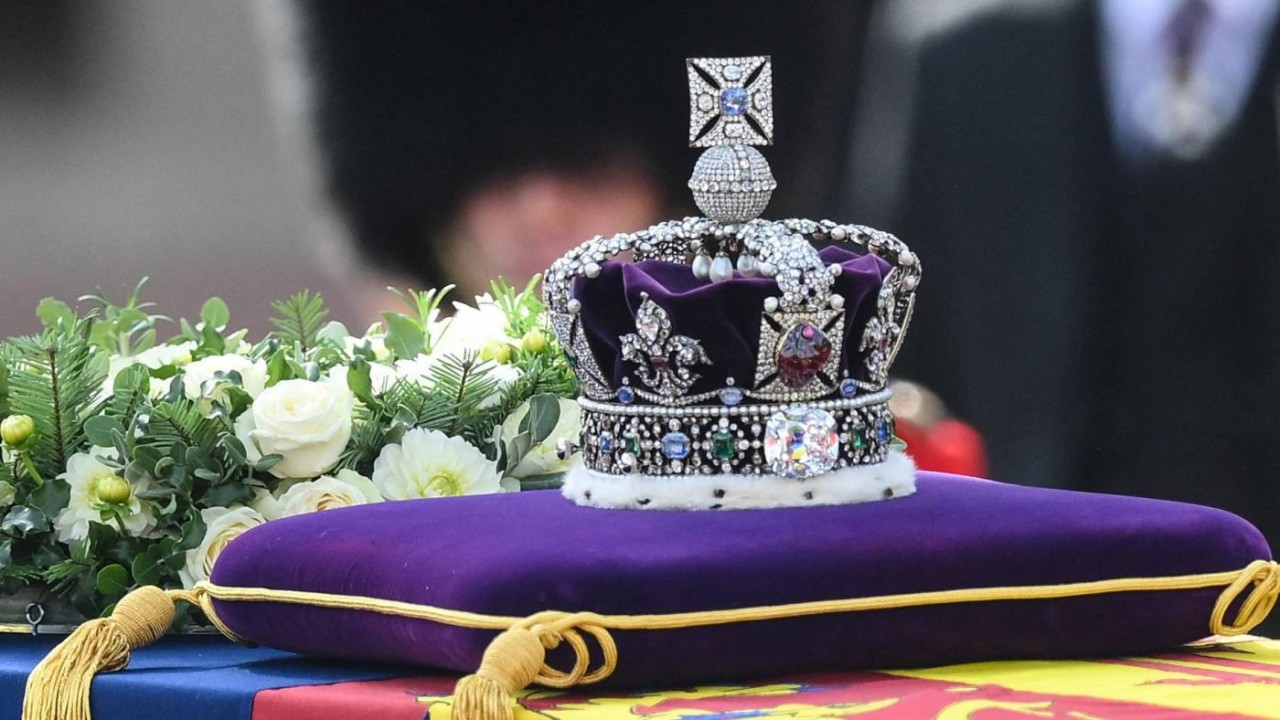 The coffin of Queen Elizabeth II, adorned with a Royal Standard and the Imperial State Crown at the Palace of Westminster in London, 14 September 2022 (AFP)
A host of royals from Europe and further afield have confirmed their attendance at the funeral for Britain's longest-serving monarch.
Japan's Emperor Naruhito and Empress Masako will attend — their first overseas trip since assuming the throne in 2019. The visit marks a departure from Japanese tradition, which rarely sees the emperor attend funerals. King Harald V of Norway, Prince Albert II of Monaco, Dutch King Willem-Alexander, Sweden's King Carl XVI Gustaf, and Philippe, King of the Belgians will all attend.
Denmark's Queen Margrethe II, who scrapped a series of events marking her 50th jubilee following the death of her third cousin, Queen Elizabeth, is also coming.
Spain's King Felipe VI will be there with his wife Queen Letizia. So too will his father, former king Juan Carlos I, reported by The Times of Israel.
US President Joe Biden and his wife Jill head the diplomatic guest list and flew into Britain late on Saturday, also paying their respects in front of the coffin on Sunday. Authoritarian presidents Recep Tayyip Erdogan of Turkey and Jair Bolsonaro of Brazil are also coming.
French President Emmanuel Macron will attend, Numerous leaders will come from countries where Queen Elizabeth was the head of state.
Despite Britain's Brexit divorce from the European Union, European Commission President Ursula von der Leyen and European Council head Charles Michel will go as well.
China will send its vice-president, Wang Qishan, at the UK government's invitation. Russia and Belarus are among a small group of nations excluded altogether following Moscow's invasion of Ukraine. The UK also opted to invite ambassadors from several countries — Iran, Nicaragua, and North Korea due to complicated bilateral relations.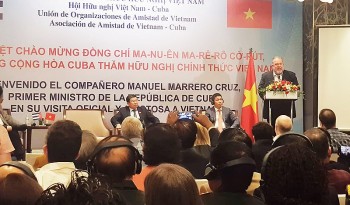 Friendship
Cuban Prime Minister Manuel Marrero Cruz met representatives from the Vietnam-Cuba Friendship Association in Hanoi on September 30, as part of his visit to Vietnam from September 28 to October 2.