The Travel: Sapa And Can Tho Are Among Most Attractive Fall Destinations
Canadian travel website "The Travel" has suggested 10 new attractive destinations to enjoy the autumn colors for tourists, including Sa Pa and Can Tho.
Fall is a wonderful transition time for weather, nature, and plants. Not only covered by beautiful autumn colors, the autumn also holds many unique cultural festivals.
Sapa
Going around the S-shaped strip of land, perhaps nowhere has a brilliant and unique autumn like Sapa - a small land lying completely in the heart of the majestic Hoang Lien Son range.
Sa Pa is one of the tourist destinations with the most beautiful natural scenery in the Northern mountainous region. Coming to Sa Pa, visitors can completely feel that this place is magical when every season Sa Pa puts on a new colorful, and poetic shirt. Especially in the autumn, visitors will surely be conquered by the majestic and dreamy beauty of Fansipan Mountain even when the sun shines brightly or the clouds cover it. Muong Hoa Valley is filled with the yellow color of ripe rice flowers that are being harvested or simple houses peeking out behind the vast terraced fields, somewhere a hazy smoke runs out from a house on stilts, the scenery so warm. Take a deep breath to feel the aroma of rice, the taste of the mountains, walking by the fields, and a feeling of relaxation and peace.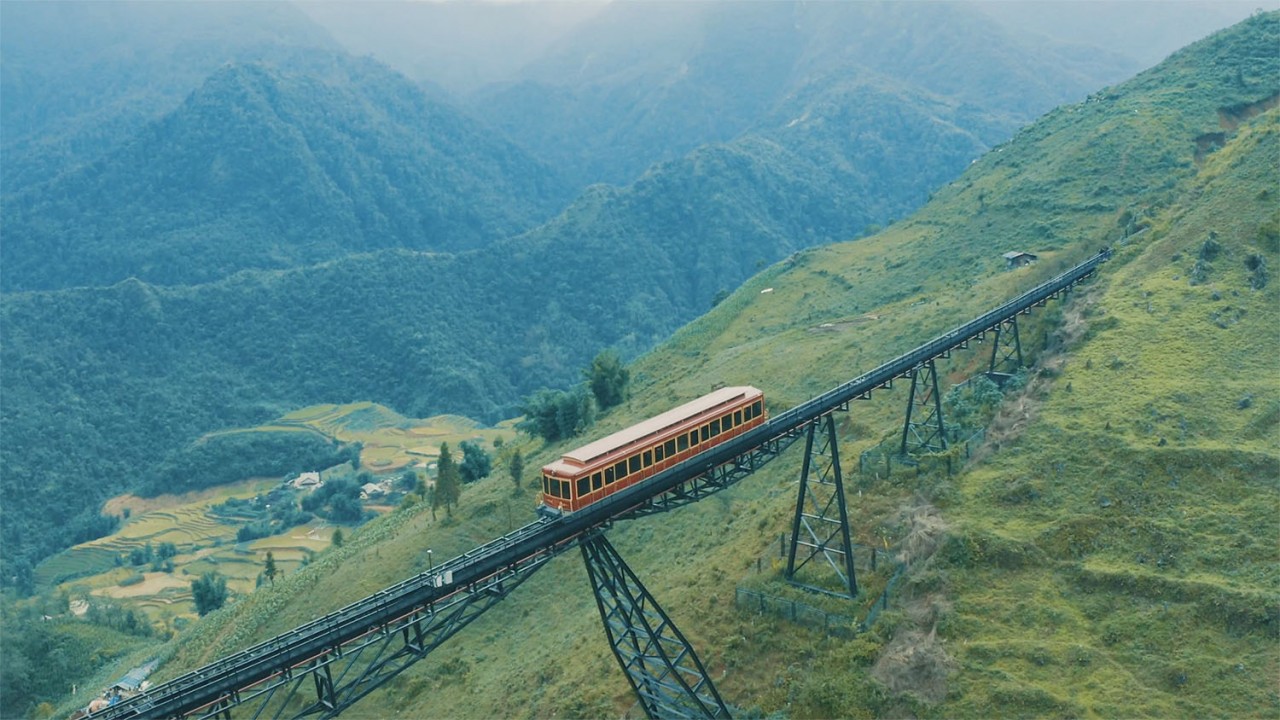 Photo: Vietnamnomad
Autumn is also the blooming season of poetic flowers such as Seo My Ty flowers, Fansipan peacock tail flowers, etc. All create a charming painting that is arranged harmoniously and poetically.
Sapa is also home to many ethnic groups, so Sa Pa converges the quintessence of extremely unique cultures. Coming here, visitors will have the opportunity to discover many interesting cultural practices through the villages of Mong, Dao, Tay, Giay, Xa Pho, etc.
Autumn in Sapa is always so beautiful and dreamy, it is unsurprising that people compare autumn to a young woman in her twenties. So why not hesitate to try once to Sapa to live fully with heaven and earth, open your heart to feel the beauty of peace, and romance but a little precariousness and silence in autumn.
Can Tho
Can Tho is a major commercial and transportation center and a tourist attraction in the Mekong Delta region of Vietnam.
Nestled in the verdant embrace of the Mekong Delta, Can Tho beckons travelers with a symphony of sights, sounds, and flavors that epitomize the essence of Vietnam. This enchanting city is a gateway to the region's rich cultural heritage and timeless traditions. The iconic floating market stands as a testament to the city's vibrant trading history, where boats laden with fresh fruits, vegetables, and handicrafts create a lively tapestry on the water.
Beyond the market's bustling energy, Can Tho offers a serene escape into the countryside, where emerald rice paddies, charming villages, and ancient pagodas await exploration. From savoring the nuances of local cuisine to traversing the intricate network of canals, every moment in Can Tho unfolds as a captivating chapter in the story of Vietnam's captivating soul.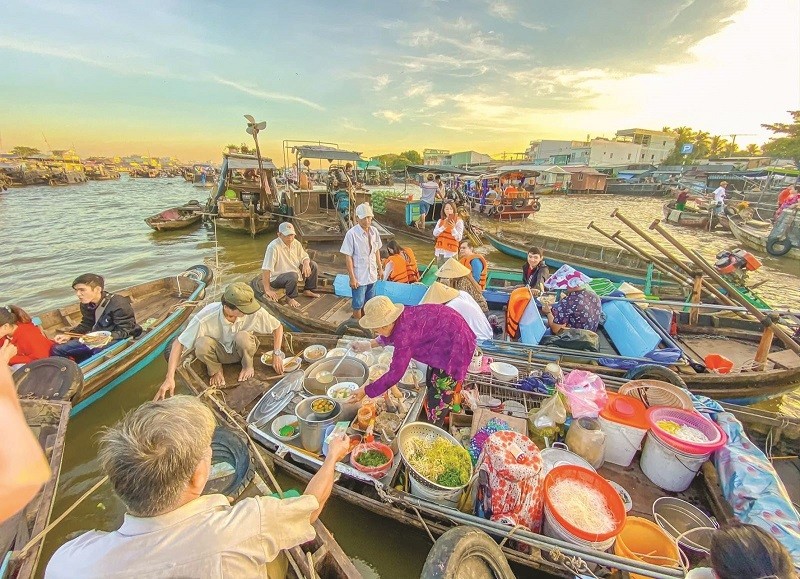 Photo: Vinpearl
Can Tho is typical of a tropical climate with 2 seasons: the dry season from December to April and the wet season from May to November. With an average temperature of 28°C, the weather is warm and humid during the year. The city has a unique beauty in every season, thus visitors can travel to Can Tho at any time during the year.
It takes an average of 3-4 hours to travel by express bus from Ho Chi Minh City to Can Tho. You can buy a ticket at Mien Dong Bus Station which costs around 130,000 – 150,000 VND (US $5-6)/person . Mai Linh, Hoang Long, and Phuong Trang are some prestigious express buses recommended for you.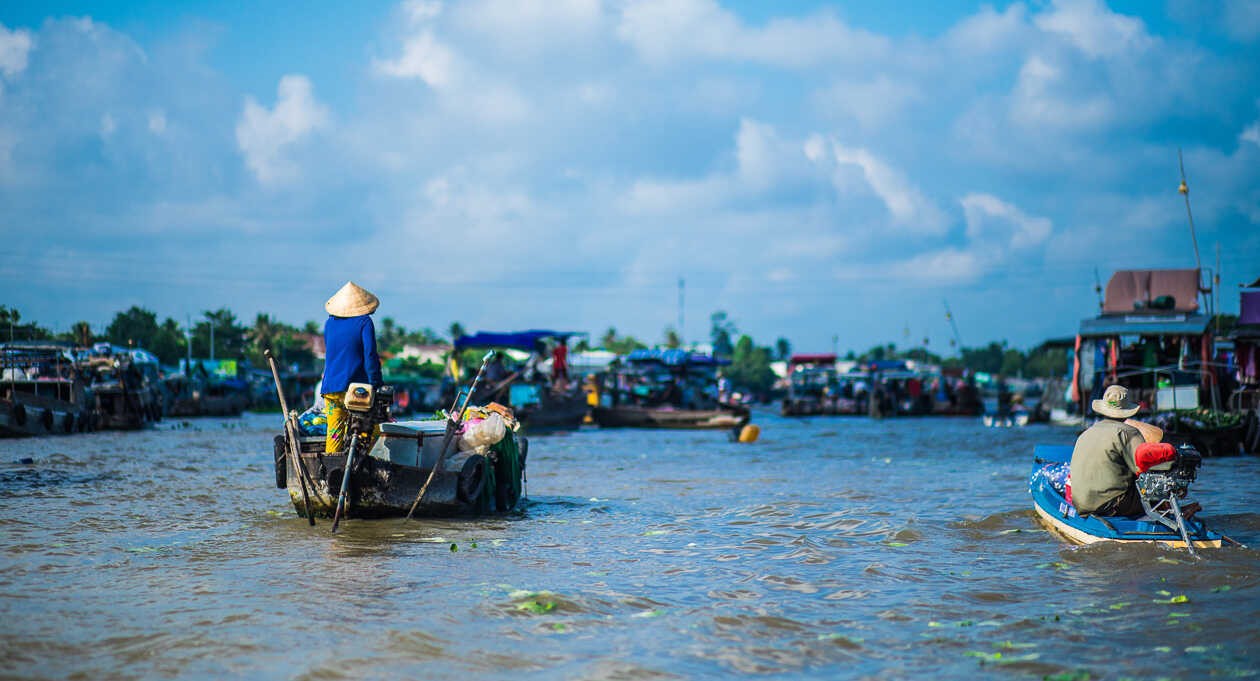 Photo: Vietnam Tourism
Can Tho is 165 kilometers away from Ho Chi Minh City, thus tourists can choose to travel by motorbike or private car. It takes 3.5 – 4 hours to travel from Ho Chi Minh City to Can Tho, and you must check the route carefully before traveling.