Foreigners in HCMC Look Into Renting Motorbikes
As motorbike taxis remain unavailable, foreigners in Ho Chi Minh City are looking for motorbikes to rent.
Moving to Vietnam for nearly 2 years, Andrii (38 years old, Thu Duc City) almost only uses motorbike taxis when there is a need to travel. The Ukrainian man said he preferred to call a 2-wheeler when traveling alone or a taxi when traveling with friends. On average, he spends 2-3 million VND for transportation services every month. After the social distancing, taxis and public passenger transport vehicles are operating again, but motorbike taxis have not.
Transportation is required
To adapt to the situation, Andrii found a motorbike rental shop near his home through friends' recommendations.
"I pay 1 million VND a month to rent an old Vespa. During the epidemic, the rental price was reduced to 500,000-700,000 VND/month. I find everything quite reasonable," he confided.
After more than 3 months of experience, Andrii concluded that renting transportation is quite convenient. He can freely run from place to place instead of depending on a ride-hailing app. The only inconvenience he encountered was finding a parking space, but he was slowly getting used to this.
In the near future, Andrii plans to buy a motorbike to travel around the city. "I plan to stay in Vietnam for a long time, so buying a car is a necessary investment. Once you buy it, you will not lose much if you resell it later. Even if I don't buy it, I still rent a car and don't depend on a motorbike taxi anymore," Andrii shared.
Motorcycle rental addresses are concentrated in District 1, District 7, and Thu Duc City, where many foreign residents live. Photo: Zing
After social distancing, Jessica (District 7) tried to order a motorbike taxi from an application but could not book a trip. Instead of waiting for the availability of motorbike taxi applications, she decided to rent a motorbike.
Though living in district 7 but working in District 1, Jessica usually takes 20 minutes to commute to work every day. Sometimes, the time is extended by 5-10 minutes during peak hours if she has to book a ride from ride-hailing apps such as Grab, Be or Gojek.
Like Andrii, Jessica looked for motorbike rental services near her house and decided to rent a gray Yamaha Nouvo for a temporary ride.
"Since driving by myself, I discovered many interesting places in the city. I feel very excited, but part of me is also worried when driving alone at night. The street to my house is quite deserted, only a few street lights so it's a bit dangerous," Jessica said.
A week ago, Jessica had a flat tire on her way home. She had to walk the bike quite a distance just to find a repair shop. Fortunately, the foreign girl received the help of a few people on the roadside.
Every day, Jessica reads the newspaper and looks forward to information about technology motorbike taxi applications. She said she will still support the brands after they reopen.
The demand for motorbike rental decreased after the epidemic
Tran Thai, manager at Tigit Motobikes store (Sala urban area, Thu Duc city) told Zing News that in the past, foreigners who rented motorbikes at his place were mainly tourists, accounting for a smaller number of people compare with the customers who are residents living in HCMC. They usually rent for a month, several months or a year, sometimes just by the week.
"After social distancing, there are not many foreigners renting motorbikes at my shop. Most of them are regular customers who come to re-rent a motorbike to go to work or move around the city," said Thai, according to Zing News.
Foreigner drives motorbike on the street of Vietnam. Photo: VietnamTimes
Because foreigners often rent motorbikes seasonally, Tigit Motorbikes shop has a stipulation that every month the tenant has to bring the car for maintenance and pay the fee if they continue to rent the next month. Before renting, customers can go to the store's website to see the price, contact first and then come to the shop to pick up the motorbike.
Trung's shop specializing in motorbike rental on Tây Street - Pham Ngu Lao Street, District 1, opened a few days after the city ended social distancing.
"I opened the store to combine with the grocery sales, not determined to have income from motorbike rental. The foreigners who stay around here are tourists or people who get stuck since Covid, a lot of them had to return the motorbike to return home," Trung confided.
Many shops, motorbike rental accommodation establishments in Tây Street - Pham Ngu Lao Street have closed. Currently, on the two streets - Pham Ngu Lao and Bui Vien there are only 3-4 shops left with car rental signs.
Phu Nguyen, the owner of Phu Scooters shop in Thao Dien ward, Thu Duc city, has reduced the motorbike rental fee by 50% for foreign guests staying in Ho Chi Minh City during the social distancing period.
Foreigners often choose scooters for ease of control. Photo: Zing
"At that time, customers did not use the motorbike much, could not bring it to repair if it was damaged, and there were also customers with financial difficulties, so I actively reduced the price. However, the number of customers who continue to rent is still very small, because most of them return home," said Phu.
Foreign customers who return home during 4 months of social distancing cannot bring their cars back and Phu cannot come to pick up the rented motorbikes. However, he is very happy and grateful that most of the landlords, apartment managers or the customers' friends are happy to help and willing to deliver the motorbike when Phu comes to collect it.
Zing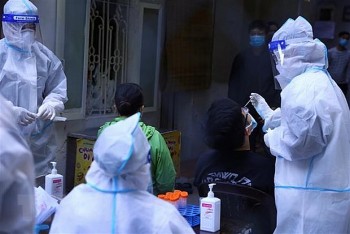 Focus
Vietnam's Covid-19 death toll is now 26,483, or 2 percent of total cases. More than 7,000 coronavirus patients nationwide are in serious condition, with 741 requiring invasive ventilation and 20 on life support.