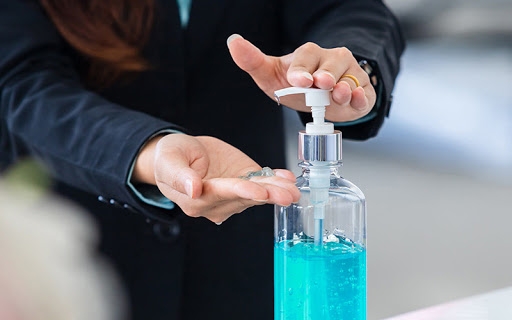 Illustrative image. Photo: Hanoitimes
Foreign Ministry spokesperson Le Thi Thu Hang made the statement in reply to queries from reporters regarding a recent joint Vietnam - US investigation that led to the arrest of several Vietnamese citizens for trade fraud, during a regular press conference in Hanoi on August 20.
A news release from the US Embassy in Hanoi said that the investigation originated in Tampa, Florida, in March, and the US Department of Homeland Security's Office of Homeland Security Investigations (HSI) forwarded information to the Vietnam Ministry of Public Security. In response to information provided by HSI, Vietnamese authorities conducted investigation and arrested some defendants.
According to the complaint, defendants operated more than 300 websites that fraudulently offered for sale products that became scarce during the pandemic, including hand sanitizer and disinfectant wipes. Over 7,000 victims in all 50 states attempted to purchase these items from the defendants' websites. Victims paid for items supposedly sold through the websites but never received the purchased products.
The complaint alleges that defendants set up hundreds of email accounts and user accounts with a US-based payment processor to carry out the scheme and keep it hidden from law enforcement. Defendants are also alleged to have listed misleading contact addresses and phone numbers on the websites, causing unaffiliated individuals and businesses in the US to receive numerous complaint calls from victims who had been defrauded by the scheme. HSI investigators identified nearly 40,000 fraudulent transactions worth approximately USD 975,000.
Hang said police in Hanoi and departments of the Ministry of Public Security detained and launched legal proceedings against four persons on charges of asset appropriation, based on information provided by the US.
Vietnamese authorities are expanding investigations and dealing with the case
Vietnamese authorities are expanding investigations and dealing with the case in line with Vietnamese law, she said.
She added that the Government was determined to prevent and strictly deal with any trade fraud. It also appreciates the cooperation of US authorities in the case.
The arrests of the four, aged between 22 and 36, were made following a joint investigation by the Vietnam's Ministry of Public Security and US Department of Homeland Security's Office of Homeland Security Investigations, the ministry said in a statement on its website.
In March, the four began operating 110 websites that offered personal protection equipment (PPE), including hand sanitizers, masks and disinfectant wipes, and received money from the Americans via their Paypal accounts, the ministry said.
The four never had the products offered on the websites and their victims never received what they paid for, the ministry said.
Vietnamese police have arrested four men accused of defrauding more than 5,000 Americans trying to buy COVID-19 protective equipment online out of nearly USD 1 million. Photo: Internet
The ministry said the four had been charged with "appropriation of property using a computer network, telecommunications network or electronic device", a crime that carries a prison term of up to 20 years.
"This investigation resulted in significant financial losses to people who were already facing enormous challenges due to the COVID-19 pandemic," US Ambassador to Vietnam Daniel Kritenbrink said in a statement on the embassy's website.
Amid the pandemic, an increasing rise in scams associated with COVID-19 have beeb reported across the world.
In Vietnam, there have been several scams relating to COVID-19 in which the victims unknowingly transferred money to fraudsters' bank accounts for the purchase of hygiene supplies such as face masks or hand sanitizers or where they made donations to non-existent COVID-19 charity funds./.
Hannah Nguyen