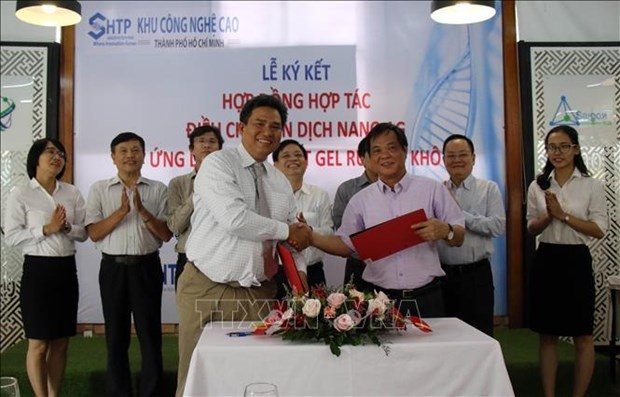 At the signing ceremony for a cooperation agreement on the production of DrOH hand sanitiser for export (Photo: VNA)
Some 4 million bottles of Made-in-Vietnam DrOH hand sanitiser have been exported to Europe, the US, and Canada during the COVID-19 pandemic.
This is a product of the R&D Centre at HCM City's Saigon High-Tech Park (SHTP) and the Pomax JSC.
SHTPLabs said that during the epidemic season, the company's dry-cleaning gel using nano-silver materials has exported 4 million bottles to Europe, the United States and Canada. .According to Ngo Vo Ke Thanh, Director of SHTPLabs, the next order to these markets in May is 5-6 million bottles, it will be exported by a consortium.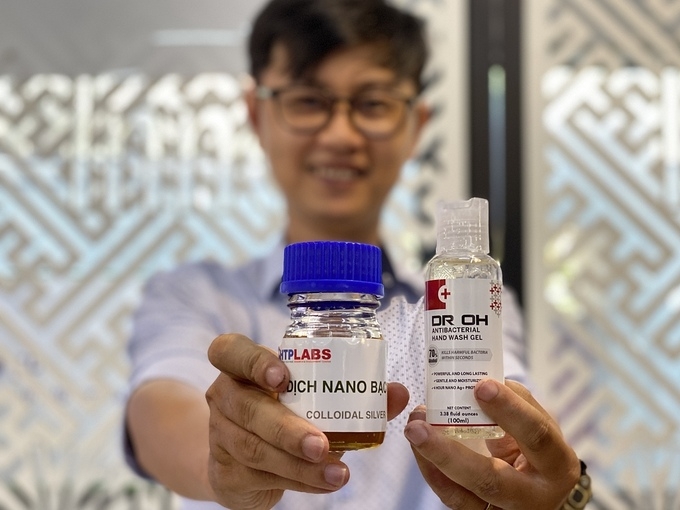 Nano silver dry hand sanitizer products developed and exported by SHTPLabs (Photo: VnExpress)
This hand-washing gel is a product created from an investment budget of VND 200 million silver nano research project of the Department of Science and Technology of Ho Chi Minh City. After a period of research, SHTPLabs was granted a patent for a useful solution for the "Intellectual property of hand washing gel and invention" of the National Office of Intellectual Property.
In fact, silver nanomaterials with bactericidal properties have been studied extensively for years at home and abroad. Following this trend, SHTPLabs studied the manufacturing process of nano silver and applied in non-alcohol or low alcohol dry hand gel, according to VnExpress.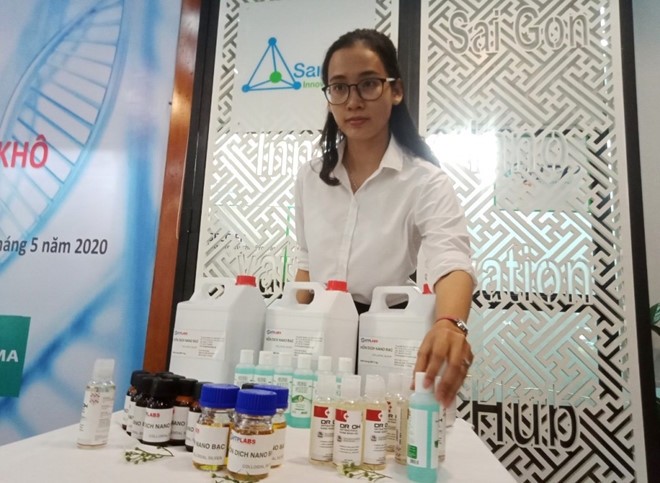 Nano silver is applied to produce dry hand wash gel (Photo: Thanh Nien)
The difference in the nano silver product of the research team is that it is made in high concentrations, from 400 to 1,000 ppm (ppm = parts per million), environmentally friendly, without using chemicals that can cause skin allergies. Since then, silver nanomaterials are applied in non-alcohol or low-alcohol dry hand washing gels, with nano silver concentrations in the product lower than 10 ppm, according to Thanh Nien.
"The challenge for us in this cooperation is to build technology to prepare nanoscale suspensions in quantities up to tons, to meet the commercial needs of businesses," said Ngo Vo Ke Thanh. .
A cooperation agreement on the production of hand sanitiser for export was signed on May 20 - an example of sound collaboration between R&D centres and businesses, according to VnExplorer.
Using silver nano technology, the hand sanitiser is environmentally-friendly and free of chemicals that cause irritation, according to director of the centre Ngo Vo Ke Thanh.
In Ho Chi Minh City, SHTPLabs is one of the units that play the role of receiving research, development and technology transfer requests for enterprises. Nano silver dry hand washing gel products are the result of the model of cooperation in research, production and technology transfer in 3 houses: researchers - state - enterprises.
Candy Lee