Foxconn recruits 1,000 workers in Vietnam following its US$270 million project
Taiwan-based Hon Hai Precision Industry Co., Ltd. (Foxconn), which is Apple's major supplier, is recruiting 1,000 workers for assembling electronic parts for its plants in the Northern provinces of Bac Giang and Bac Ninh.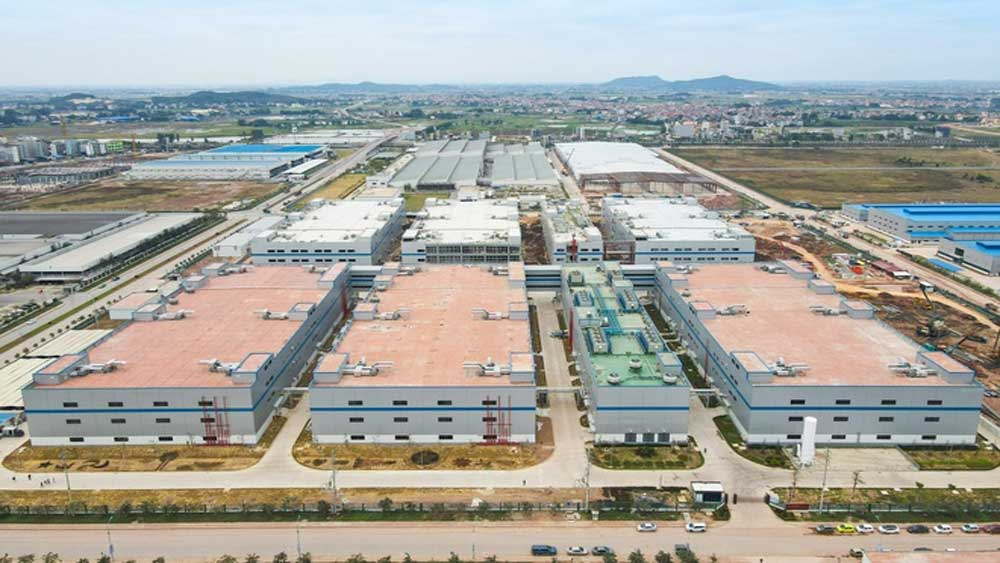 A Foxconns plant in Bac Giang province. Photo: Bac Giang newspaper
According to the recruitment post on the Foxconn Vietnam website, with the position of electronic component assembly worker, Foxconn offers a basic salary of VND4.9 million (US$ 213), along with an allowance for meals, accommodation (if they do not stay in the company's dorms), travel, and attendance. With other allowances, a worker's income can reach VND8 million per month.
Workers will work at the industrial parks of Dinh Tram, Quang Chau, Van Trung in Bac Giang province, and the Que Vo Industrial Park in Bac Ninh.
In addition, Foxconn Vietnam is recruiting 14 Supplier Quality Engineers (SQE). New graduates can apply for this post.
Foxconn has invested in Vietnam since 2007 with the first two factories in Bac Ninh and Bac Giang provinces, said Zhuo Xianhong, General Director of Foxconn Vietnam. Over the past 13 years of operation, the group has constantly expanded its business and established more companies, said VGP.
As of 2020, Foxconn's total investment capital in Vietnam stood at US$ 1.5 billion USD, with more than 53,000 employees. In which, the Taiwanese electronics contract manufacturer has invested US$900 million in Bac Giang and created jobs for over 35,000 workers. This year, the company is set to pour an additional US$700 million into the province and hire 10,000 more employees.
Following the successes achieved in Bac Giang, in December 2020, Foxconn decided to invest in the project of manufacturing tablets and laptops worth US$ 270 million in the province. On January 18, it received the investment certificate from the Bac Giang Provincial People's Committee.
According to Bac Giang Provincial People's Committee Chairman Le Anh Duong, Foxconn's project is of great importance to the province as it serves as a driving force to attract more technology projects to join the global supply chain, contributing to the growth of exports and revenue for the province. Along with that, workers will have the opportunity to work in the modern working environment and earn a higher income.
Foxconn, established in 1974, is among the world's leading firms in the fields of electronics, information technology, and computers. It has currently more than 800 companies and branches in countries and territories such as China, Japan, India, Malaysia, Vietnam, Singapore, Australia, the UK, France, Hungary, Ireland, Canada, the U.S., Mexico, Brazil, etc with the number of employees worldwide amounting to 1.5 million.