France's Le Monde Sees Banh Mi as Burger's Strong Rival
Banh mi, a simple, relatively balanced, cheap, and, above all, tasty treat, is called a 'formidable rival' of the American burger by Le Monde, a French newspaper.
The French leading daily, Le Monde, has published an article praising the delicious taste of Vietnamese 'banh mi' on Nov. 5.
Titled "Can banh mi replace the burger?", the article highlighted that everyone immediately wants to take a bite of it. The newspaper also introduced readers to a brioche bread cut in half and mixed with cooked meat, spices, and raw vegetables.
Vietnamese 'banh mi' is also a type of sandwich, but comes in a different shape. The traditional recipe's fillings are made from pork belly (sometimes grilled, sometimes dried or steamed), chicken cooked with lemongrass, and minced pork meatballs, Nhan Dan quoted Le Monde.
Photo: Le Monde
The most elaborate, also called "dac biet" (house specialty), offers a range of flavors ranging from 'cha lua' (Vietnamese pork sausage) to paté, rolled pork belly, Le Monde continued, adding that the significant amount of vegetables it contains, including carrots, cucumbers, make its nutritional value relatively acceptable.
The trajectory of the 'banh mi' is fascinating that it tells the richness and the character of Vietnamese cuisine which, through the diaspora scattered all over the world, in New York, Los Angeles, Paris, Nice or Marseille, has never stopped reinventing itself, according to VNA's translation of Le Monde's article.
Best places to enjoy banh mi in Vietnam
Banh mi literally translates to bread. However, this term has also become the go-to name for the famous Vietnamese sandwich, served in a French baguette with a mix of meats and vegetables. Banh Mi can be prepared in a number of ways. The most popular combination is usually crusty French baguette, pate, cuts of meat, pickled carrots and cucumber, coriander, seasonal vegetables, and homemade sauce. Today, Banh Mi is mainly eaten as a breakfast meal or a midday snack and is considered a staple food all over Vietnam, according to Southeast Asian Backpackers.
In Hanoi
Banh Mi Tram - 252 Cua Nam street (Photo: Webtretho)
Banh Mi Tram - 252 Cua Nam
One of Hanoi's best-known sandwich spots, Banh Mi Tram delights hungry customers daily with its deconstructed bánh mì. The baguette and fillings are served separately, leaving it up to patrons to decide whether to assemble their sandwich or enjoy the ingredients on their own. It's also famed for its signature sauce, which has achieved legendary status in the capital. The shop has maintained its popularity for over 20 years and shows no sign of slowing down; the plastic stools are only ever vacant after closing time.
Banh mi Pho Hue - 118 Hue (Photo: Webtretho)
Banh mi Pho Hue - 118 Hue
Stop and ask a Hanoian where to find the tastiest bánh mì in the city and they will probably point you in the direction of Banh Mi Pho Hue. This family-owned shop has been serving up its incredible bánh mìs since 1974, making it one of the oldest in Hanoi. Their single sandwich is filled with pork floss and deli meat, then covered with pork-chili gravy. This simple recipe has not changed since the shop opened, and hopefully, it never will.
Banh mi Huong Vien - 6/28 Huong Vien (Photo: YAN)
Banh mi Huong Vien - 6/28 Huong Vien
Fans of the British chip butty rejoice – Hanoi is home to French-fry-filled bánh mìs, known as bánh mì nem khoai. Although they're now a fairly common sight in the capital, the original – and best – sandwich was created at 6/28 Huong Vien for hungry students seeking an after-school snack. It might not be the healthiest of options but this enormous sandwich is comfort food at its absolute best. The carb-fest will only set you back around 20,000 dong (a little under a dollar) and it'll fill you up all day.
In Ho Chi Minh City
Huynh Hoa Bread - 26 Le Thi Rieng. (Photo: Vietnamnet)
Huynh Hoa Bread - 26 Le Thi Rieng
Considered the most expensive banh my in Saigon at up to nearly 60,000 VND/loaf (nearly $3), but for many years, Huynh Hoa bread is still a favorite. Diners are willing to wait in long lines to be able to hold a bread topped with layer upon layer of sausages and hams as well as pork floss and the obligatory pickles, cucumber and coriander.
This bread shop is praised by many foreign bloggers. Many diners assert that Huynh Hoa bread is worth the money: the stuffing is very delicious and a loaf of bread is enough for two people, according to Vietnamnet
Bay Ho Bread - 19 Huynh Khuong Ninh (Photo: Doanhnghiepvn)
Bay Ho Bread - 19 Huynh Khuong Ninh
Bay Ho bread has been a familiar street food for generations of Saigonese. The 80-year-old bread stall in Huynh Khuong Ninh Street, District 1 attracts customers with delicious homemade pate. Previously, the shop only opened in the afternoon. In recent years, it has opened in the morning to meet the needs of customers. According to the shop owner, the meat, pork pie, and pate are all processed according to the family's recipe to have their own flavor. The pate is both steamed and grilled, so it gives a characteristic-rich taste that is in harmony with the loaf filling. The ingredients are prepared close to opening time so that the bread is the most delicious and fresh.
Hoa Ma Bread - 53 Cao Thang (Photo: Doanhnghiepvn)
Hoa Ma Bread - 53 Cao Thang
Hoa Ma Bread shop was founded in 1958 at 511 Phan Dinh Phung (now Nguyen Dinh Chieu, District 3). Two years later, the shop moved to Cao Thang and has "settled down" there since then. The shop's name is named after a village in Hanoi. This bread shop is always packed with customers in the morning. The specialty of the restaurant is panned bread. Inside the pan are all kinds of ingredients such as omelets, ham, sausages, fish cakes, pork pie. All are fried hot with a little onion and served with bread.
8 Kinds of Banh Mi in Saigon

Being in lockdown during Covid-19 pandemic can be a dreadful time, these 8 Banh Mi dishes becomes a "nostalgic" memory for Saigonese who love street ...
6 Creative Banh Mi Dishes in Vietnam

Banh mi with filling, sweet, salty or combined with butter is an attractive culinary option to show off your cooking skills during social distancing day.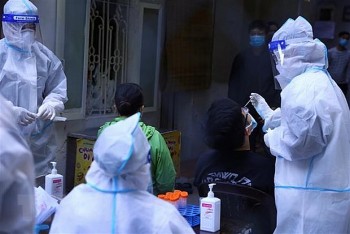 Focus
Vietnam's Covid-19 death toll is now 26,483, or 2 percent of total cases. More than 7,000 coronavirus patients nationwide are in serious condition, with 741 requiring invasive ventilation and 20 on life support.