French former President Sarkozy convicted of corruption, sentenced to jail
A Paris court found French former President Nicolas Sarkozy guilty of corruption and influence peddling on March 1 and sentenced him to a year in prison.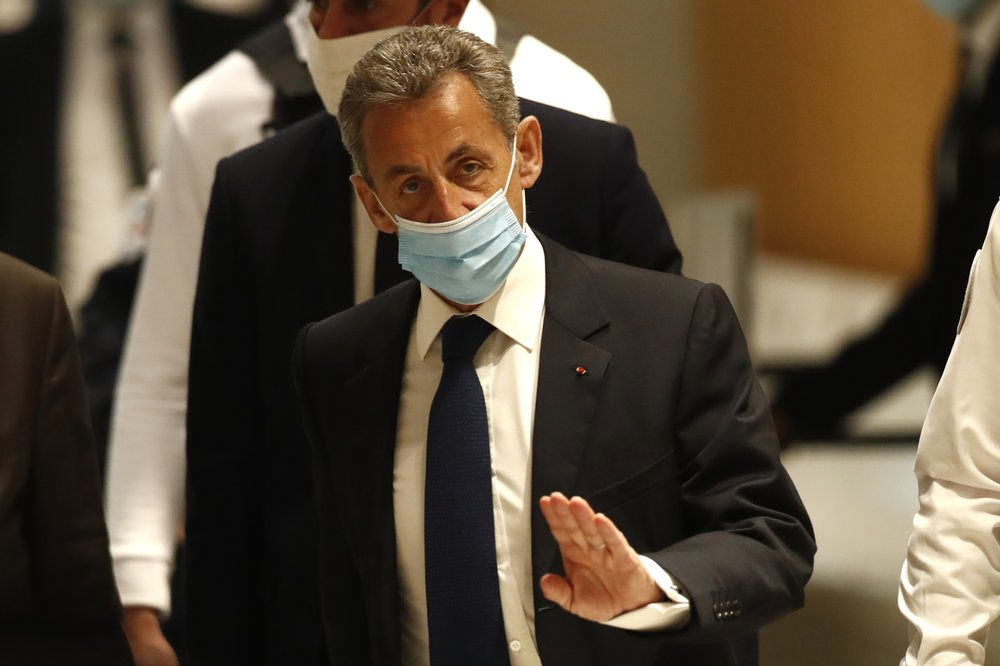 Former French President Nicolas Sarkozy arrives at the courtroom Monday, March 1, 2021 in Paris. Photo: AP
A Paris court found French former President Nicolas Sarkozy guilty of corruption and influence peddling on March 1 and sentenced him to a year in prison. He can ask to serve that time at home and also plans to appeal.
The 66-year-old, who was president from 2007 to 2012, was convicted of trying to bribe a magistrate in exchange for information about a legal case in which he was implicated, AP reported.
He will remain free while he appeals, but it was a blow to the retired politician who still plays an influential role in French conservative politics. It's not the end of his legal troubles either: He faces another trial later this month and is also under investigation in a third case.
The ruling marks the first time in France's modern history that a former president has been convicted of corruption — and given a prison term. His predecessor, Jacques Chirac, was found guilty in 2011 of misuse of public money during his time as Paris mayor — not considered a corruption offense — and was given a two-year suspended prison sentence.
The court said Sarkozy is entitled to ask to be detained at home with an electronic bracelet — as is the case for any sentence of two years or less. He also received a two-year suspended sentence — which he will not have to serve if he commits no new offense in the next five years.
Sarkozy's lawyer Jacqueline Laffont said the former President will appeal his conviction for corruption and influence peddling.
The lawyer called the verdict "extremely severe" and "totally unfounded and unjustified", adding that the former president was "calm but determined to continue to prove his innocence", according to France 24.
Sarkozy's co-defendants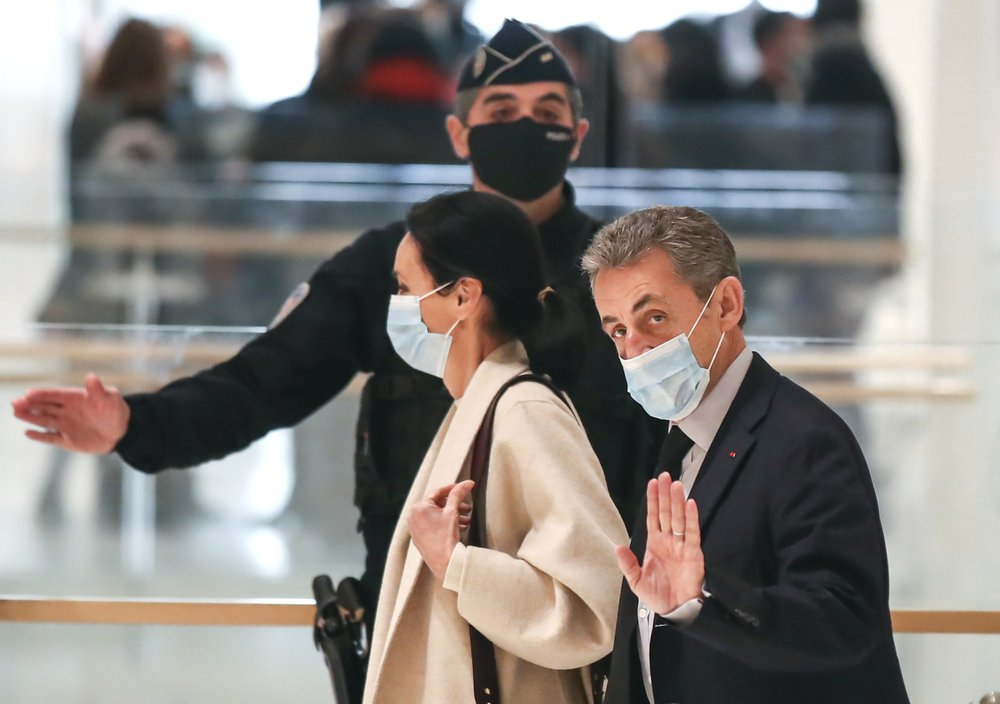 In this Dec.10, 2020 file photo, former French President Nicolas Sarkozy waves to the media as he arrives at the courtroom in Paris. Photo: AP
Sarkozy's co-defendants — his lawyer and longtime friend Thierry Herzog, 65, and now-retired magistrate Gilbert Azibert, 74 — were also found guilty and given the same sentence as the politician, AP said.
The court found that Sarkozy and his co-defendants sealed a "pact of corruption," based on "consistent and serious evidence".
The court said the case was "particularly serious" given that the acts were committed by a former president for his personal gain. In addition, as a lawyer by training, Sarkozy was "perfectly aware" that what he was doing was illegal, the court said.
Sarkozy did not deny offering to help Azibert get a job in Monaco — but he firmly refuted that he had done anything wrong during the 10-day trial at the end of last year.
The case dates back to 2014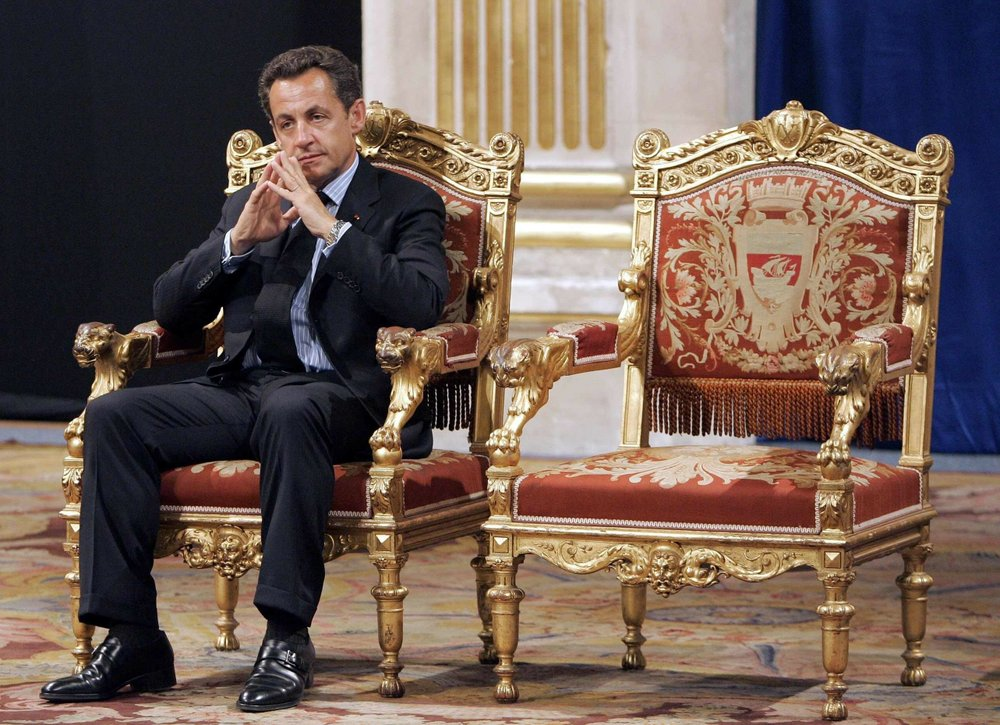 In this Thursday, May, 24, 2007 file photo, French President Nicolas Sarkozy sits during an official and traditional ceremony with Paris mayor Bertrand Delanoe, whose empty chair is at right, during which the newly elected President is met by the Paris mayor at the Paris city hall, France. Photo: AP
The case dates back to 2014 after investigators from the newly-created Parquet National Financier (National Financial Prosecutor's Office) tapped Sarkozy and Herzog's phones over allegations the former president had illegally received millions of euros from the late Libyan dictator Muammar Gaddafi to fund his successful 2007 presidential campaign, according to Euronews.
At the time, Sarkozy, who had been ousted from office by François Hollande two years prior, was also being investigated for allegedly taking illegal payments from billionaire Liliane Bettencourt, the heiress to the L'Oréal empire, to fund his presidential aspirations.
Phone conversations recorded between Sarkozy and Herzog made investigators suspect the former French leader had offered to use his contacts to get the judge Azibert a coveted position in Monaco, in exchange for information about the investigation into the Bettencourt case./.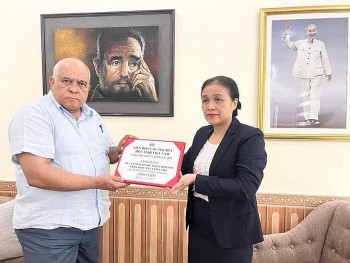 Focus
According to Cuba's News Agency Prensa Latina, on August 16, President of Vietnam Union of Friendship Organizations Nguyen Phuong Nga said that Vietnamese people will always stand by and support Cuba no matter what difficulties our friend is facing.