South Korea's top court upholds 20-year prison sentence for ex-president Park
The Supreme Court of South Korea upheld a 20-year prison sentence for a corruption conviction of ex-president Park, which leads much of her remaining years in prison.
South Korea's first democratically elected leader to be thrown out of office
South Korea's Supreme Court on Thursday upheld a 20-year prison term for former President Park Geun-hye over bribery and other crimes as it ended a historic corruption case that marked a striking fall from grace for the country's first female leader and conservative icon, ABC News reported.
The ruling means Park, who was ousted from office and arrested in 2017, could potentially serve a combined 22 years behind bars, following a separate conviction for illegally meddling in her party's candidate nominations ahead of parliamentary elections in 2016.
According to France 24, Park became South Korea's first democratically elected leader to be thrown out of office when, in 2017, the Constitutional Court upheld a parliament vote to impeach her over a scandal that also landed the heads of two conglomerates in jail.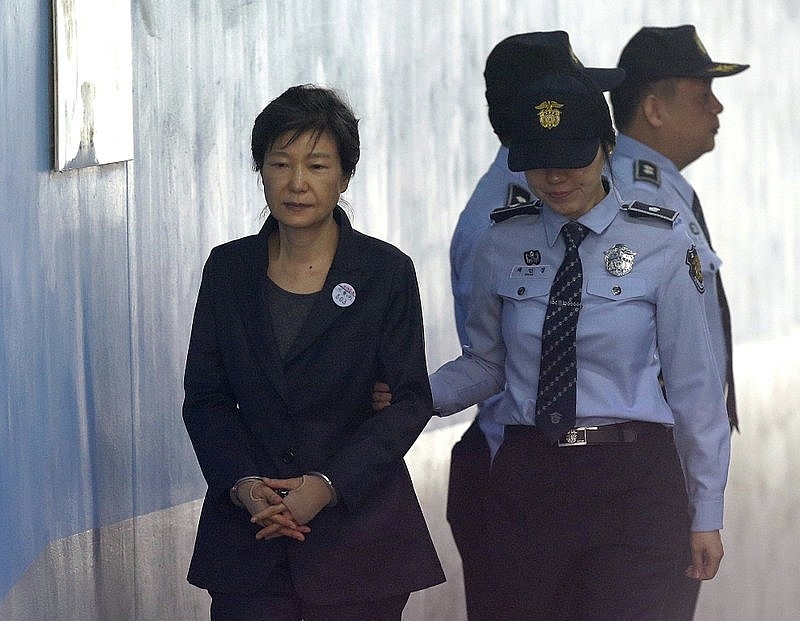 In this Oct. 10, 2017, file photo, former South Korean President Park Geun-hye, left, arrives to attend a hearing on the extension of her detention at the Seoul Central District Court in Seoul, South Korea. South Korea's top court upheld 20-year prison term for Park over corruption on Thursday, Jan. 14, 2021. (AP Photo/Ahn Young-joon, File)
The daughter of a military dictator, Park took office in 2013 as South Korea's first woman president. She was brought down after being found guilty of colluding with a confidante to receive tens of billions of won from major conglomerates to help her family and fund non-profit foundations she owned.
Her case has been heard in different courts, including a retrial in July last year, but the Supreme Court's ruling on Thursday to uphold a 20-year jail term and fine of 18 billion won ($16.38 million) exhausts her legal avenues.
Her case extended to billionaire Samsung Electronics heir Lee Jae-yong, who was charged in early 2017 with bribery and corruption. Prosecutors alleged that Samsung provided horses and other payments to Park's friend to win support to help ease his succession. Lee was initially convicted and sentenced to five years in prison, but the sentence was suspended in 2018 and he was released.
Park's term was also marred by the country's worst maritime disaster in 2014 when the Sewol ferry capsized, killing 304. She faced mass protests and calls for her resignation then, with critics saying she neglected her duties.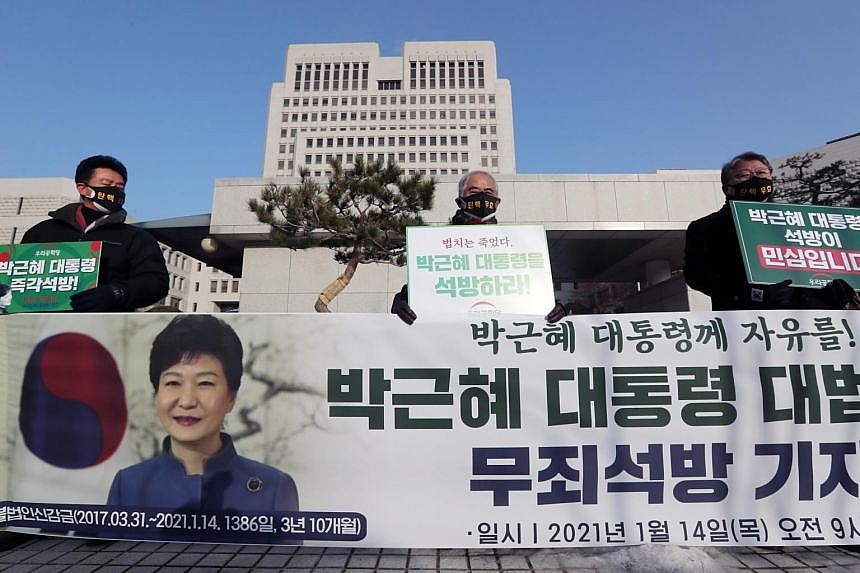 Former South Korean president Park Geun-hye has blamed the courts of bias while denying any wrongdoing.PHOTO: EPA-EFE
Park, 68, who has been in jail since March 31, 2017, has denied wrongdoing. She was not present in court. Park originally faced a prison term of more than 30 years before the Supreme Court sent her cases back to a lower court in 2019.
The Seoul High Court in 2018 had sentenced her to 25 years in prison after reviewing her of bribery, extortion, abuse of power and other convictions together.
But the Supreme Court in October 2019 ordered the Seoul High Court to deal with Park's bribery charge separately from other charges, based on a law requiring so for cases involving a president or other elected officials, even when the alleged crimes are committed together.
The High Court had handed Park a five-year term over the spy fund charges in July 2019, but the Supreme Court also ordered a retrial on the case in November, instructing the lower court to more broadly apply a charge of causing losses in state funds.
Prosecutors appealed after the Seoul High Court handed Park a 20-year term in July last year after merging the two cases. If Park fully serves her sentence, she will be released in 2039 at the age of 87, reported Associated Press.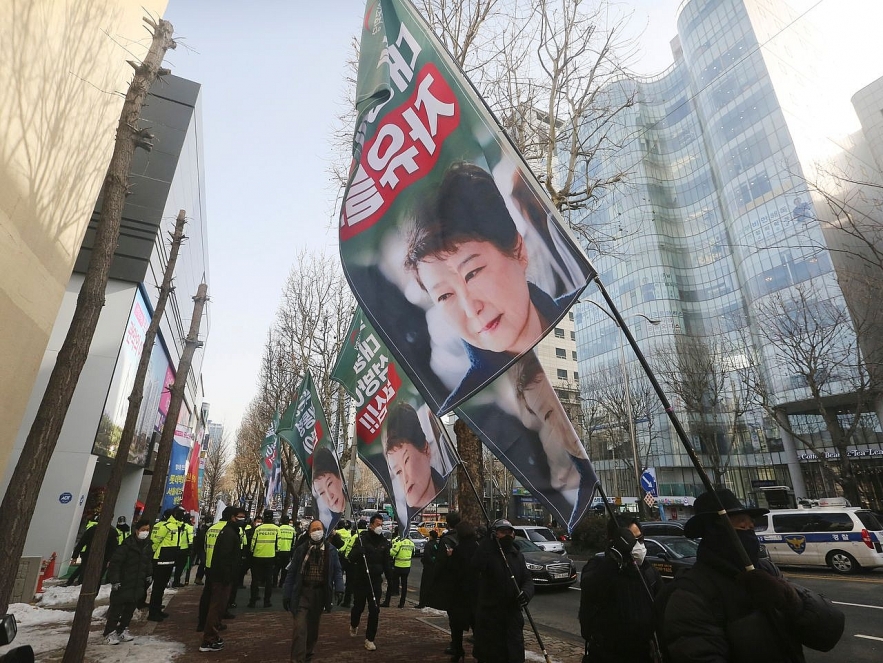 Photo: The Wall Street Journal
South Korean presidents have a history of leaving office under a cloud
Three elected since full democracy in 1987 have been convicted of criminal charges and others, together with family members, have faced investigations for suspected graft after their single, five-year terms ended, reported The Straits Times.
Park's conservative predecessor, Lee Myung-bak, is also in prison for corruption. He left office with rock-bottom popularity amid a series of corruption scandals surrounding his family members and key government figures. Prosecutors arrested the 76-year-old over various corruption allegations, including suspicions that he took a total of 11 billion won ($10 million) in bribes from his own intelligence agency, companies and others. Prosecutors also allege Lee used a private company as a channel to establish illicit slush funds totaling 35 billion won ($33 million), embezzled official funds and evaded taxes, Associated Press reported.
Society appears split down the middle
The end of the legal process makes her eligible for a special presidential pardon, a looming possibility as the country's deeply split electorate approaches the presidential election in March next year.
"President Park Geun-hye is innocent," the right-wing Our Republican Party said in a statement.
"The members of Our Republican Party want President Park to be freed as soon as possible."
President Moon Jae-in has yet to directly address the possibility of freeing his predecessor. Kang Min-seok, Moon's spokesperson, said the ruling on Park Geun-hye marked the "maturation and growth" of South Korea's democracy but added that the imprisonment of a former president over crimes is an "unfortunate" history that shouldn't be repeated. Presidential officials avoided specific answers when asked about the possibility of Moon pardoning Park and Lee.
At least one prominent member of Moon's Democratic Party, chairman Lee Nak-yon, has raised the idea of pardoning Park and another imprisoned former president, Lee Myung-bak, who's serving a 17-year term over his own corruption charges, as a gesture for "national unity". However, he retracted his comments after facing a backlash from Moon supporters.
The country's strict campaign finance laws and the concentration of economic power mainly in the hands of family-controlled conglomerates known as chaebols has created questionable relationships between businesses and politicians.
Overseas Vietnamese
Vice President Vo Thi Anh Xuan had meetings with several Thai leaders and high-ranking officials within the framework of her visit to Thailand to attend the Global Summit of Women (GSW) 2022.