Who is Lai Xiaomin - Chinese Former Bank Chief hidding tons of cashes at home sentenced to death
The former chairman of one of China's largest state-controlled asset management firms was sentenced to death on Tuesday (Jan 5) for soliciting US$260 million in bribes, corruption and bigamy.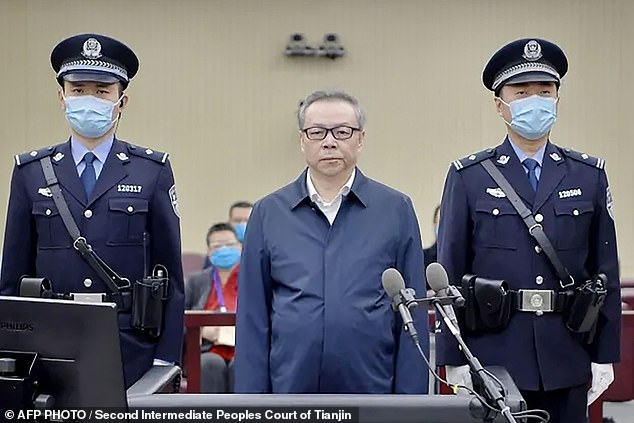 Lai Xiaomin, former Communist Party member, was sentenced to death (Photo: AFP)
Who is Lai Xiaomin - Court ruling over his crime?
As reported by CNA, Lai Xiaomin, a former Communist Party member, gave a detailed televised confession on state broadcaster CCTV last January, which showed footage of safes and cabinets stuffed with cash in a Beijing apartment allegedly belonging to him.
Mr. Lai was "lawless and extremely greedy," the Secondary Intermediate People's Court of Tianjin said Tuesday in a statement, which added that his actions put national financial security at risk.
Mr. Lai, 58, was among the highest-profile figures to fall from grace amid a sweeping crackdown on corruption by Xi Jinping, China's top leader. Mr. Lai was kicked out of the Communist Party in 2018 for violating party law and regulations, including abusing his power for sex. He confessed to taking cash bribes last year in a televised show on state media.
The unusually harsh sentence could send a signal that Mr. Xi is not ready to ease his anti-corruption campaign, which he began shortly after he took control of the Communist Party in late 2012. The campaign has taken down some of his most powerful rivals. But it has also helped him contain concerns in China that party officials were becoming increasingly corrupt, as reported by NY Times. Huarong did business deals with some of China's flashiest private companies at a time when they were feeling ambitious.
Among them were CEFC China, an energy company, and HNA, a conglomerate with businesses ranging from hotels to airlines. Both came under regulatory scrutiny after officials became skeptical of companies that borrowed heavily to build their business empires.
Lai had abused his position in attempting to obtain the vast sum, the court in Tianjin said, describing the bribes as "extremely large" and labelling the circumstances "particularly serious".
He had shown "extreme malicious intent," the court ruling added.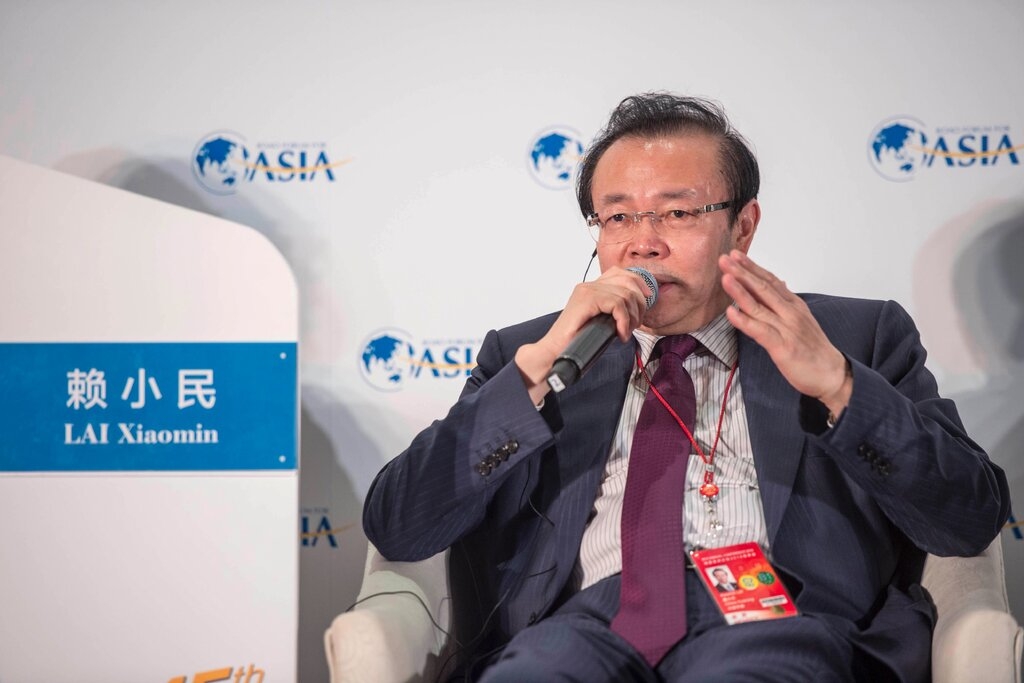 Lai Xiaomin in 2016, when he was chairman of the Chinese lender Huarong Asset Management. (Photo: AFP)
The former chairman of the Hong Kong-listed China Huarong Asset Management Co - a distressed debt group - was also found guilty of bigamy after living with a woman "as man and wife for long periods" outside of his marriage and fathering illegitimate children.
Lai's downfall began in April 2018 as investigators removed him from his job and stripped him of his party position.
He was also alleged to have used his position to embezzle over 25 million yuan (US$3.8 million) in public funds between 2009 and 2018.
During his TV confession, Lai said he "did not spend a single penny, and just kept it there ... I did not dare to spend it".
CCTV also showed luxury cars and gold bars reportedly accepted by Lai as bribes.
The channel often broadcasts interviews with suspects admitting to crimes before they have appeared in court - a practice that has long been condemned by lawyers and rights organisations as forcing confessions under duress.
The court said Lai would have all personal assets confiscated and be stripped of his political rights, according to AFP.
Photos published by the court show Lai standing up and facing the judge to be sentenced, flanked by two police officers wearing face masks.
The sentencing brings an end to one of the country's biggest financial crime cases, and comes as Beijing takes an increasingly tough stance on corporate crime.
Critics have said the wide-ranging anti-corruption campaign launched under President Xi Jinping has also served as a way to target his opponents and those of the Communist Party leadership.
But since Xi came to power, only one high ranking official has been executed - Zhao Liping, who was convicted of homicide in 2016.
Three other senior Communist Party members have been sentenced to death but later given a reprieve.
The former head of Interpol, an ex-spy chief and a Xinjiang governor accused of "trading power for sex" are some of the other high-profile officials to suffer spectacular falls from grace in recent years in the anti-corruption purge.
Tons of cash hidden at home
On January 15 last year, he confessed in a state TV documentary that he preferred cash payments and said he would drive trunk-loads of bills to the apartment, where more than 200 million yuan (S$40 million) had been uncovered, according to Straitstimes.
"I got the money and just left it there, just like making regular trips to the supermarket," he said. "I didn't spend a cent. It's all confiscated in the end."
Detained in 2018, Lai is accused of taking 1.65 billion yuan in bribes, people familiar with the matter have said. He was also found to own a large number of properties, luxury watches, cars, gold and art collections.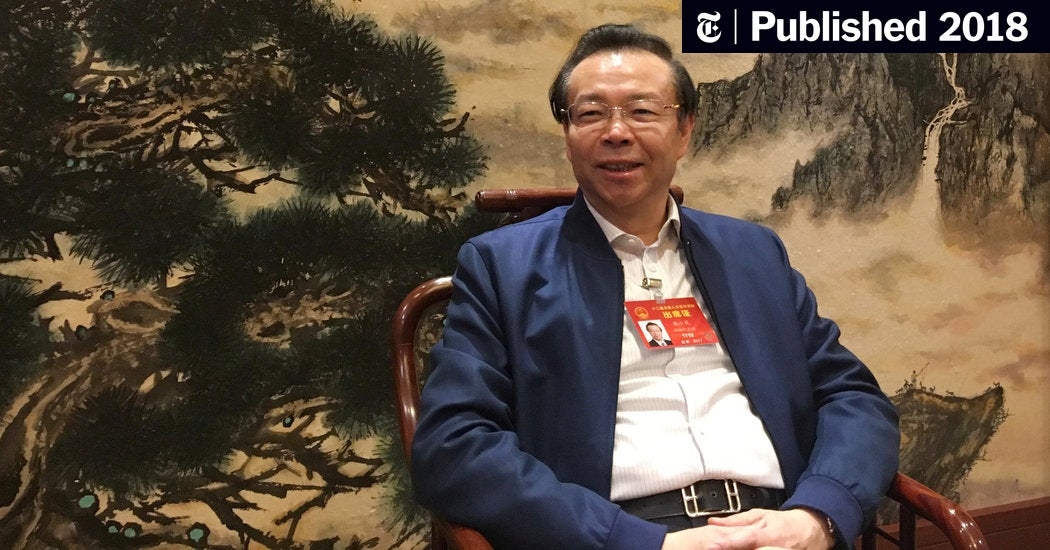 The high-profile death sentence will send a message to the rest of the Chinese over corruption (Photo: NY Times)
The high-profile target behind the death sentence
A high-profile death sentence will send a message, though its interpretation depends on the audience, said Joshua Rosenzweig, the deputy regional director for East and Southeast Asia at Amnesty International.
"A lot of the messages that the Chinese authorities try to send with these judgments, you are meant to fill in the blanks and come to your own conclusions," he said.
"This could be a message to the public that the Xi regime is still treating corruption as a serious issue, or it could be a message to the business elite in China that they need to keep their noses clean," Mr. Rosenzweig said. "Or it could be a message to both."In sentencing Mr. Lai, the court picked a high-profile target.
Mr. Lai took the helm of Huarong in 2012, helping it to expand into new areas like investments and securities. Huarong was set up in the late 1990s to take on the failing loans of state-owned companies — a type of outfit known as a "bad bank" — lifting the burden from big state-run lenders that were looking to sell shares to the public.
"Sentencing Mr. Lai to death will get a lot of support from lower- and middle-class people," said Zhang Peihong, a partner at Hui Ye Law Firm in Shanghai.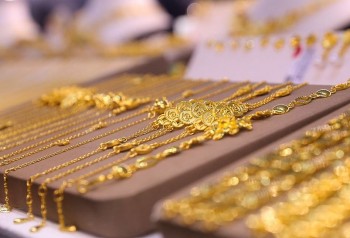 Economy
Vietnam Business & Weather Briefing (May 17): Reference exchange rate kept unchanged, gold price remained, Vietnamese e-commerce likely to reach US$39 billion by 2025.