Vietnam hands over USD 50,000 supporting Myanmar's COVID-19 fight
Vietnam's Ambassador to Myanmar Ly Quoc Tuan on July 13 presented USD 50,000 as a gift of the Vietnamese Government to help the country combat the COVID-19 pandemic, at the handover ceremony held at the headquarters of the Myanmar Ministry of Health and Sports in Yangon.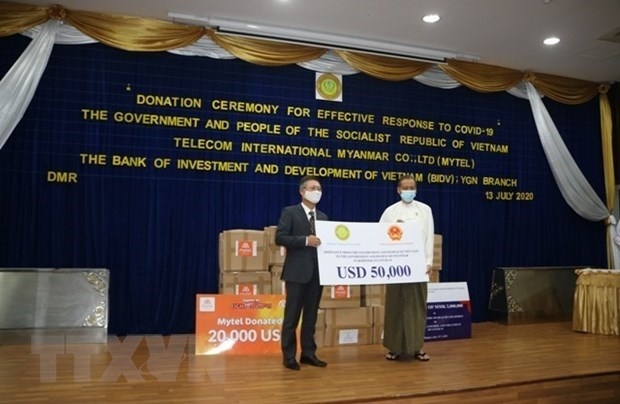 Vietnam Ambassador to Myanmar Ly Quoc Tuan on July 13 presented the fund to Prof. Dr. Zaw Than Htun, head of the Myanmar ministry's Department of Medical Research. Photo: VNA

The fund was made official in April in Hanoi, in a ceremony in which Deputy Foreign Minister Nguyen Quoc Dung, on behalf of Prime Minister Nguyen Xuan Phuc, symbolically handed over USD 50,000 as gift to the Ambassador of Myanmar to Vietnam Kyaw Soe Win.
Vietnam's decision to provide the funds to Myanmar in the context of it also being hit hard by the pandemic demonstrated the close relationship and mutual support between the two countries as well as the solidarity of ASEAN members, Dung said.
Speaking at the ceremony, Tuan highlighted the significance of the sincere support of the Vietnamese Government and people for Myanmar.
He said it is a vivid manifestation for the comprehensive cooperative partnership between the two nations, which enjoy 45 years of fruitful relations.
For his part, Prof. Dr. Zaw Than Htun, head of the Myanmar ministry's Department of Medical Research, expressed his sincere thanks to the Government and people of Vietnam for this meaningful assistance. He appreciated the cooperation between the two countries and Vietnam's valuable sentiments towards Myanmar.
Myanmar always keeps a close watch on Vietnam's success in COVID-19 prevention, considering it practical experience for the country, he noted.
On this occasion, representatives of some Vietnamese businesses also presented medical equipment and supplies as well as cash donation to Myanmar's Ministry of Health and Sports.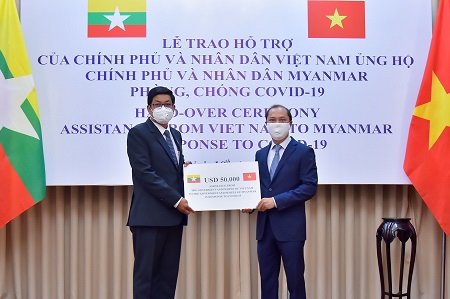 Deputy Minister of Foreign Affairs Nguyen Quoc Dung (right) symbolically hands over USD 50,000 to Myanmar Ambassador to Vietnam Kyaw Soe Win on April 10, 2020. Photo: VGP

Compared to other countries in the region, Myanmar's COVID-19 outbreak appears to be limited. The country reports 331 confirmed cases and six deaths despite its large population of 54 million.
Although officially recorded cases of COVID-19 in Myanmar remain low, the social and economic effects could be significant, given the externally oriented economy, uneven social safety nets, and the fragile healthcare system, said International Monetary Fund Asia and Pacific Department.
Meanwhile, Vietnam recorded no fresh cases of novel coronavirus transmitted locally on July 13, with the overall number of positive COVID-19 infections increasing to 372 after two additional imported cases returning from Russia were confirmed the previous day, according to the Ministry of Health.
As many as 350 patients, equal to 94.1%, have made a full recovery, with no deaths being recorded so far. Among the 22 cases in treatment, one has tested negative for the SARS-CoV-2 virus once and three others recording negative results at least two times.
As many as 30.8 million Vietnamese workers either go unemployed or paid less in the wake of the economic fallout from coronavirus pandemic. The figure is expected to rise by the end of the year, said the General Statistics Office (GSO)./.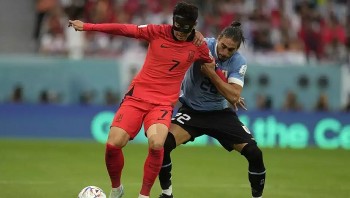 World
Both South Korea and Ghana are searching for their first wins at this year's World Cup. Ghana are facing the prospect of an early elimination from World Cup 2022 Group H when they travel to the Education City Stadium to face South Korea on Monday.