From reviled black sheep to respectable village elder
How one man went from being a reactionary dissident to becoming a respectable, law-abiding citizen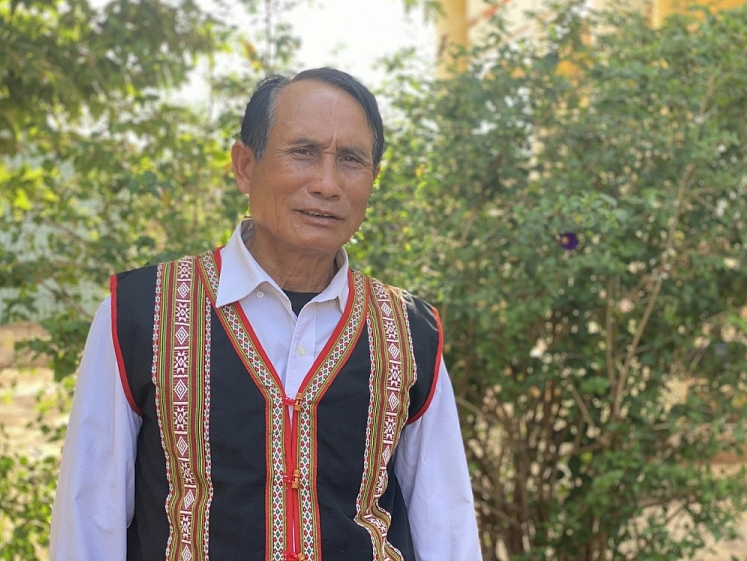 A portrait of Jana.
Following Fulro - the greatest sadness in life
We arrived in Ha Bau commune, Gia Lai province in the middle of April as the first rains of the seasons were falling down. This vast plateaus were planted with coffee and pepper fields in this land known as the place were the 'sounds of gongs fill the air.' Stopping at Rai village, I met a humble man who had beem through many storms in his life. He was Jana, usually called by his child's name, Ybome. Jana was once assigned the title of "Gia Lai Mayor" by Fulro, a reactionary group advocating for indepence of certain ethnic groups in southern Vienam.
At about 3 p.m, we got to Jana's house. The small, dark house was hidden in a garden filled with jackfruit, coffee and avocado. Outside, small rose pots were placed along the wall, vibrantly blooming. The house was littered with numerous certificates of merit, from "cultural family" to children's academic achievements, and family photos, and Jana was outside ploughing the soil for the coffee and avocado garden.
After he finished plowing, he fed a couple of fat cow with fresh napier grass. Though 65, Jana's did not seem to have any white hair. His deep eyes were sharp and agile, but his face expressed sadness somehow.
In Dak Doa in Gia Lai, everyone knows Jana. They usually talk about his past when he followed Fulro, but then emphasize how he is now a much respected man. Jana does not hide from his past.

"I worked in Fulro before 1975. After Gia Lai gained back liberation, I was sent to a re-education camp. In 1991, I escaped from the camp and continued working for Fulro until 1999," he said. "Then I began to receive direction from Ksor Kok in the U.S., who asked me to mobilize people in Gia Lai to hold demonstrations of tens of thousands of people in Pleiku. After the event on Feb. 2, 2001, I was arrested for 'undermining policy on national solidarity.'"

Fulro - an armed exiled reactionary political organization coordinating with enemy forces to take advantage of religious and ethnic issues to oppose Vietnam's revolution. They aim at breaking the country's unification, the Vietnamese' solidarity. They backed riots occurring in 2001, 2004, and 2008 in the Central Highlands.
Sitting on the porch, he says: "I regret that. Why did I go down that road, and what did I gain in the end? My children had to suffer a lot. I left them since the oldest one was only 8-years-old and the youngest was several months old. Eleven years in prison was too long. If only in those years I could have stayed home to do business. No matter how difficult it had been, my wife and children would have been less miserable. That 11 years was a 'zero," and everything went into trash. It was my biggest regret and sadness that I always bear."
According to agencies, reactionary organizations named Jana as "Gia Lai Mayor" in the so-called "Autonomous State of De Ga."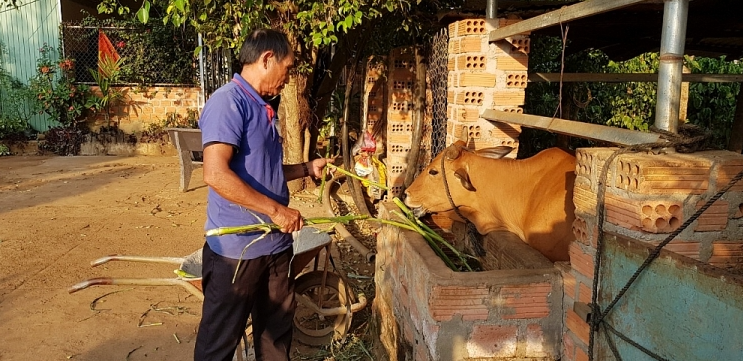 By focusing on doing business, Jana's family sometimes can earn VND 150 million (6,500 U.S. dollars) a year.
A redemptive journey
On March 6, 2012, after more than 11 years of serving his sentence, Jana returned to his hometown. As a prisoner, he thought that no one wanted to contact him, and society despised him. However, Dinh Ong, the chairman of Ha Bau Commune People's Committee at that time, was also in the same village as Jana, welcomed him with a warm tray of rice to show solidarity. Everyone in the family and the village were willing to listen when Jana confided his feelings.
Welcomed by the family's love, and given chances to confide all his feelings, Jana was determined to rebuild his life after many years living in the woods, losing his freedom. The former "leader" Jana was determined that there was no other way but to start renovating the fields and gardens, rebuilding the dilapidated roof of the house, and buying more pigs and cows.
Today his children are priceless assets. He wants nothing more than seeing his children grow older. Debts will gradually be paid off, as long as there is a way to earn income. "My family has three children. The oldest is a teacher, the second is a porter. The youngest works as a trainee in Japan. All of them have families of their own. From time to time, they come here to visit," he said.
Seeing Jana's determination, the local government stepped in. "More than anyone, I understand his situation. His family's finance is very limited, which is the reason why he followed the bad guys," said Dinh Ong. "We support his children's education by helping to borrow money from the bank. He is currently borrowing more than VND 100 million (more than 4,300 U.S. dollars) from a policy bank to grow coffee, and raise some cows, ducks, and fish. Compared to local people, his family's situation is relatively stable. Changes in the economy lead to changes in perception."
When Jana returned from prison, his garden was deserted while the coffee and pepper trees had died. Thanks to good care, several years later the garden is covered in green trees. "He is so hard-working. He advises the people to participate in joint activities such as building roads, complying with the Party and State's policy, and holding meetings," Chairman of Dak Doa Fatherland Front said.
The secretary of the Dak Doa Party Committee said that people like Jana usually had low self-esteem. It is of great importance to eliminate their shyness so that they can comfortably integrate with the community. Gradually, they will see what they need.
Dinh Ong, chairman of Dak Doa Fatherland Front, said that the most important thing to help people like Jana return to the community was to understand their specific circumstances. Therefore, Dak Doa is highly appreciated by the province for its policy of educating and helping such lost people. Besides Jana, 26 other people in the current management of Dak Doa are also rebuilding their lives, complying with legal guidelines, and have good relations with local authorities.
On the afternoon of March 25, 2021, Gia Lai People's Committee held a conference to review the 5-year implementation of Directive No. 153/CT-UBND dated December 9, 2015, issued by its chairman and its Decision No. 44/QD-UBND dated April 25, 2016, on the management and education of Fulro members in the community. According to the conference, in the past 5 years, the local authorities and functional sectors have made great efforts to manage and educate Fulro members in the community. With the drastic association of the whole political system, the number of people in management and education has decreased by more than 43%.
Chairman of the Provincial People's Committee Vo Ngoc Thanh suggested that all agencies and local authorities focus on raising awareness for officials and party members at all levels about the role and importance of managing and educating Fulro members in the community. Agencies must mobilize, educate and sensitize them, while innovate managing and educating methods and forms so that they do not feel discriminated aginst and have have an inferiority complex; step up a consultation, coordination, and implementation of socio-economic development plans in the locality, focusing on remote, isolated and ethnic minority areas, especially in key areas related to Fulro and "De Ga Protestors."