From Scrap Collector to 'King' of Waste Treatment: Story of a Vietnamese in America
Owning modern machinery and specialized vehicles, CWS, a company owned by an overseas Vietnamese, has been on the list of "big brands" in the waste treatment industry in the US.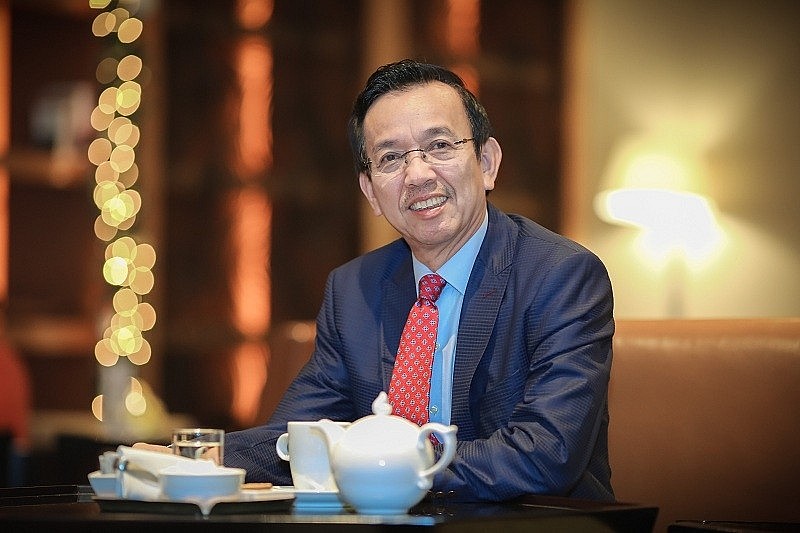 David Duong - Chairman and President of California Waste Solutions (CWS) and Vietnam Waste Solutions. (Photo: Baoquocte)
Journey to become a billionaire
Duong Tu Trung (David Duong) was born and raised in Vietnam. His family owned Logido, the once-famous paper brand in Saigon. When they left Vietnam for San Francisco (USA), David's family made a living by collecting and selling scrap.
"We went to a strange place and could not speak the language. We were taught to work hard and live frugally to build a better life, so I and my brothers went collecting scrap to earn money. We spent days on bus 16, travel around San Francisco, visit every lane, make friends with every scrap collector, gather every piece paper or can that we could," David Duong said.
Thanks to the hard work, his family could save US$700 and spent it on an old truck to pick up, sort, and sell garbage. They then could afford more trucks, which marks the starting point of David's journey to become the 'King' in trash treatment.
His first company in recycling and waste treatment was founded in the early 1980s but fell into debt and was sold to Norcai Wastesystems, one of the US biggest recycling companies in 1990. David did not surrender after the first failure, instead, he founded another enterprise, named California Waste Solution (CWS). His business gradually expanded to Oakland, San Jose, Sac Ramento, Oakland.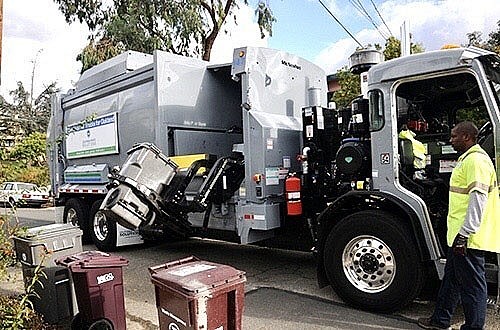 A trash treatment truck of CWS. (Photo: Baoquocte)
One of CWS's remarkable achievements is a bidding package to collect half of the city's scrap with a value of several tens of millions of dollars in 1992.
By the end of 2014, CWS strived a mark in bidding for an over-one-billion-dollar recycling project in Oakland, defeating many leading corporations in the field. With the success, CWS heads to sustainable interests by creating more job opportunities and increasing its profit. CWS's recycled products are exported to India, China, and Indonesia.
San Jose's authorities agreed to let CWS continue to collect and treat garbage for nearly 170,000 households in the city for 15 years in a contract worth US$1.2 billion on July 1, 2021
Looking back on his struggling journey, David Duong said, it was a tough fight. With the advantage of technology and experience, CWS has overcome all difficulties to become the 31st biggest company in the USA. David Duong became one of the most influential figures among the Vietnamese community in the USA, making large financial contributions to the election campaigns in Oakland and San Jose.
After nearly 40 years, from a young scrap collector, David Duong has successfully built his "empire" and is called "garbage billionaire" or "scrap king." He also was assigned Chairman of the Silicon Valley Chamber of Commerce, Member of the International Business Association of Oakland City, Chairman of the Vietnam-American Business Association, Member of Sacramento Asia-Pacific Trade Association. He was also honored to be appointed by US President Obama as a member of the Vietnam Education Fund.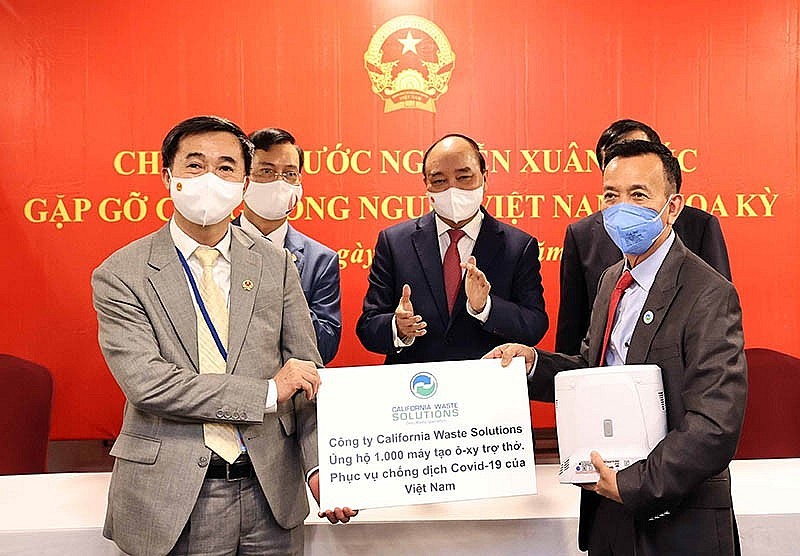 Duong and his family donated one million self-generating oxygen ventilators worth nearly US$ 3 million on President Nguyen Xuan Phuc's business trip to New York in September 2021. (Photo: Baoquocte)
Contribution to the homeland
With more than 40 years in the industry, Duong understands the great profit that trash treatment contributes to the US economy. Though requiring high investment, the trash treatment creates tens of thousands of job opportunities. Therefore, he decided to expand his business in the US and try to contribute to the homeland.
"I am a Vietnamese, a child of the Fairy and the Dragon. When I have suitable conditions, I try to do something beneficial for my homeland. After years in the trash treatment industry, I realize that garbage is a resource. Those who know to utilize the resource will bring economic benefit," he said.
Vietnam Waste Solution (VWS), owned by David Duong, was founded in Ho Chi Minh City in 2005 with 100% of the capital coming from foreign sources. VWS has promoted investment in a green technology park in Long An, which covers an area of 1,760 hectares and has treatment capacity of 40,000 tons of garbage per day.
The project treats all waste from Ho Chi Minh City and the southern key economic regions. In addition, the park will include separate zones for sorting and recycling waste, regenerating energy from waste to supply the national power grid. The project also has a treatment plant for domestic water and sewage sludge, and a drinking water production technology from treated water and rainwater. A 450 hectares Lotus Technology Center to promptly treat waste arising from activities in the project was also established.
The project attracts US$ 500 million of investment in the first 20 years. Its investment continues to grow as the company develops. Such projects make an important contribution in keeping Ho Chi Minh City's environment green and clean, promoting socio-economic development, and bringing hundreds of billions of dong in profits to the company (VWS) per year.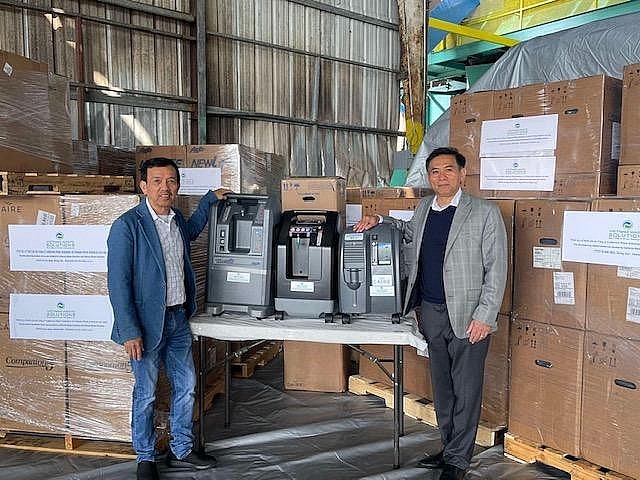 David Duong donated 250 oxygen-generating ventilators worth US$ 750,000 to the Vietnamese government through Nguyen Trac Toan, consulate general of Vietnam in San Francisco. (Photo: Tien Phong)
In the midst of the complicated pandemic in Vietnam, David Duong donated 250 oxygen-generating ventilators worth US$ 750,000 to the Vietnamese government. Duong and his family donated one million self-generating oxygen ventilators worth nearly US$ 3 million on President Nguyen Xuan Phuc's business trip to New York in September 2021.
Vietnamese children who settle in foreign countries like David Duong always treasure their race and traditions. "Although I live far away from home, my family and I always feel responsible for contributing, no matter how small, to the construction and development of the country," said the "garbage king."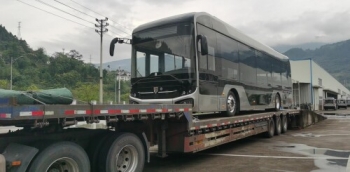 Economy
Ev Dynamics (Holdings) Limited is a pioneer and a prominent player in China's new energy commercial vehicles market, as well as a whole-vehicle manufacturer of specialty passenger vehicles and new energy passenger vehicles.