Fully-vegan Vietnamese Restaurant Highlighted in Hawaii's Magazine
Hawaiians are hooked on this diverse (and fully vegan) menu of classic Vietnamese noodle soups and dishes.
Vegans in Hawaii recognized this new "hole-in-the-wall" in Chinatown's first and only fully-vegan Vietnamese restaurant - Thuong An Lac.
Its remark made it to the local magazine Hono Lulu, in which it become a must-visit restaurant to visitors of Chinatown.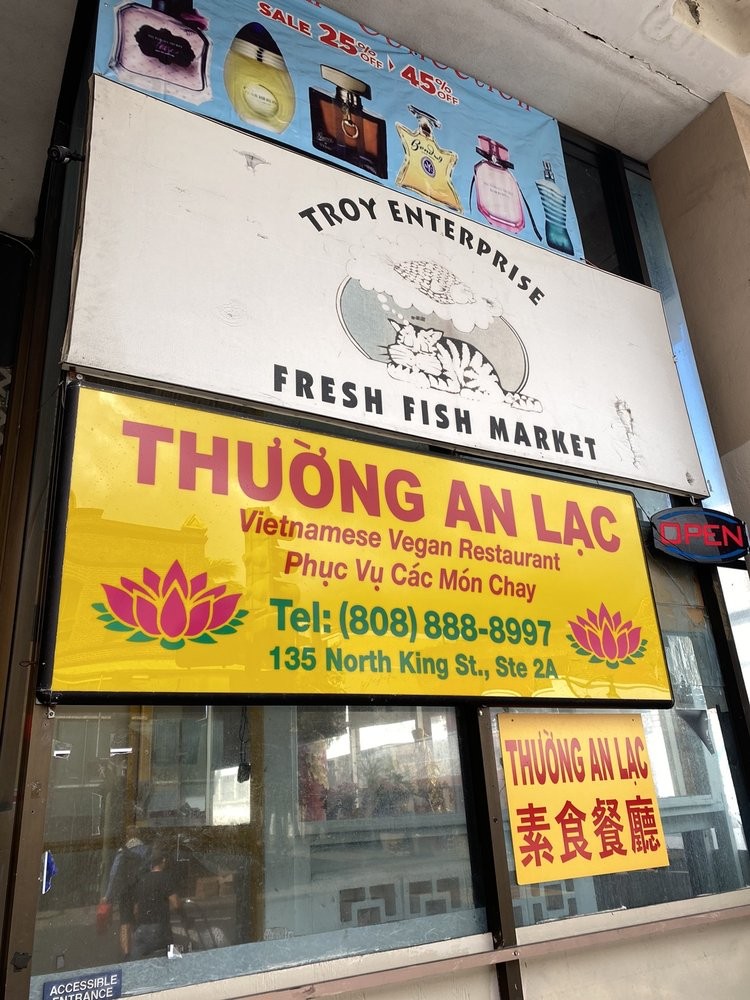 From US $6 to $20, you can enjoy the vegan versions of Vietnam signature dishes. Photo: Yelp
Restaurant owner Phuong Nguyen, who has been eating vegan for decades, opened Thuong An Lac about half a year ago. Today, it has become a hot spot in Chinatown for those who crave Vietnamese authentic taste and want a healthier choice for their meals.
The prices were reasonable and the portion was generous. In addition to dine-in, you would order from the window outside. Restaurant is small yet a clean place, at the corner of Kekaulike and King Streets on the ocean side of King street and across Oahu Market. The previous restaurant was called Kim An 2.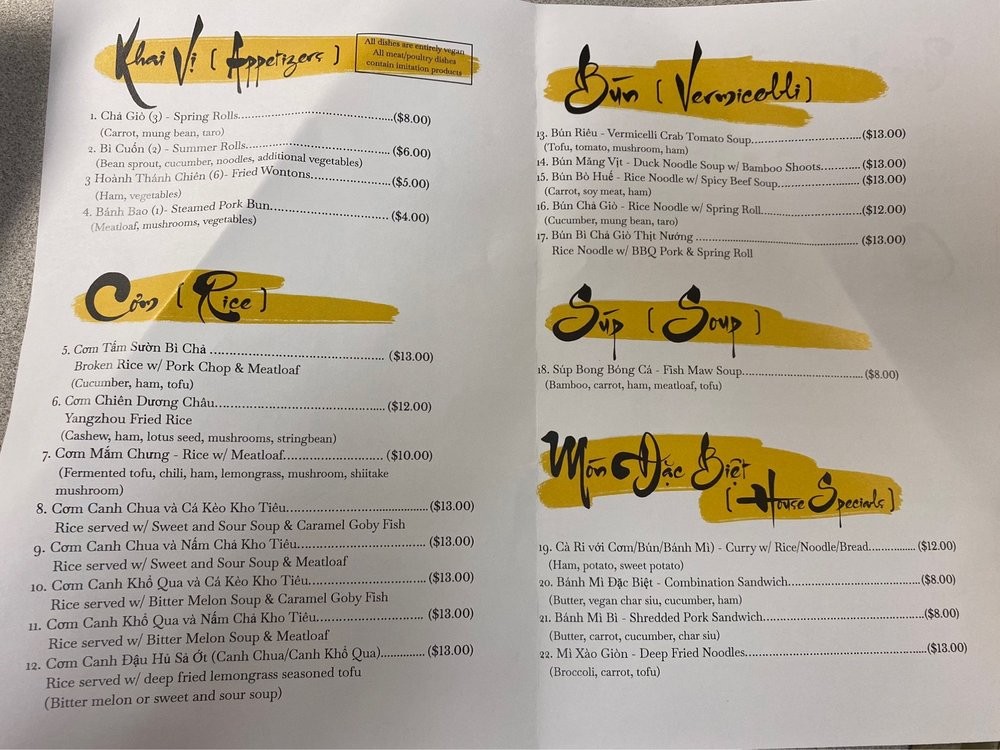 Photo: Yelp
There is Summer Rolls (bì cuốn) - rice paper wrapped rolls containing bean sprouts, cucumber, rice noodles, fried tofu, and other vegetables were served with a sweet, spicy and tangy dipping sauce (nước chấm chay).The rolls were satisfying, delicious, and text delicious
Another bestseller is Bún Riêu: This crab, tomato, and vermicelli soup were fresh and bright-tasting. Its broth was on the sweet side, best paired with their house-made lemongrass chili oil (sả ớt dầu) to kick it up a bit while adding the generous portions of vegetables garnishes.
Photo: Yelp
The broth was steaming hot, and the play between the bitter greens with the sweet-and-sour broth with rice noodles playing their key roles was magic to eaters.
Thuong An Lac also serve Bún Bì Chả Giò Thịt Nướng - vegan-style "Grilled Pork & Spring Rolls with Noodles." It will hit on all flavor and textural profiles that its non-vegan form provides.
The crispy wrappers of the Spring Rolls added the crunchy element to the bowl of fried bean curd or mock grilled pork, tender, chewy rice noodles, fresh herbs, and vegetables.
The dressing was served on the side, just like the original version. All of the food was generously portioned and flavorful.
Hawaii-based journalist Martha Cheng explained in her piece that Thuong An Lac translates roughly into "perpetual peace and contentment,".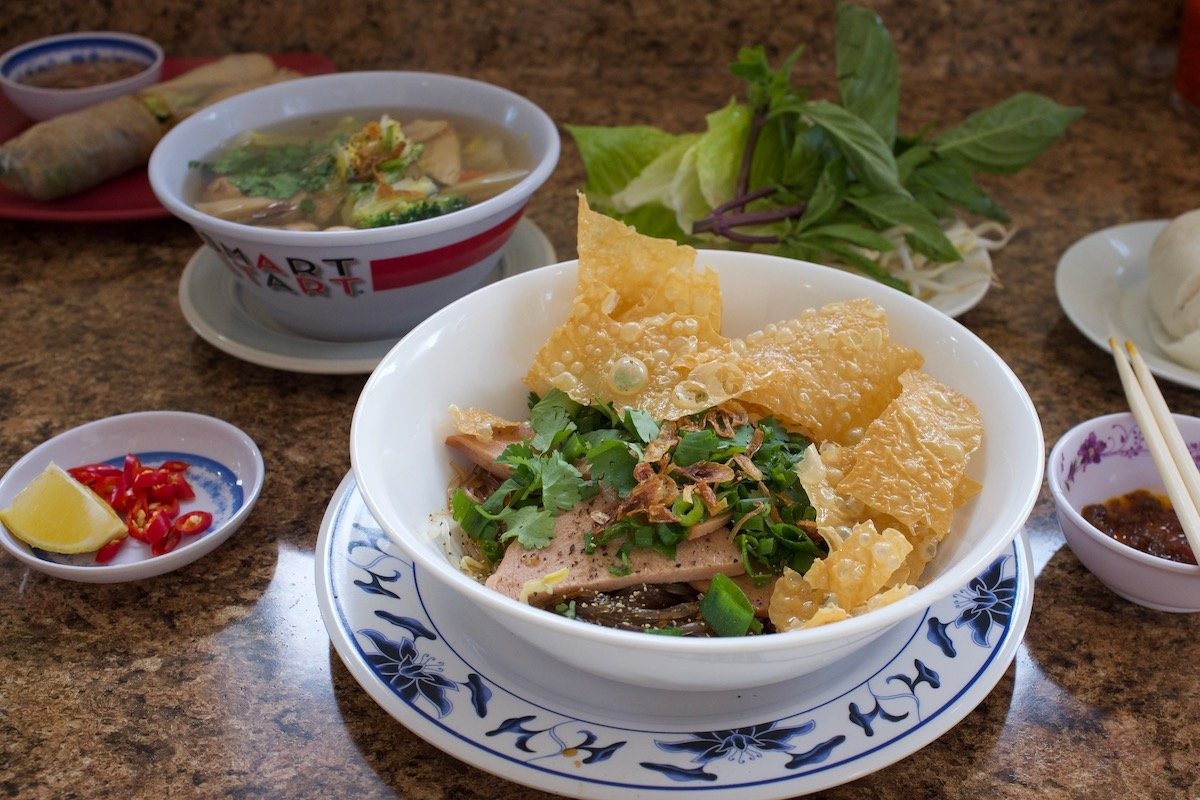 Photo: Hono Lulu Magazine
"So there's a housemade soft and fluffy bao (US $4) loaded with carrots and cabbage and a hu tieu noodle soup ($13) that's usually made with pork and shrimp, but here garnished dramatically with crispy sheets of fried tofu skin and a faux ham that's a shockingly good stand in, smoky and salty and not unpleasantly spongy. It's my favorite noodle soup here, where it's served with a clear broth on the side loaded with broccoli and mushrooms. Underneath a separate bowl of glass noodles is a shoyu-based sauce. There's a lot going on, plus another plate of bean sprouts and Thai basil and lettuce. I dump in a bunch of veggies and pour the broth over it all to tame it," said Martha
The article also praised the restaurant's amazing attention to detail, down to the pandan-infused water and iced tea. These little touches enhanced the overall dining experience.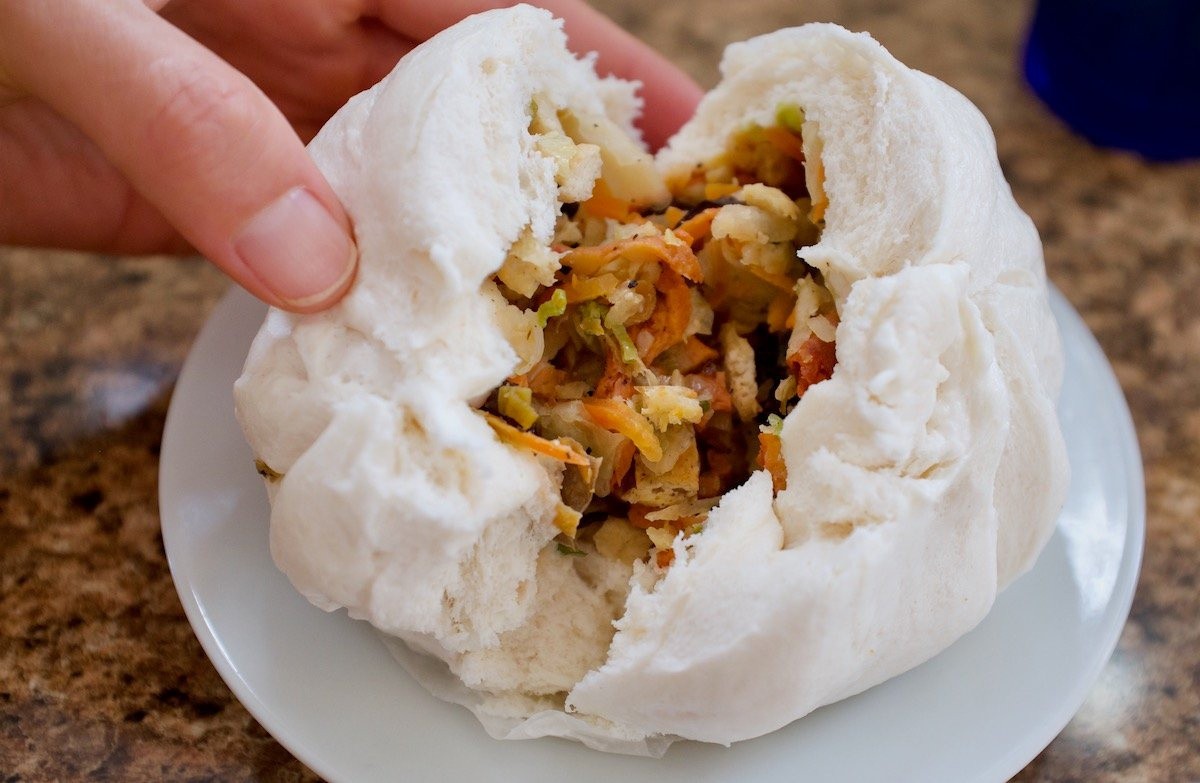 Photo: Hono Lulu Magazine
"Vegan restaurants often fall into two camps: vegetable-focused, and meat imitative (think chik'n wings). But Thuong An Lac straddles the two, mixing variously textured soy and plant proteins with plenty of fresh herbs in the Vietnamese tradition,"
She carefully described to readers about what they can expect from Thuong An Lac.
"The broths tend to run a bit on the sweet side, which I fix with a squeeze of lemon—you might need to ask for another. And there are no less than four different types of chile condiments to doctor your soup with, from sliced tiny red chilies that pack an intense punch to a chili salt to the minced lemongrass paste."