Geetesh Sharma – A Lifelong Friend of Vietnam
"I do not want to be introduced in Vietnam as a guest because I am your brother. Vietnam is my second home and my dearest family. I would like to introduce myself as your family member. Not only for me but also in India, the name Vietnam is very familiar and close," said Geetesh Sharma, a special Indian friend of Vietnam.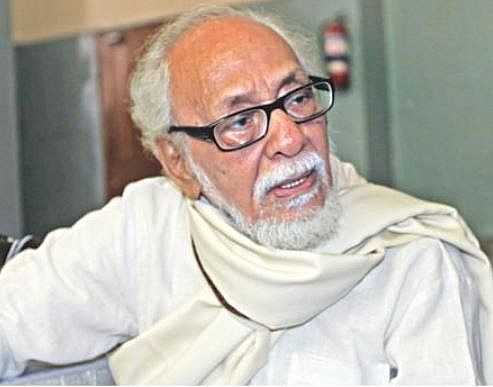 Geetesh Sharma, Chairman of the India-Vietnam Solidarity Committee of West Bengal.
An important historical witness
Geetesh Sharma (1932 - 2021) is an Indian writer, poet, journalist, socio-political activist, but notably an Indian who was passionate about Vietnamese studies and devoted his life to enhancing Indian-Vietnamese relations.
Born in a remote village in Bihar, one of the poorest states in India, he was raised to be a Brahmin ascetic. At the age of 16, he left his old way of life for the port city of Cancuta (now Kolkata) to find his own path. On that journey, Geetesh Sharma came to know President Ho Chi Minh, as well as the country and people of Vietnam.
He joined a movement to support Vietnam's war to liberate its southern provinces. He participated in demonstrations in Calcutta, the capital of West Bengal state in eastern India in 1970. It was during those struggles for peace that Indian friends spread an immortal slogan: "Tera nam, mera nam, hamara nam, Vietnam, Vietnam" (Your name Vietnam, my name Vietnam, our name Vietnam).
After the movement, Sharma held many activities to support Vietnam's independence ongoing development. The Indian's love of Vietnam grew over the years. He revealed to reporters in January 2021 that he had been to Vietnam 29 times, visiting many localities from the North to the South.
He witnessed with his own eyes the terrible devastation of the war in Vietnam but was also inspired by the renovation, economic opening, and other positive changes.
Geetesh Sharma joined the India-Vietnam Solidarity Committee in West Bengal since its establishment in 1974 to boost the traditional friendship with Vietnam. He was elected committee's chairman in 1994. Years passed by, despite his age and health, he kept working to strengthen the friendship between the two peoples for a simple reason: "I respect President Ho Chi Minh, consider Vietnam as my second homeland".
According to Geetesh Sharma, Vietnam is a typical example of a social system that does not discriminate between class, religion and ethnicity. Vietnam, his second homeland, has been making remarkable achievements in the cause of national liberation and construction.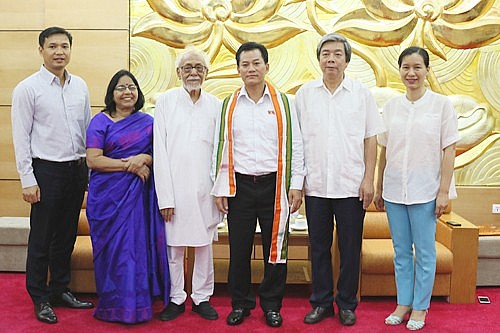 Geetesh Sharma (3rd from left) led the delegation of India - Vietnam Solidarity Committee in West Bengal to visit and work at the Vietnam Union of Friendship Organizations in 2017. (Photo: Tuan Viet)
A bridge of friendship
As the Chairman of the India - Vietnam Solidarity Committee in West Bengal, he and the committee's members have held many seminars and conferences on traditional Vietnamese holidays to provide Indian residents with further understanding of Vietnam and its people.
He also writes many books about Vietnam, about the origin of the close relationship between India and Vietnam, such as "Indian Cultural Vestiges in Vietnam," President Ho Chi Minh's Hindi biography, and "Vietnam Liberation War & Role of Kolkata". Sharma and the India-Vietnam Solidarity Committee of West Bengal regularly participate in the world's largest annual international book fair in Kolkata to introduce to international readers books and magazines about Vietnam. They have held commemorative activities and offer flowers to President Ho Chi Minh in Kolkata on his birthday every year.
Assoc. Dr. Le Van Toan, Founding Director of the Center for Indian Studies under the Ho Chi Minh National Academy of Politics, said, "For 89 years of his life, Geetesh Sharma has visited and worked in more than 30 countries around the world but perhaps, Vietnam is the place where he visited and worked with the highest frequency and gave the most sentiment. It can be said that Vietnam - Ho Chi Minh is always in his heart. He used to travel around Vietnam to document the sympathy and support."
In 2004, Geetesh Sharma was awarded the Medal for Peace and Friendship by the Vietnamese government. The Vietnam Union of Friendship Organizations awarded him the Medal for Peace and Friendship among Nations for his tireless efforts to enhance the Vietnam - India relations. He took great pride in being recognized by his second homeland. He once said: "I often think that I cannot pay off my debt to Vietnam, but I will try to do my best."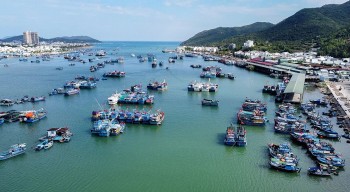 Economy
GDP growth quickened to 7.72% in the quarter ended June, beating the government's 6%-6.5% target.