Gemini Horoscope August 2021: Monthly Predictions for Love, Financial, Career and Health
Gemini Horoscope August 2021: The month of August is expected to remain quite favourable for you. With regards to career and other works, success will be yours. Stature will increase and you will remain elated. It is also absolutely necessary to maintain a certain amount of secrecy when it comes to your professional life.
Monthly Planetary Horoscope
It is an excellent time to be a Gemini. With the Sun and Mercury conjunction that closed the last month in your 3rd house, your ability to communicate and retain information is sharper than ever. Your ruling planet Mercury is blessing you with the ability to convince anyone to help you do what you want. Expressing your opinions will come so easy that you may end up on a leadership role in a family trip, a summer camping adventure, or even in your workplace. Creativity is the central focus of this month as you share all the ideas you have on how to make the routine aspects of life less dull and more exciting. Those around you will be lucky this month, as boredom and you are complete strangers for all of August.
Mars will be entering your 4th house on August 7th, bringing the red planet's vigor into your home situation. Since this is happening in Virgo, you may find yourself rearranging and redecorating as you might feel uncomfortable dwelling in any still energy within your household. There is a chance you could be irritated with your current living situation if it is not up to your standards. Especially if you live with a partner or a roommate, messiness may be the source of many arguments. You want your home to reflect your inner self: clean, fun and inviting. Anyone who disrupts this order will get the sharp and assertive side of Gemini. That being said, it is also essential to be mindful of other's space. If you share your home with somebody, they should have as much a say on how the place should feel and look like as you do. Respecting each other's differences is vital if we want to indeed be comfortable. Redecorating and cleaning up will do nothing if there is tension between the people living in the space. On the other hand, if you live by yourself, go crazy. Who's stopping you? Mars' influence is not limited to your home, though.
Since September of last year, the Lunar North Node has started transiting through your first house. This is an 18-month long transit that shifts your projects' primary focus and decisions to your identity, body, and spirit. This transit is excellent for self-betterment and healing. As we approach the end of the cycle in December of this year, you are likely beginning to see the results of all the effort you have been putting into crafting an improved version of yourself. Mars, who, as we discussed, is transiting your 4th house, will be making a brief week-long square with the North and South node. While this will send a jolt of new energy through your veins, you have to be careful not to go too far with the self-care. There is a point where appreciation becomes an obsession. This transit will come as a wake-up call for you to pay attention to the relationships you may have been failing to look after. Anything in excess can be detrimental. Be mindful of your choices as your self-mastery pursuit may be making your loved ones feel left out. Remember that a part of mastery comes from the understanding that as we overcome our own barriers, it is our duty to help others do the same. When we abandon this side of recovery, we risk becoming an obstacle in other people's lives. You surely won't let that happen.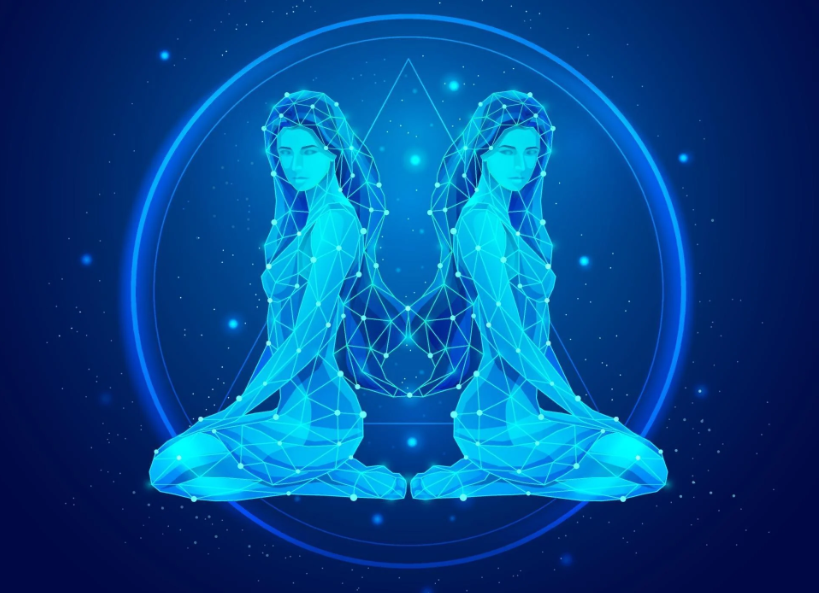 Though the New Moon happens in Leo on the 8th, you will be bringing your own mercurial flair to the energies presented by this transit. It is happening in your 3rd house, and you may feel the need to start new creative projects, read a new book or even go on a short trip with your siblings— if you have any, of course. Especially for those of you who are writers, salespeople, counselors, or teachers, your job will feel more effortless than ever. This month is time to let all your mercurial blessings go wild. Unexpected people may even start to come to you for advice. This lunar cycle might get your exceptional communications skills noticed by everyone. As a Gemini, all this attention will make you feel revitalized. Use this influx of prosperity wisely, and you can keep this momentum up for longer than you can imagine. Not that I have to tell you this, but don't be shy. The world is your oyster.
The opulence of this month continues as the Full Moon of the 22nd happens in the sign of Aquarius. This transit will be happening in your 9th house. You will likely be feeling inventive and thirsty for more knowledge. Be careful of becoming unfocused as any new and esoteric topic might send you down a Wikipedia rabbit-hole. Use this time to study your current situation and try to stay grounded in your reality. Saturn ruled Aquarius makes us aware of how we can avoid our limitations. Sometimes, it may even show us how to turn our disadvantages into a trump card. Embody the perseverance of your fellow Air sign and use it to better the foundations of your community. Whereas the New Moon was your time to shine, this is now where you use that spark to expand beyond your tiny bubble. Everyone deserves a chance to showcase their aptitude. The 9th house also deals with esoteric knowledge such as the Tarot, Astrology, and Energy Healing. If you are interested in any of these arts, this would be the perfect time to dive deep into it and learn how to use them to help your community. You are well aware of your radiance, so be the light at the end of the tunnel for your somebody.
Gemini Monthly Horoscope
You may feel that you are spinning this month. This may play havoc with your plans. This three-week time period demands that you be flexible and use your inventive mind to create "workarounds."
For academic life, the time would favour you greatly. For academic purposes, you may even have to visit a foreign country. Money will keep flowing into your hands. Domestic life may remain a bit under the weather. Ego clashes with place between family members. Hence, you are advised to remain a bit cautious. Love life will remain positive. Conjugal life will also be quite blissful.
You will acquire the full-fledged support of your life partner. More than one source of earning money will be made available to you. Health will remain in good spirits provided you take care of your dietary habits. Overall speaking, you will come across one of the best times of your life during August 2021.
Gemini Monthly Love Horoscope
Natives who are in a love relationship will come across an extremely favourable and enjoyable time. The conjunction of Mars and Venus will be seen in your 5th house. These planetary positions can be considered to be quite favourable for your love life there will be an abundance of love and romance in your life and you will also be able to leave an influential remark for yourself in your partner's life.
Consequently, your beloved's love and respect for you will increase. You will spend the days of the month quite happily. You may also be provided opportunities to take a trip together. However, do not cross the boundaries while you are being intimate with your partner. Because of this, love and respect for one another will increase. Those natives who are not in any relationship as of now and I'm waiting for the love of their life may also get some good news.
Moving on, let us now talk about the fate of married natives during the month of August. You will come across an extremely favourable time during this month. You can expect each and every kind of support from your life partner which will keep you happy and elated.
Love and affection for one another will also increase. If you happen to be a business professional, then your life partners help and support will help you expand your trade. Due to better harmony and communication between one another, there will be pleasantness in your relationship. Unmarried native may get married during this time.
Gemini, this month you should know your moment of glory. What is waiting for you in love is pretty incredible. The stars bring you to the front of the stage. Seduction, passion, intoxicating relationships, you are caught in a swirling love.
August love relationships of Gemini individuals predicts splendid prospects. Love will be churning your head with unbelievable things. It will be obsessive, exhilarating, and highly passionate. Gemini compatibility will be blissful full of romance and desire. It is time to enjoy together by partying and socializing. You have the cooperation of your spouse in all these activities. Single persons will have the support of planets for their endeavor to get into love relationships. You will have the enthusiasm and there will be a number of opportunities for married people to plan for a baby.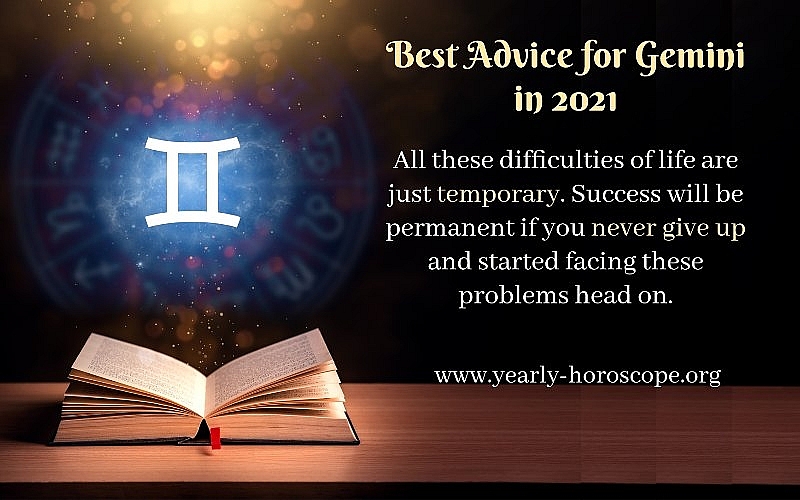 Photo: yearly horoscope
Gemini Monthly Money Horoscope
This month should see you do quite well financially, since the configuration of stars facing you is favourable. Those in the overseas trade would do extremely well. This would also apply to traders of almost all types. What is more they would realize their full profits.
In fact, this would apply to most of you. But particularly, writers, painters, sculptors, and practitioners of the other arts would have an extremely satisfying time not only in terms of financial gains but also in terms of their creative output. Further, the climate would be congenial for investment and the launching of new ventures, and those of you who have such plans on the anvil, should put these into motion. Overall, an extremely beneficial month.
Traders, exporters and fine arts dealers will do exceedingly well and reap good profits from their business activities. Planetary aspects are highly favorable for business activities. The time is ripe for starting new business projects. If you are investing in good securities, you will make a good amount of money. Speculators will have a wonderful time.
With regards to your economic life, the month of August will turn out to be quite fruitful for you. The 11th house of your sign is under the occupancy of Jupiter and it is also being affected by Mars and Venus at the same time. The second house is being resided by Rahu which will make sure you earn money from various sources. There are also chances of some sudden gains.
With regards to your business and trade ventures, you may witness the inflow of monetary resources. The second half of the month demands certain attentiveness on your part as your expenses are also likely to increase in this time. You might tend to show off while making large scale expenditures. Overall speaking, your economic condition will remain quite favourable and you may also be able to save a particular amount of money during the first half of the month.
Gemini Monthly Career Horoscope
With regards to your professional life the month of August is expected to remain favourable. You will be seen working quite hard. You will try to accomplish your task with great hard work and efficiency because of which your position will remain quite influential at your workplace. Your hard work will be praised by your peers. The planet Sun is aspecting the tenth house.
During the beginning of the month, Mercury will also do the same. Saturn is already present in the very same house. Because of this, you will remain excited about your work but some mishaps may also take place. Job holders are requested to keep a tab on your behaviour with their respective colleagues.
The time is quite good for business professionals belonging to this sign as they will be able to see the face of success. Your trade venture may also get expanded. The second half of the month will be comparatively better and job holders will also come across a favourable time in this duration.
Make room for the party, when it comes to surprises your partner puts their whole heart into the effort. We put out a big spread with tenderness and passion, your relationship is growing in power, feelings are overflowing. You are happy together.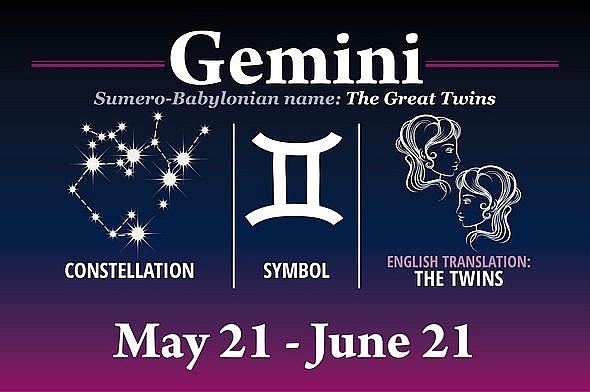 Photo: Daily Express
Nothing very advantageous for you in so far as your professional aspirations are concerned in the combination of stars facing you this month. There is little likelihood of realizing the expected gains despite a lot of hard work during the course of this month. This would naturally tend to disappoint you.
In fact this month could well mean a spell of dull plodding. The working atmosphere may not be very pleasant either. Yet the association of some learned people of spiritual stature, would well turn out to be the saving grace. Patience and perseverance are the only prescription under the circumstances.
Gemini Monthly Health Horoscope
Although from a health point of view, the month of August is going to remain hunky dory for you. But, you need to be a little cautious regarding your food habits. Do not consume stale food at all. Indigestion and stomach issues like gas may cause some problems in the first half of the month.
You can avoid these problems by consuming stomach-friendly and digestible items, and by being very religious about drinking water. Having Ketu in the eighth house at times proves to be somewhat difficult for health. Therefore, if you have any doubts about your health, then take the prescribed medicines immediately after consulting a doctor. Health will remain stable in the second half of the month. The concerns will be resolved.
A month during which the Gods of fortune are not in a very obliging mood, in so far as your health is concerned. You would have to compensate for this by devoting extra care and attention on your own well-being. Those predisposed to chronic disorders of the digestive tract like excess of wind and flatulence would have to take extra precautions to ensure continued relief.
Monthly 2021 astrological predictions for Gemini zodiac sign forecasts are not encouraging for health prospects during the month of August. Stellar configurations are not helpful and chronic ailments will reappear. Due to overexertion, stress will spoil your health further.
You can minimize your health problems by resorting to good fitness and health regimes. Relaxation will tend to reduce problems induced by stress. Proper scheduling of activities will be helpful. Just wait for good days to reappear!
Gemini August 2021 horoscope Important numbers: 1, 4, 8
Gemini August important dates: 13, 14, 15, 23, 30
Gemini Horoscope August special note
"The time has come to start saving. You are very wasteful, and it will eventually lead you to the brink of bankruptcy, so think about it. Spend money in a wise and most importantly thought-out way. Buy only the items you need, start with improving your home's standard."