Gemini Horoscope October 2021: Monthly Predictions for Love, Financial, Career and Health
Gemini Horoscope September 2021: This month can turn out to be better than average for you. With regards to your professional life, you will be in a quite comfortable space.
Monthly Planetary Horoscope
Retrograde activity drops precipitously this month, which is highly unusual. We begin the month with 60 per cent of the planets retrograde and we will end with only 20 per cent retrograde. So, day by day, stuck projects get unstuck. Day by day, events in the world and in your life start moving forward.
The planetary power is now mostly in the Western, social sector of your chart. Thus you are in a social period – a period to cultivate your social skills. Now success is not about your personal skills or personal initiative. It's about likeability, the ability to get on with others and get their support. Things happen by consensus and not by direct personal action. Let others have their way, so long as it isn't destructive.
The love life is clarifying now as Jupiter starts moving forward on the 18th. Social confidence is stronger. You seem on good terms with the spouse, partner or current love. Singles are having romantic opportunities (the 2nd and 3rd seems especially good, but all month is good). Venus, the generic planet of love, moves into your 7th house on the 7th and stays there for the rest of the month. This would indicate someone spiritual in your romantic circle. It would also signal a love affair: something not necessarily serious.
Health is good this month. You have plenty of energy to achieve whatever you put your mind to. Your 6th house of health becomes powerful from the 23rd, showing a focus on health. Probably this is about healthy lifestyles and regimes.
Gemini Monthly Horoscope October 2021. Photo: vietnamtimes.
The power in the 6th house is excellent for job seekers. There are at least three job opportunities for you this month. Those already employed can have opportunities for overtime or to take on second jobs. The money house is empty, and finance tends to the status quo. Only the Moon moves through the 2nd house, on the 26th and 27th. The waxing Moon period from the 6th the 20th brings more enthusiasm and stronger earning power.
Venus goes 'out of bounds' from the 11th onwards. She is outside her normal orbit (in latitude). Thus, in spiritual matters and in your personal creativity you are outside your normal sphere. Children and children figures in your life are also moving out of their usual circles.
Gemini Monthly Horoscope
Since October is going to start for you in half tones, dear Gemini, you may suddenly decide to no longer pay that much attention to the people in your life. Some of the ones you love will be surprised by this, whereas others will understand what game you're playing without any problem. What you want is to get a reaction from everyone, no matter what. In case you decide to no longer have a hold of what's going in, then you will fail at what you're doing, so before anything, just think twice.
For the month's beginning, your romantic relationships are not at all stable, but things significantly improve around the 15th. Around the 22nd, take advantage of the warm atmosphere at home to talk about your plans and projects. If you decide to only procrastinate, then you will lose a lot. It's important that you don't let opportunities pass by you, just because you have doubts. Of course, caution is a must, but this doesn't mean you need to worry too much.
Since they have suffered disappointments lately, Geminis are going to be very disappointed in October. The stars will indeed help them see how much they're worth and that they need to believe in themselves, but if they don't pay attention, they will become victims of their own pessimism, which will have them complaining all the time, also unable to escape bad situations.
This is a month in which you need to let go of negative thoughts. Just believe in yourself and your talents. For the first 2 weeks, you will have more work than you have ever imagined to be given, not to mention you may feel like your colleagues are all working against you. Therefore, disappointments will arise, but you may also realize that some of your co-workers are in fact of no help to you.
This autumn month will bring a rush of creativity and courage into the lives of Gemini. You can use them to fulfill plans that you have had in your head for a long time, but it was never the right time to implement them. In addition, it is a good time to rush into repairs to the house, for example. It is possible that Uranus's negative influences will also reach you, and you will act too impulsively and stubbornly. You might not like your neighborhood. Even if you have your ideas thought through to the letter, it's always a good idea to get advice from someone.
The beginning of the new month will awaken a desire for rest, and therefore, October will encourage you to slow down your life pace. The year is slowly reaching its end, and you've managed to do a lot. Gemini should realize that they don't have to be working all the time and rush somewhere. Evenings spent reading books or watching films are absolutely ideal.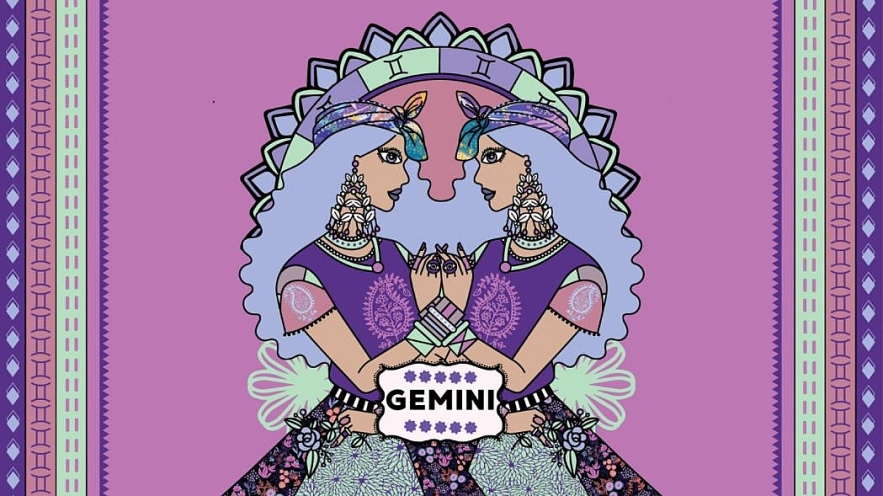 Gemini Horoscope October. Photo: vogue.
Gemini Monthly Love Horoscope
Geminis will have a very interesting October when it comes to romance. Vesta and Uranus will be in retrograde with the sign of Taurus, so Twins will go, on the inside, through a process in which they're recognizing where they have made mistakes and what's needed for them to let go of these mistakes.
The tendency to do so will be strengthened by Chiron in retrograde in the 12th House of Taurus. This aspect brings the need to heal wounds that happened in the past, not in a way pf self-punishment, but for liberation to be obtained. In the same manner, the October 13th's Full Moon in the sign of Aries will put an end to emotional situations that should have been let go of a while back. The North Node will be in the 3rd House of Taurus. From here, it will encourage Twins to learn new things and skills, to be open to the future and the experiences coming. There's also the Sun entering the 7th House of Taurus on October 23rd, which indicates decisions will have to be made in the relationship, conflicts solved, and mutual trust reinstated.
For matters related to love and romance, the month of October will have bittersweet emotions in store. The month will begin on a good note. Both Mercury and Venus will remain placed in your fifth house, because of which intimacy between you and your partner will increase.
You will be provided multiple opportunities to spend time with your partner. However, it should also be noted that during the very first week of October, the planet Venus is changing signs and gradually the fifth house will be occupied by the Sun and Mars.
Try to keep the communication intact with your partner, which will provide a boost to your compatibility levels. On 17 October 2021, the planet Sun will transit in your fifth house and some tensions can prevail in your relationship. Some uneasy circumstances can also crop up which is why you are advised to remain careful.
At the very end of the month, red Planet Mars will also be seen in your fifth house, which can create misunderstandings and clashes between you two. You have been blessed with commendable communication skills. So make the best use of them to keep your relationship intact.
Let us now move on to talk about married natives. You should work on your relationship with your in-laws. Don't hold any grudges against them as it will be quite harmful for your relationship with your life partner. The conjunction of Jupiter and Saturn in your eighth house will promise the support of your in-laws. Life partner may also be blessed with some economic benefits that will also be highly beneficial for your relationship. At the very end of the month, the intimacy between life partners will increase. You may also make plans to take a trip together.
From the point of view of your family life, the month time has some mixed results in store for you. However, the presence of both Mars and the Sun in your fourth house can create unnecessary troubles between family members.
The health of your mother may remain in low spirits. If she has already been suffering from any chronic disease, then you should remain extremely careful during October 2021. Saturn is in the eighth house and Jupiter is directly aspecting your second house, because of which you may acquire the support of your family members.
During the latter half of the month, the Sun will move into your fifth house because of which the situations of the domestic environment will improve. Property related disputes will also come to an end. At the end of the month the planet Mars will move into your fifth house, because of which harmony will prevail over your household. You will acquire the love and support of your younger siblings. Married natives can also receive some good news with regards to their children but you should take special care of their health during the first half of the month.
Gemini Horoscope October. Photo: astrologyzone.
Gemini Monthly Money Horoscope
If you take a look at your financial life, then the month of October will turn out to be quite blissful for you. With regards to your income, the month starts on a positive note. The house of your income is being affected by both Mars and mercury. The second house is also being aspected by Saturn and Jupiter, because of which new sources of earning money will be made available to you.
With the love and support acquired by friends and closed ones, you may also stumble upon a new income opportunity. Your bank balance will increase and so will your savings. On 22nd October 2021, the planet Mars will enter your fifth house. If you have taken a loan in the past, then this is the right time to repay it.
If you have been planning to invest in a particular business venture, then this is the right time to go ahead with it. Because of all these positive changes taking place in your financial life, you will remain happy and elated. Job holders may also be gifted a bonus or an increment. Right until October 13th, Geminis need to be very cautious when signing any contract, in fact, avoid doing so altogether. They must as well not start a new business or take care of paperwork. This is because Mercury will be weak and in a bad frame in the zodiac, delaying and harming their plans.
In case Twins decide to have patience and to wait, their problems can be solved before time. Many of them will receive the recognition for their work efforts, not to mention they will be given many opportunities to prove how intelligent and able to do their job they are. You will have a good financial situation and pay all your bills on time. Being fun and happy will attract you even more money. Energies related to work and other people will help your income increase, so you will feel very lucky. There will even be enough in your wallet for you to travel.
2021 October forecast for Gemini zodiac is not encouraging for business activities and their financial growth. Exporters and traders fail to improve their businesses and may end up with fiscal liabilities. People in the creative fields fail to come up with saleable outputs. Star aspects are not promising and businessmen will fail to execute their development plans. Speculations will be risky, while investments fail to ge the expected returns. Financial agencies will be reluctant to bail you out of the financial muddle.
Gemini Monthly Career Horoscope
If we talk about your career, then the month of October will be full of ups and downs. The planet Saturn is posited in your 8th house and aspecting your tenth House. Because of this, success will come handy to you after going through hard work and struggles. In this process, your work efficiency will also increase.
The time is quite right for business professionals and investing money. You can expect some long-term benefits from these investments. With the ones who are in power, you will accomplish many things in the duration of October 2021. Those who are enrolled in a government job will remain at the receiving end of the fruitful results. There are also chances of a job transfer.
2021 Gemini horoscope for career does not promise any great things happening for professionals. Star aspects fail to give any support and you fail to make headway in your career. In spite of your diligence, your accomplishments will be average. There will not be any financial rewards. In the absence of any good tidings from career, you can engage in charitable work for the betterment of the society. Professional skills can be enhanced through additional training.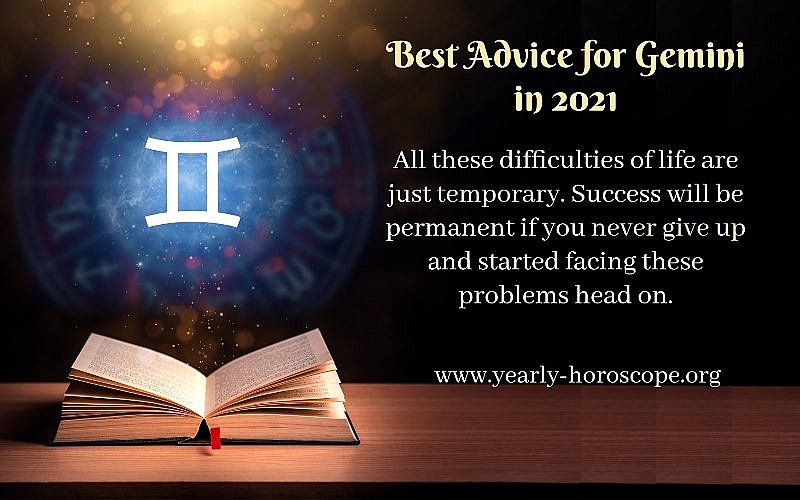 Gemini horoscope. Photo: yearly horoscope
Gemini Monthly Health Horoscope
From the health point of view, this month requires you to remain somewhat cautious. You are not in a position to be negligent about health this month. Even a little carelessness on your part will cause problems for you.
Both Saturn and Jupiter are sitting in the eighth house. It is also indicating the prevalence of some long lasting diseases. Your zodiac lord Mercury will also be retrograde and move into the fourth house from October 2, where Mars and Sun will already be present. There will also be the aspection of Jupiter sitting in the eighth house. All these conditions point towards diseases related to lungs or chest. You need to be careful. Avoid taking trips if not necessary. It is a time of special vigilance for people suffering from respiratory diseases.
With the transit of Sun and Mars in the fifth house, there will also be hope for a slight improvement in health, but Mars will be aspecting Guru from the fourth house. Due to the further weak state of Jupiter, you may have to face stomach troubles. People suffering from liver diseases have to consume an adequate amount of water.
Lots of the Geminis who have made travel plans or want to finish some of their projects will notice how they need to face all sort of difficulties and delays that don't seem to have a solution. Therefore, they will be very nervous, which will obviously impact their health in a negative manner. They may not be able to sleep at night, whereas some of them will end up suffering from eating disorders. Weight and digestive problems will become common. What you need to do is keep your calm and exercise regularly.
October 2021 Gemini horoscope is promising for the health prospects of Gemini individuals. Stellar configurations are favorable and this will ensure that chronic illnesses will be under control. Minor health problems can be taken care of by immediate medical help. It is important to reduce your anxiety by proper scheduling of your activities during the 2021 Mercury retrograde. Fitness should be ensured through regular exercises and healthy food habits. Meditation will help you to maintain your mental well-being.
Best Days Overall: 5, 6, 14, 15, 23, 24, 25
Most Stressful Days Overall: 3, 4, 10, 11, 16, 17, 31
Best Days for Love: 6, 7, 10, 11, 15, 18, 19, 24, 25, 29, 30
Best Days for Money: 5, 6, 7, 14, 15, 24, 25, 26, 27
Best Days for Career: 9, 16, 17, 27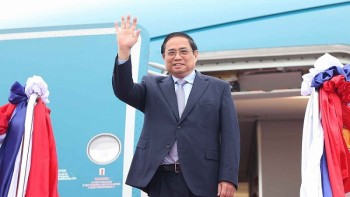 National
Vietnam News Today (Feb. 6): PM Chinh to pay official visits to Singapore, Brunei; Vietnam attends ASEAN+3 Tourism Ministers Meeting; Exports in 2023 and high demands from new generation FTAs; Digital technology to spearhead Vietnam's drive for Industry 4.0.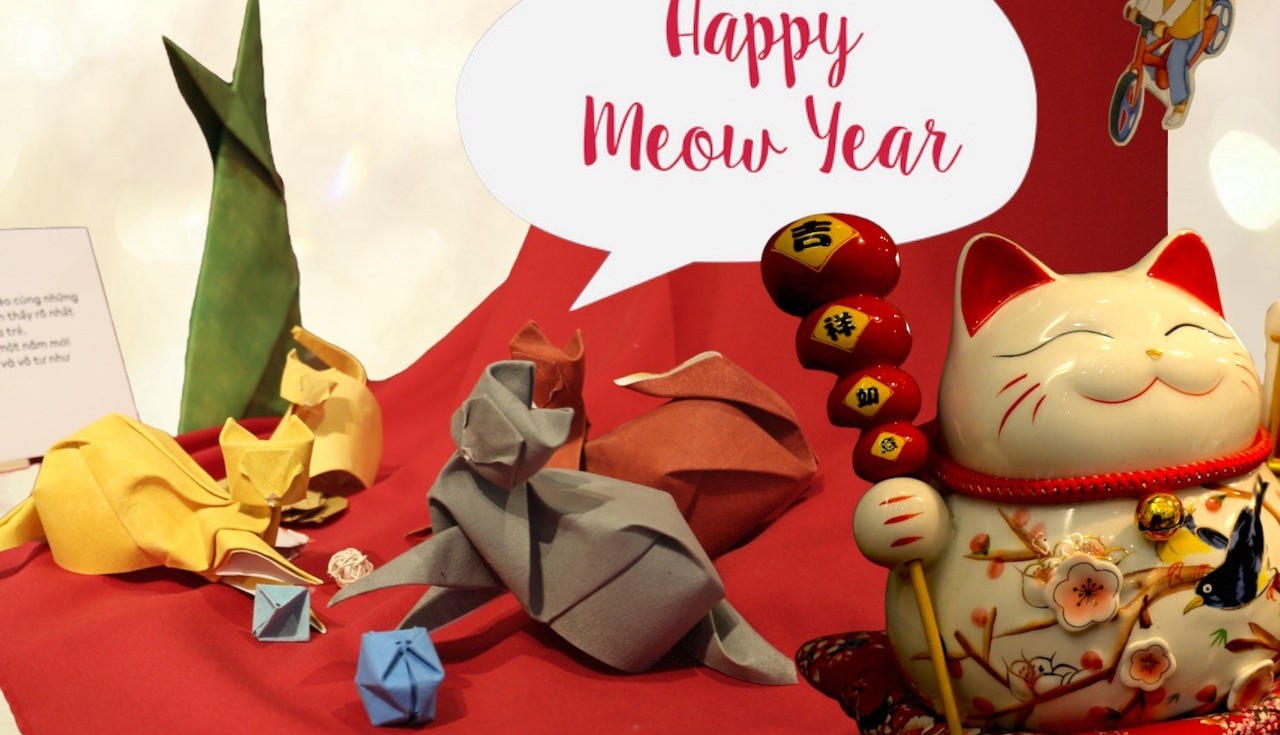 Handbook
The Year of the Cat is right at the corner and it is time to celebrate for all you cat lovers out there. This holiday season, check out how you can enjoy the company of furry feline friend, from cute cafe to personalized gifts in Hanoi.
January 20, 2023 | 08:22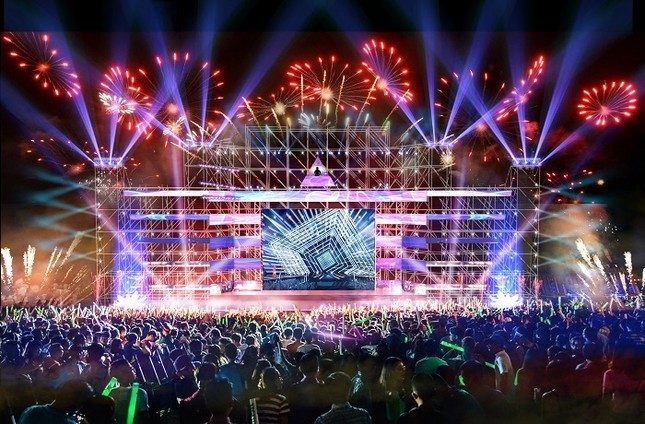 Handbook
Hanoi's young people are eagerly inviting each other to watch fireworks on New Year's Eve. Here are a few things to keep in mind and places with great views for people to watch the fireworks display.
January 17, 2023 | 07:41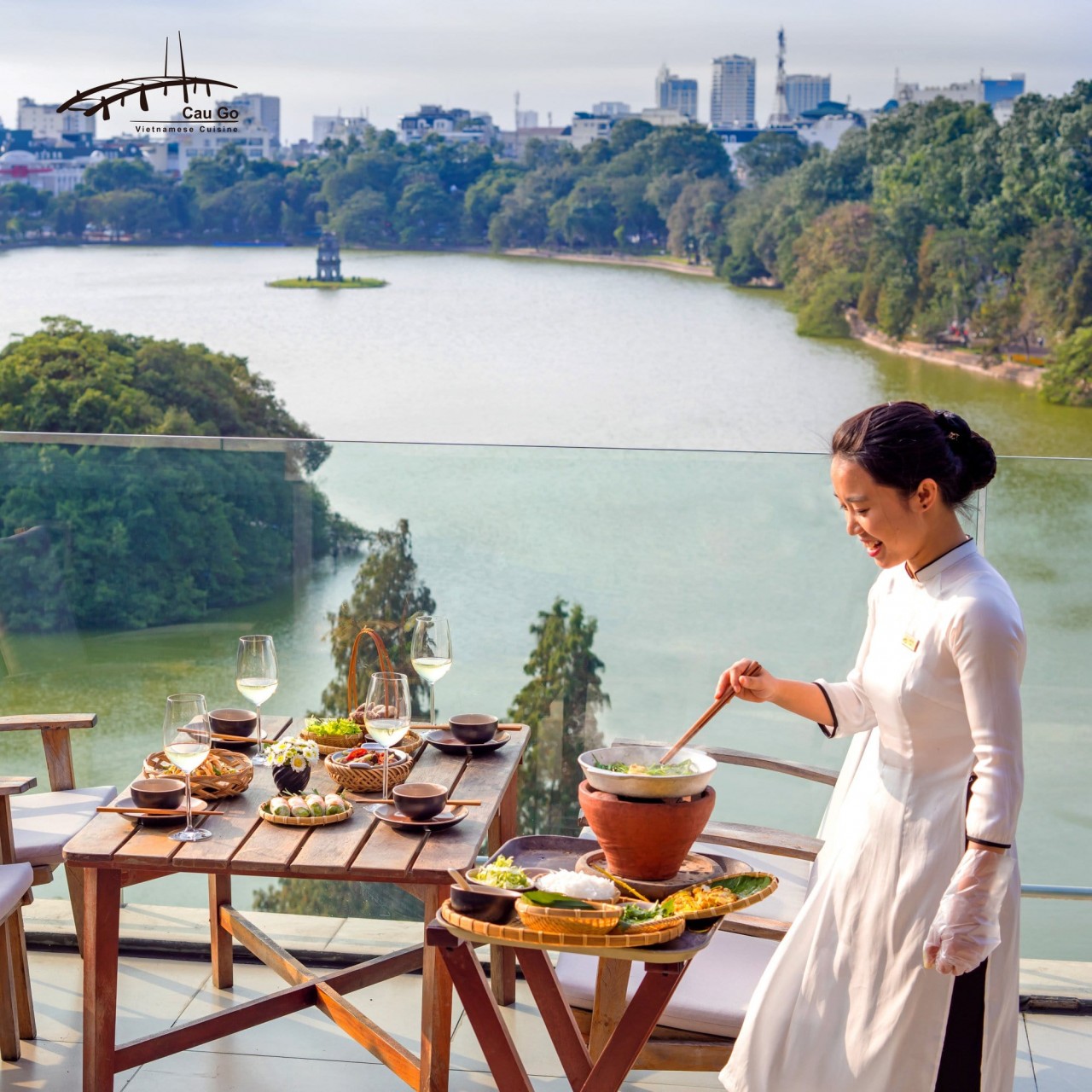 Handbook
Hanoi captivates visitors from all over the world with popular foods like pho, bun cha, etc. If you have a chance to visit the city during the Lunar New Year, try dining at restaurants serving traditional Hanoi dishes to immerse yourself in the culture of Tet in the North of Vietnam.
January 16, 2023 | 08:21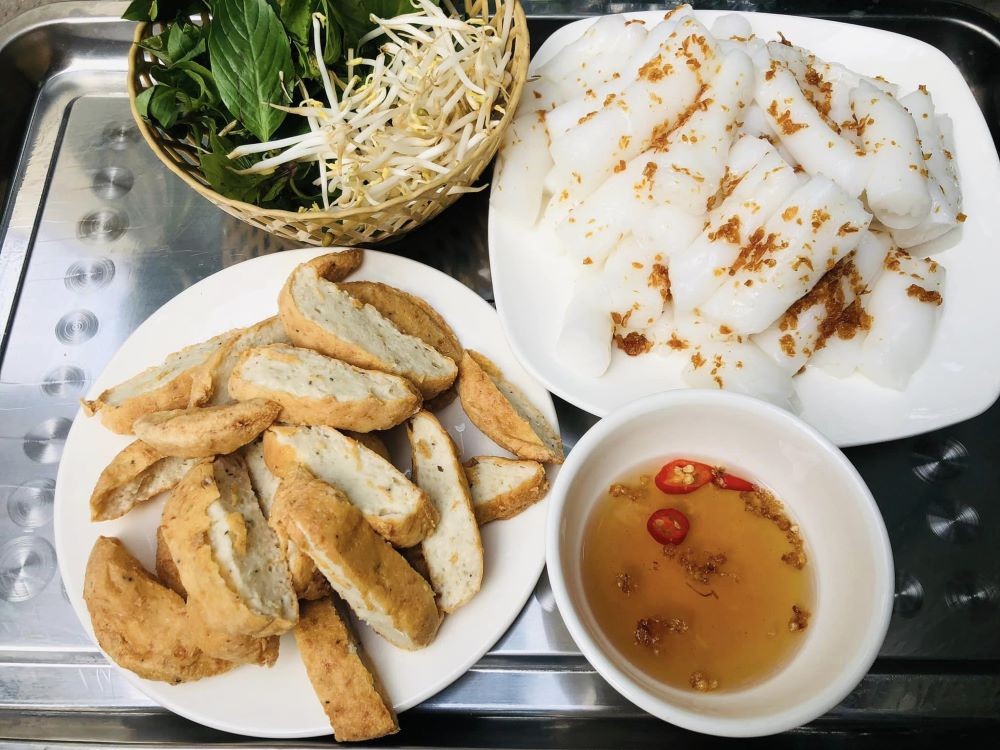 Handbook
The following Nghe An dishes are rated by many diners as delicious, nutritious, and cheap
January 09, 2023 | 06:56