German Embassy showcases photos promoting Vietnam's culture
21 color photos depicting Vietnam's splendors and cultural diversity are displayed along the perimeter wall of the German Embassy in Hanoi.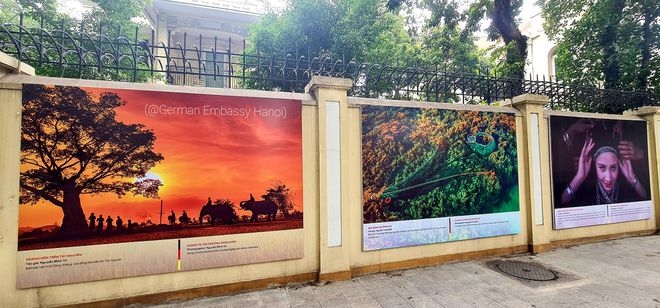 21 photos are hung on the wall surrounding German Embassy in Hanoi (Photo: Thanh Nien)
These photos, shortlisted from the photo contest "Spreading interest, sharing visions of cultural diversity", capture the beauty of the Vietnam country, its people, culture and landscapes. The photo contest is organized in joint effort among UNESCO, Ngay Nay magazine and the German Embassy in Hanoi from mid-August to early November 2020.
As reported by Thanh Nien, the photo competition aims at promoting the beauty of cultural heritage and cultural creation in Vietnam. Over 2,000 entries were submitted by 250 contestants from 6 countries, with themes ranging from heritage landscapes and monuments, cultural transfer through generations, art and creativity, the harmony of human beings and nature. 21 outstanding photos are shortlisted to be showcased at the German Embassy.
To date, Germany – in cooperation with the German's Ministry of Foreign Affairs and Vietnamese partners, has launched a number of conservation and restoration projects at historical monuments. The restoration of Phung Tien palace in Hue ancient capital is the latest projects to be implemented.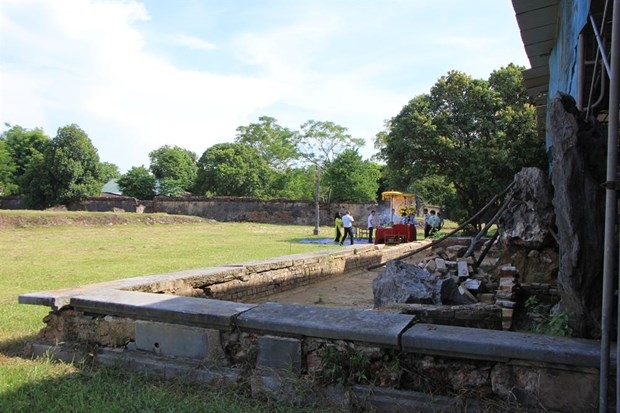 A corner of Phung Tien palace (Photo: Lao Dong)
According to QDND, the restoration work ran under two phases between September 29, 2017 and December 31, 2018. It employed the fresco-secco technique of painting on dry plaster with pigments mixed in water. The technique helped the project win two third-place prizes at the provincial and national science and technology innovation awards last year.
The project, which finished on January 2019, cost a total of nearly VND 4.3 billion (EUR 168.614), of which over VND 3.4 billion (EUR 135,873) was sponsored by the German Ministry of Foreign Affairs through the Embassy of Germany in Vietnam, with the rest from Vietnam's corresponding fund.
Constructed under the reign of King Minh Mang in the 19th century, Phung Tien was among the Nguyen dynasty's five most important palaces. It was used to worship the Nguyen Dynasty kings and their wives. The majority of the palace has gone to ruin over time, apart from the remaining foundation, gates, and some stonework.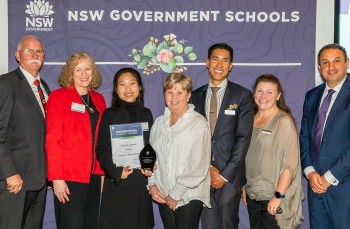 Overseas Vietnamese
The award for international students studying at New South Wales state schools (Australia) honors excellent ones from many countries, including a Vietnamese female student.