Gia Lai province's unique election propaganda
Gia Lai has employed new styles of election propaganda, including materials in minority languages and visiting prisoners in their cells
Election materials in ethnic languages
In Dac Talay commune, Mang yang district, over 80% of the population are Ba Na people. Every two days, commune officials ride motorbikes, carry portable loudspeakers and distribute election materials to the people. Election leaflets as well as audio tapes are presented in Ba Na and common Vietnamese for easy understanding.
Dinh Gon, an official from Dac Talay commune, said: "People here go to work early in the morning, then come back at about 5 to 6 p.m. in the afternoon. Usually, we turn on the speaker from 5 p.m. so that many people can hear the information. We broadcast in the local language so that people can understand and be aware of it in their own language."
Dinh Dinh Chi, head of the Culture-Information Department of Kbang District, said that nearly 46% of the district's population being ethnic groups, propaganda in these forms is appropriate to the local culture. Gia Lai not only broadcasts election work through the local loudspeaker system, but also through visual propaganda.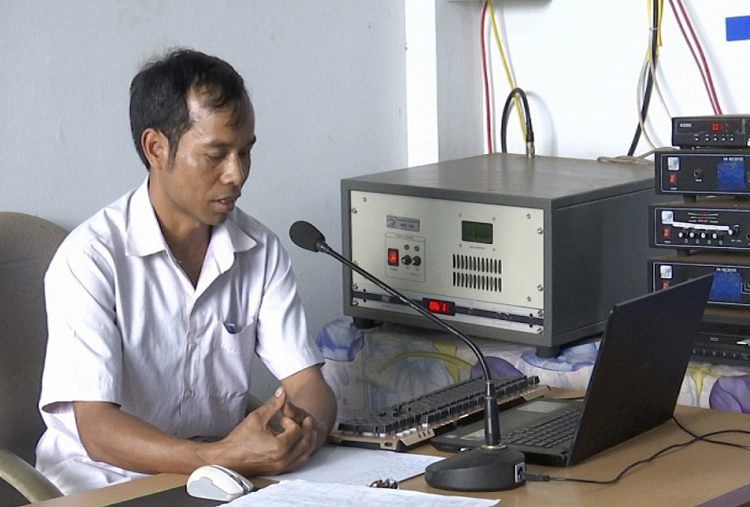 Propagating elections in ethnic group areas, Gia Lai province.
Going from prison cell to cell
The Gia Lai Provincial Police Detention Center has an area of 40 hectares, currently managing 448 people, including 404 people in temporary detention and 44 convicted prisoners.
Voting in detention centers has its own difficulties because according to regulations, people without convictions must stay in cells to avoid communication and propaganda will be in charge of prison officials, taking place in each cell. There are cells for only a few people, and there are cells for a few dozen people.
Lieutenant Colonel Chu Ngoc Dien, deputy captain of the camp's prison guards, said: "After receiving the election plan from the provincial police, the prison guards directly went to each cell to disseminate information. Through propaganda, detainees grasp their rights and show an attitude of cooperation and compliance. Although the propaganda is difficult, we try to overcome it."
An inmate working and rehabilitating at Gia Lai Provincial Police Detention Center.
Twice a day, officers of the Border Guard station of Ia Nan commune in Duc Co district go around the village to broadcast election information. Border officers and soldiers compiled them for easier understanding and memorizing, both in the local ethnic language and Vietnamese.
Determining propaganda work for the National Assembly deputies and People's Councils at all levels in border areas is an important task. Therefore, in addition to ensuring border security, preventing and controlling the Covid-19 pandemic, border guards have been applying many forms of propaganda day and night to spread information about the "Festival of the people." The information is about implementing the motto "Go to every alley, knock door-to-door," and "eat, live, work with the people."
Ia Nan commune with nearly 2,000 households and about 8,000 people is large. From March to May every year is the cashew harvest, so many families live in the fields. To ensure all people know and participate in elections, border guards and officers have strengthened their work by "going every alley, knocking door-to-door."
A team of reputable people
With a 20-year history of being elected as a prestigious person in O Ngo village (Ia Bang commune, Dak Doa district), Hyang said: "At this time, when there is a policy of propaganda on the election, me, the village head and the cell's secretary mobilize people to attend village meetings to hear information about the election. The village selected and introduced four candidates for the commune People's Council for the term 2021 to 2026.
"I convey the most basic contents so that people can understand the rights and obligations of voters, election principles, standards of National Assembly and People's Council deputies at all levels. At the same time, I also advise people to be responsible for their votes, not to vote on behalf of others, carefully consider who to vote for, as well as find virtuous and talented people to help Vietnam further develop."
Aside from propaganda in meetings, Ro Mah Chim of Lan village, Ia Kly commune, Chu Prong district, also went to each house, especially families with people working far away to inform their families on the election day.
"By 'going to every alley, knocking door to door,' all voters in the village understood the meaning of voting and had the responsibility to directly vote to elect virtuous and talented people. Voters who are at least 18 years old are eligible to vote," Ro Mah Chim said.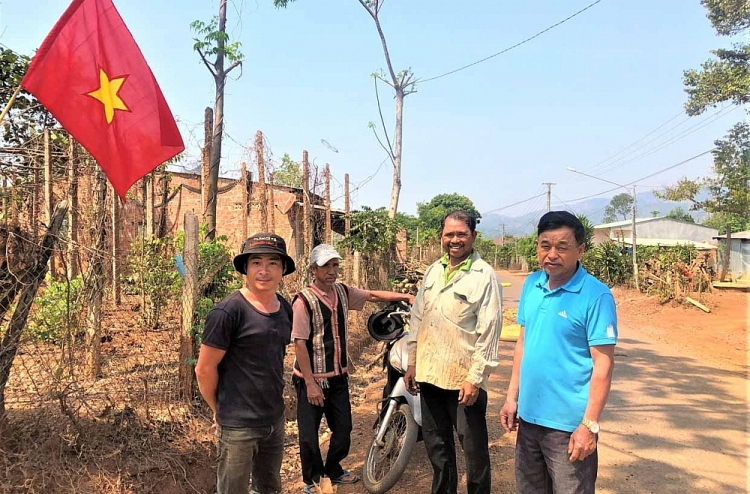 The Village People's Committee and the prestigious person of Krai village (Kon Gang commune, Dak Doa district) discuss the election. (Photo: Dinh Yen)
Pham Thi Lan, vice chairman of the Vietnam Fatherland Front Committee of Gia Lai, said that the province currently had 955 prestigious people among ethnic groups, of which 771 were members of the Vietnam Fatherland Front Committees for the term 2019 to 2024.
"Reputable people are always exemplary, pioneering in all fields and well grasping the guidelines of the Party, policies and laws of the government. These days, reputable people in our province are also actively propagating and mobilizing people, especially ethnic groups to understand and exercise their rights and obligations when participating in elections," Lan said.