God of Wealth Day marked with online gold trading amidst COVID-19
The COVID-19 pandemic could not prevent Vietnamese from buying gold in anticipation of the God of Wealth Day, especially as gold firms are now taking the sale online.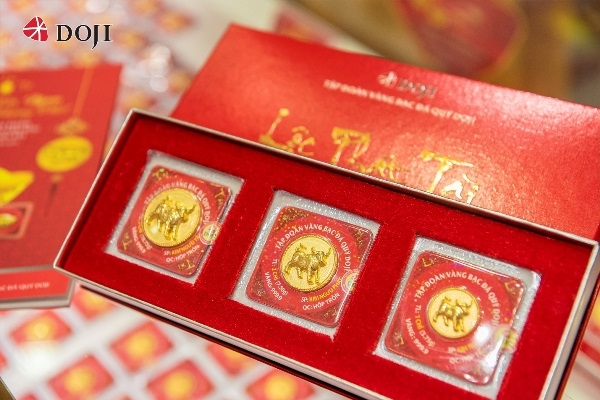 Gold coins with the Taurus symbol by Doji Gold & Gems Group. Photo: DOJI
Amid the current COVID-19 outbreak in Vietnam, many gold shops are promoting online sales to meet customers demand in the upcoming Gold of Wealth Day on the 10th day of the Lunar New Year, which falls this year on February 21.
According to legend, the God of Wealth returned to heaven on the 10th day of the first lunar month, so people traditionally buy gold on that day to ensure good luck and prosperity throughout the year. In recent years, people have queued up from 3 or 4 am to buy their "lucky" gold.
Nguyen Thi Luyen, vice director of Bao Tin Minh Chau, said the gold firm has launched sales promotion programs to encourage customers to buy gold online.
"Customers could buy gold via our website in a convenient way without having to queue for hours," Luyen was cited by Hanoi Times as saying.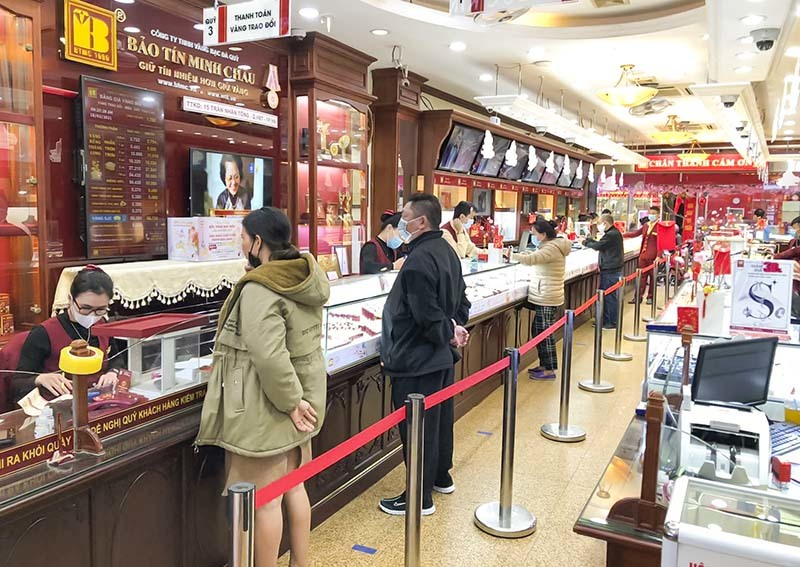 Bao Tin Minh Chau has launched sales promotion programs to encourage customers to buy gold online. Photo: Vietnamnet
In a similar move, DOJI, one of largest jewelry companies in Vietnam, has launched an online gold trading platform called eGold, which allow customers to buy gold products through a bank account at TPBank.
"After completing all transaction procedures, customers could receive their gold at all DOJI's branches in Hanoi, Ho Chi Minh City, Hai Phong, Danang and Can Tho," said DOJI Vice General Director Nguyen Thanh Huong.
In addition to gold firms, banks also offer online sale of gold for their customers. A representative of TPBank said while the bank is selling gold at all transaction branches, customers could also buy gold online via its TPBank eBank app and receive gold at the their nearest TPBank branch.
"Those buying gold online via eBank app could receive a discount of up to VND10,000 (US$0.44) per tael," said the representative.
Unique products for the God of Wealth Day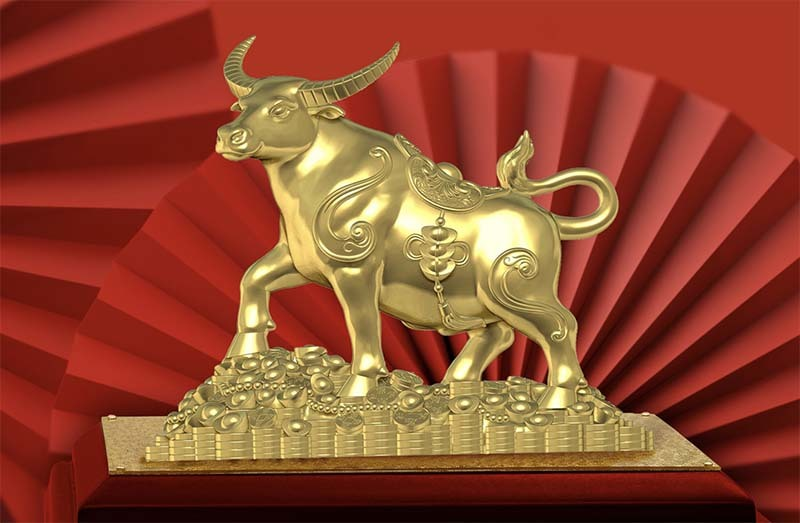 The 20kg buffalo. Photo: Vietnamnet
Since this is the lunar Year of the Buffalo, the buffalo is also widely featured on gold products, Viet Nam News said.
Phu Nhuan Jewelry Joint Stock Company (PNJ) has launched the Kim Nguu jewellery collection made of 18k gold and charm bracelets with a buffalo made of 24k gold and "Lucky" written on it.
PNJ has also launched a limited edition set of three gold pieces, Xuan Phu Quy. Only 2,500 have been made.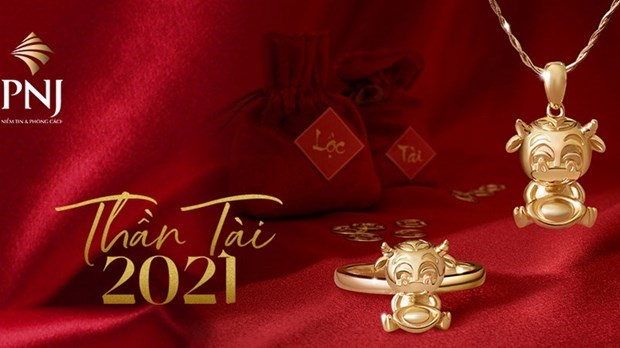 Photo: pnj.com.vn
Le Tri Thong, CEO of PNJ, said the company has been preparing for this day since the middle of last year.
"This year, besides traditional products, we also have modern designs using our latest technologies to offer customers more choices."
With gold prices much higher than in previous years, the company has products in a wider price range than last year for affordability, he said.
Other jewellery companies like DOJI, Sacombank Jewelry Company (Sacombank -SBJ), Phu Quy Gold, and Sai Gon Jewelry Company Limited (SJC) have also launched new products.
SJC has a lucky gold series with figurines of buffalos made of 24k gold and weighing one to 10 taels (a tael equals 37.5g) with sophisticated and vivid carvings, and a 0.1 tael 24k bar inscribed with images of the buffalo and the words Phuc, Loc and Tho.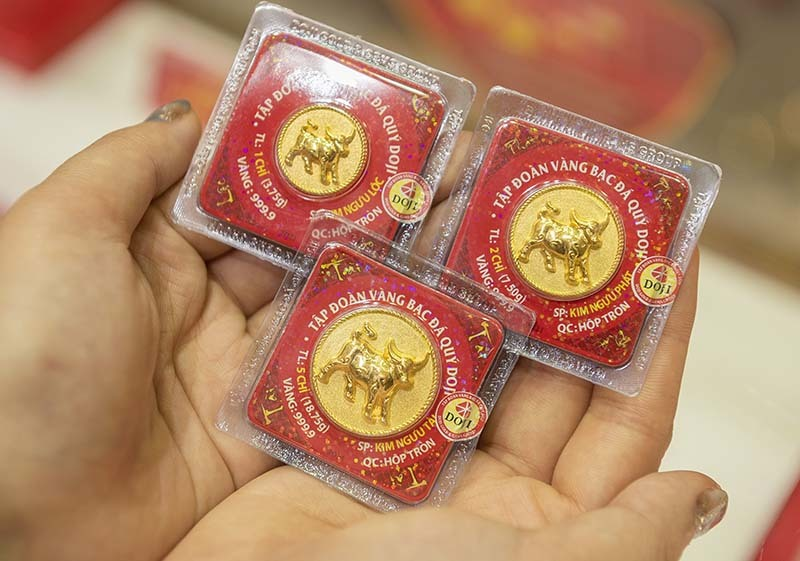 Photo: Vietnamnet
DOJI has 24k buffalo figurines weighing nearly 0.3 taels and 0.1, 0.2 and 0.5 tael gold bars inscribed with the image of the buffalo, the God of Wealth and others.
According to gold and jewellery shops, they will employ more staff and open earlier and close later than usual to meet demand on the God of Wealth Day.
Many have planned measures to safeguard the health of customers and staff amid the COVID-19 threat like checking customers temperature and providing them with hand sanitisers at the door./.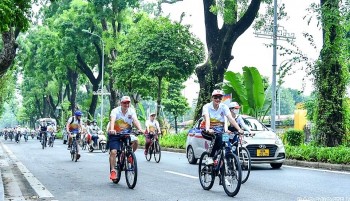 World
Staff of the embassies of ASEAN member states in Hanoi and their families joined a host of activities in Hanoi on August 13 within the framework of ASEAN Family Day 2022