Vietnam COVID-19 Updates (Feb 20): No new cases, provinces urged in fight against COVID-19
Minister of Health Nguyen Thanh Long has called on localities to identify scenarios to cope with the COVID-19 pandemic.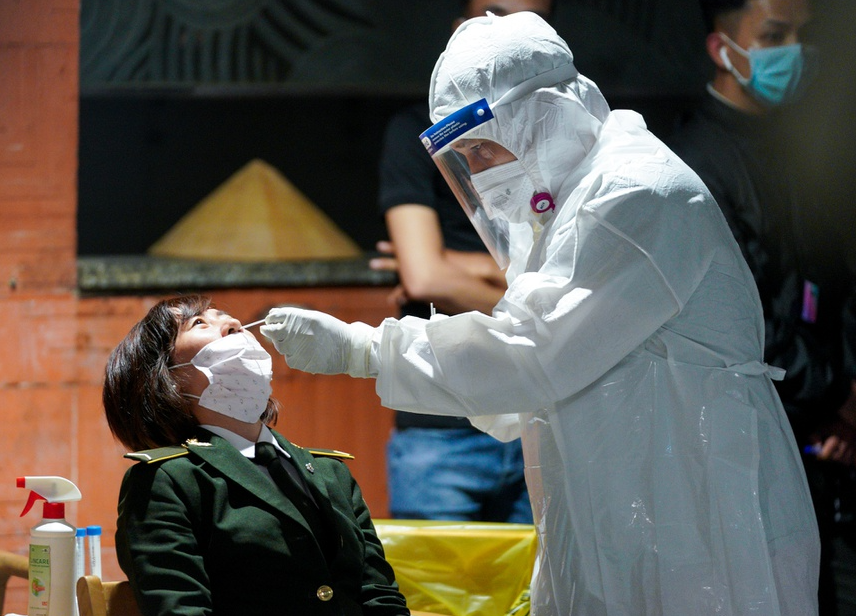 Photo: Zing News
No new cases in the morning, 15 in the last 24 hours
According to the 6 am newsletter of the National Steering Committee for COVID-19 Prevention and Control, on the morning of February 20, Vietnam did not record any new cases of COVID-19.
However, the northern province of Hai Duong – Vietnam's current largest pandemic epicenter – reported 15 new COVID-19 cases on February 19. Among the new infections, 13 are F1 cases that had been already quarantined, one was detected in a locked-down area, and the other discovered through screening check-ups in a hospital.
Among patients being treated at medical facilities across the country, no. 1536 currently being treated at Da Nang Lung Hospital is the most severe. No. 1536 is an elderly having a history of hypertension and diabetes for many years. In addition, there are 2 other critically ill patients who are being treated at the National Hospital for Tropical Diseases 2 and the field hospital No. 2 of Hai Duong.
Photo: Zing News
Vietnam to receive 60 million doses of COVID-19 vaccine in 2021
Vietnam is expected to secure 60 million doses in 2021 as the COVID-19 Vaccines Global Access (COVAX) initiative and AstraZeneca have committed 30 million doses each to the country, Minister of Health Nguyen Thanh Long said on February 19. Up to 150 million doses are needed to ensure vaccination for all Vietnamese people, he stated during a virtual meeting with localities on February 19 to discuss COVID-19 prevention and control measures in the coming time.
Negotiations are underway with global multilateral units such as COVAX or AstraZeneca to ship the COVID-19 vaccine home as fast as possible, the minister affirmed. The Ministry of Health (MoH) has promptly worked with organizations and vaccine developers in an endeavor to purchase vaccines in the shortest time possible.
Meanwhile, the second phase of the human trials of Nano Covax, a homegrown COVID-19 vaccine, will begin on February 26, following the first phase that has been proven safe. As many as 560 volunteers, aged from 18 to 65, will participate in the second phase, according to Nguyen Ngo Quang, Deputy Director of the Department of Science, Technology, and Training under the Ministry of Health. The testing will be carried out at the Vietnam Military Medical University in Hanoi and in the Mekong Delta province of Long An by the HCM City-based Pasteur Institute.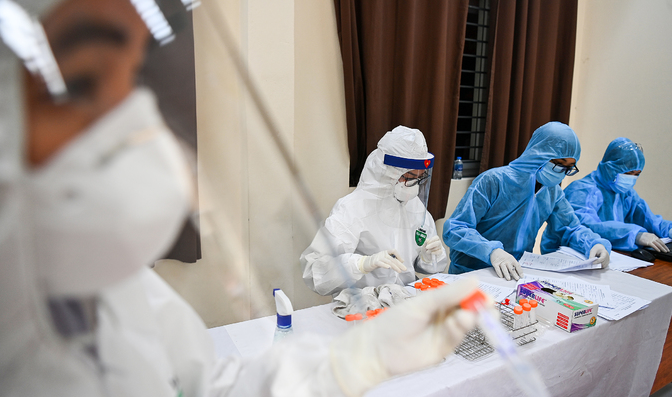 Photo: VN Express
Localities urged to prepare scenarios to fight COVID-19
Minister of Health Nguyen Thanh Long has called on localities to identify scenarios to cope with the COVID-19 pandemic. Chairing a teleconference on COVID-19 prevention and control with localities nationwide on February 19, Long, who is also permanent deputy head of the National Steering Committee for COVID-19 Prevention and Control, said the Politburo has advocated considering the fight against the pandemic a key and prioritized task in the first quarter of 2021 and a long-term mission.
The ongoing third COVID-19 outbreak is more complex due to the faster spread of a new variant from the UK. He called on northern Hai Duong province to continue its prevention and control measures while other localities must remain vigilant. The committee and the Ministry of Health requested pandemic-hit localities to fully quarantine F1 cases to prevent community transmission while working closely with the army to manage quarantine facilities. The minister also asked localities to prepare testing plans and increase testing capacity.
Hanoi strictly fines those who avoid medical declaration: Chairman of the People's Committee of Hanoi Chu Ngoc Anh has unexpectedly checked the prevention and control of the COVID-19 pandemic in Hoang Mai and Long Bien districts. In recent days, the team has reviewed hundreds of people; 78 of them came from Hai Duong city. All of these cases have been reported and are waiting to be sampled. Tam asked the units to strictly fine non-cooperation and non-reporting actions for the safety of the whole city.
Hai Duong Covid-19 hotspot limits wet market attendance: Chi Linh Town of Hai Duong Province, Vietnam's current Covid-19 epicenter, has restricted the number of shoppers allowed to attend wet markets as a coronavirus prevention measure. Accordingly, the number of people entering wet marketing is controlled by shopping cards, which are given to citizens earlier.
Ho Chi Minh City raised the level of vigilance against the COVID-19: On the evening of February 19, Vice Chairman of the People's Committee of Ho Chi Minh City Duong Anh Duc signed an urgent document on strengthening pandemic prevention measures, citing the high risk of transmission as citizens flock to the city after Tet. Duc asks all localities to take COVID-19 fighting as a key mission, strictly implement the 5K message, stay cautious, avoid subjective attitude.
Aviation staff to be tested for SARS-CoV-2 frequently: Aviation staff in direct contact with passengers will have to wear transparent face shields and will be frequently tested for SARS-CoV-2 as part of the efforts to stop infections after two clusters in two major international airports were detected in Vietnam's latest community infection wave. Airline passengers are required to submit e-health declarations at tokhaiyte.vn or via the app Vietnam Health Declaration. Those who failed to file proper health declarations or observe disease prevention and control measures would be refused to board.
Photo: VN Express
No end to Vietnam's coronavirus fight within first six months: health ministry
Vietnam's Covid-19 fight won't end within the first six months, or even for the entire year, Minister of Health Nguyen Thanh Long said Friday. "We believe the coronavirus fight to be an urgent and vital mission within the first quarter because it won't end within the first six months, or even the entire year of 2021," Long told an online meeting with local authorities regarding Covid-19 prevention.
Vietnam's Covid-19 wave since late January is noted to be more complex than previous ones due to the presence of the U.K. variant that is 70 percent more transmissible than normal strains, meaning more cases are recorded within a shorter time frame, said Long. The new wave also occurred within industrial areas and right around the Lunar New Year festival, making the situation even more complex, he added.
As a comparison, the coronavirus wave started in central Da Nang City last year recorded only 300 cases from July to August, yet barely a month has passed since the beginning of the current wave, and northern Hai Duong Province, this wave's epicenter, has already recorded over 500 cases. The average number of recorded daily cases in Hai Duong is also higher than in Da Nang, said Long. Noting Covid-19 tests as the key to controlling the outbreaks, Long requested local authorities to test more samples and return results earlier.
As of 6 a.m. on February 20, Vietnam had a total of 1463 cases of COVID-19 due to domestic infections, of which the number of new cases since January 27 is 770. Vietnam has cured 1,627 patients. 125.572 people are quarantined against the pandemic across the country, of which, 594 are isolated in hospitals, 13,316 at other concentrated facilities, and the rest at home.
Among COVID-19 patients being treated in health facilities, the number of first-time negatively tested cases of SARS-CoV-2 virus was 69; 39 got their second negative test results and 55 got their third.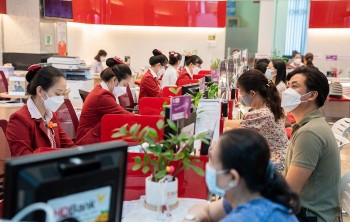 Economy
Vietnam Business & Weather Briefing (August 12): Air passengers reach a record number in July, seafood exports expected to reach 3 billion USD in Q3