Photo source: Gold Price
On April 8, the spot gold price in the world was at 1,658 USD/ounce. April 2020 gold price on Comex New York floor stood at 1,709 USD / ounce.
Gold price today is 29.2% higher (375 USD/ounce) compared to early 2019.
The world price of gold stayed near the peak of 7 years when the Covid-19 epidemic signaled its control and the USD dropped again.
The precious metals are boosted early this week on ideas the coronavirus outbreak may be de-escalating. June gold futures were last up $ 8.50 an ounce at $ 1,702.30. May Comex silver prices were last up $ 0.446 at $ 15,615 an ounce.
The safe-haven metals bulls appear to have found their sweet spot early this week, as the Covid-19 situation has moved from panic to stabilization, which is encouraging buyers to step back into many markets, including the metals.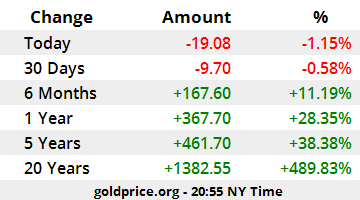 Photo source: Gold Price
The European Union (EU) is developing a plan to rescue the most affected countries in the region. Many EU members will agree to use hundreds of billions of dollars in aid.
Investors in the US market were also happy when the US Federal Reserve (Fed) decided to support the US $ 349 billion loan program for small businesses that was launched a few days ago. there.
Another drag on gold price today is the ability to deepen and then rebound in the stock markets. After the worst quarterly reverse in history, the stock market of some countries, including the US, is rising strongly again.
Besides, the fact that some countries like Russia stopped buying gold in the context of the Covid-19 epidemic, which reduced the financial resources, which also hindered the rise of gold.
Forecast on the price of gold
Many assesses believe that, in the future, gold continues to be a must in a diversified portfolio in a loose monetary environment and current negative yields.
It makes quite a bit of sense that there should be plenty of buyers. With that being the case, we should continue to see more of an uptrend. That doesn't mean it's going to be easy, but the reality is that the market is going to be very choppy and dangerous. All things being equal, we should continue to go towards the $1800 level, possibly even the $2000 level.
Candy Lee
Kitco News, Money Control