Gold Price Today: Suddenly increased to over 1,600 USD/ounce
The world's Gold Price Today suddenly increased sharply to over 1,600 USD/ounce. Gold played a key role during a historically poor first quarter as equities around the globe suffered massive losses amid COVID-19 panic (Kitco News).
Preview of the market week ahead, with a focus on the economic data and market narrative that are most likely to impact gold prices as well as the US Dollar and other correlated assets.
Global gold price today 7/4
Gold prices today have rallied alongside global equities since the opening of trading for the week, and trade just below $1650/oz in the spot markets this morning. Silver has risen to $14.70, and though stocks are having a strong start to the day Treasury buying continues to hold the US 10-year's yield below 0.7%
Gold price today 7/4, to early this morning, gold price stood at around 1,6606 USD/ounce, up nearly 50 USD compared to yesterday morning.

(Photo by Goldprice)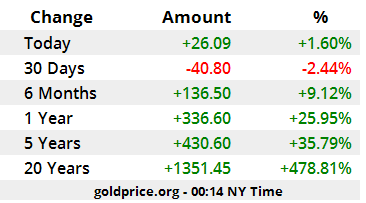 (Photo by Goldprice)
The world gold price surged because gold became a safe haven for investors after receiving positive signals in the fight against the Covid-19 pandemic, while the economy is forecasted to be gloomy. A series of forecasts show that many world economies will fall into recession due to the disease.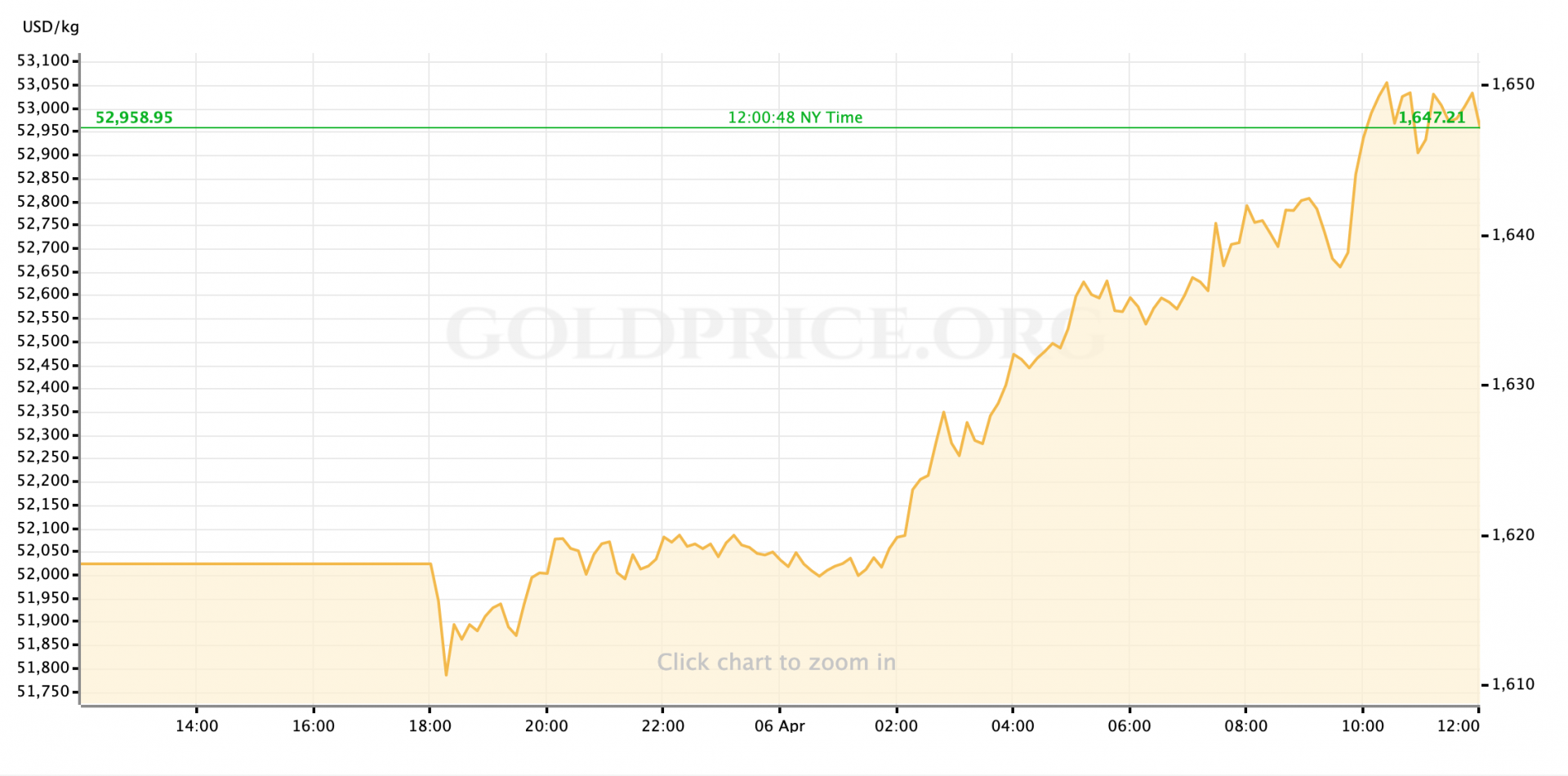 (Photo: goldprice)
Goldprice reported that the rise in gold price is being assisted by a few different factors this morning. The general mood of the market seems improved as there as numbers being touted as evidence that we're approaching a plateau in the spread of Covid-19 stateside, and that increased risk appetite is leading some buyers back into the broad commodities complex. There is also optimistic news that oil markets may be stabilizing as OPEC and Russia appear to be closing in on a peaceful agreement to reduce production. It's not all hope and light, of course. The reality of global markets is that opportunistic investors might be taking the opportunity to buy now, ahead of another flight to safety when this morning's optimistic narrative around the global health crisis crashes to the ground.
With both the "good" and "bad" possible outcomes in mind, let's take a look at this week's data calendar, which begins with the Fed.
The Federal Reserve swept into action on Sunday in an effort to save the U.S. economy from the fallout of the coronavirus, slashing its benchmark interest rate by a full percentage point to near zero and promising to boost its bond holdings by at least $700 billion.
Vietnam gold prices today
SJC gold price at Saigon Jewelry Company increased slightly to US $ 2,3 (VND 50,000/selling amount) in both directions. Currently, in the Hanoi market, gold is listed at around US $ 2000 v-2050 (47.10 million VND/purchase volume - 48.12 million VND/sales).
In Ho Chi Minh City, SJC gold price is listed at US $ 2000 -2048 (47.10 million dong/buying volume - 48.10 million dong/selling amount)
Doji Group listed gold price at US $ 1998 -2009 (46.90 - 47.80 million VND)/amount (buy - sell).
Gold Price/Environment and Urban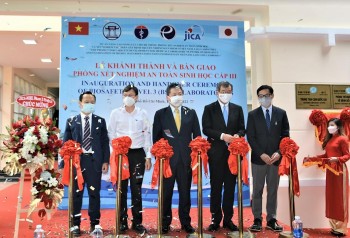 Friendship
The Pasteur Institute in Ho Chi Minh City (PI HCMC) hold an inauguration of its new Biosafety Level-3 Laboratory (BSL-3) on January 17th, 2022. For this new laboratory, the Japan International Cooperation Agency (JICA) has supported the main materials and equipment such as the air conditioning system, the wastewater treatment system, and the two-door autoclave, with a total value of 200 million yen (nearly 40 billion VND).