Golden Bridge In Da Nang Among Top 10's Most Iconic
Recently, Da Nang Golden Bridge was honored by Luxebook magazine as one of the most iconic bridges in the world.
LuxeBook recently unveiled a list of the 10 most iconic bridges worldwide as suggestions for travelers this summer.
The Golden Bridge (Cau Vang) of Da Nang stands at the sixth position.
"More than being a pure architecture piece, Golden Bridge has been asserting itself as a new symbol of Da Nang's tourism since its opening in June 2018. This striking bridge is one of the most photographed spots in Da Nang, located within Ba Na Hills.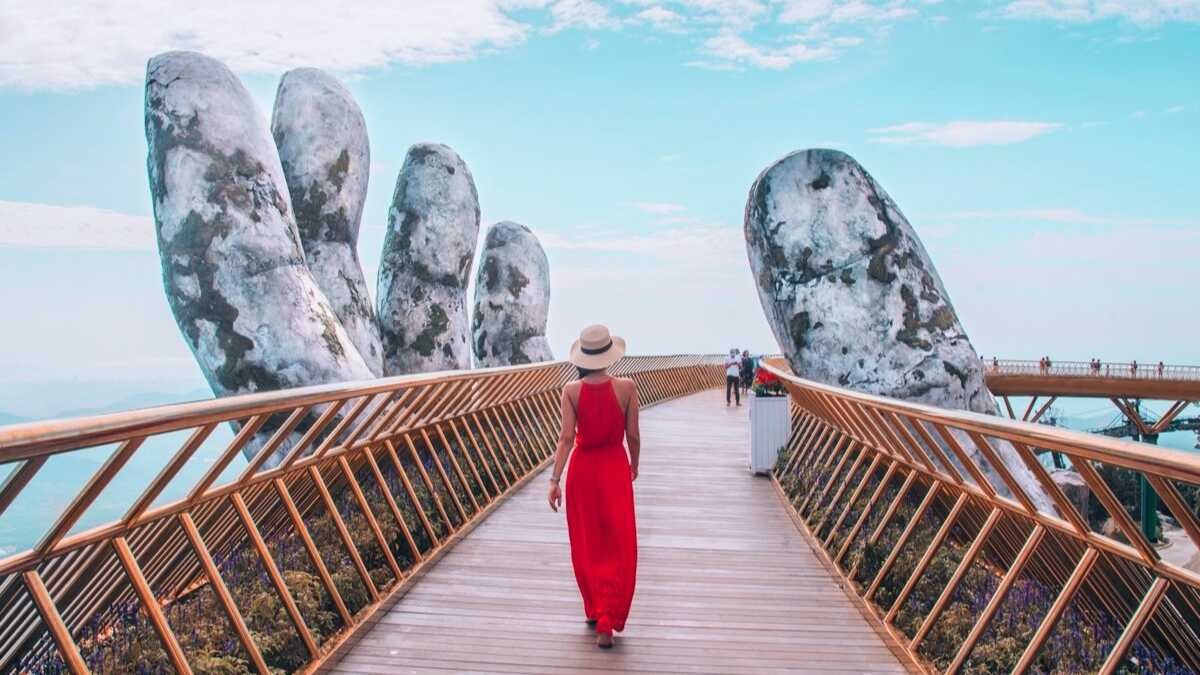 Photo: Bestpricetravel
"This 500-foot-long golden bridge appears to be cradled by two oversized hands, which adds to the majestic appeal of the design of the bridge. In Ba Na Hills near Da Nang, this creative pedestrian bridge connects the cable car station with the gardens below. Strolling around the Golden Bridge is like walking on the clouds across the hands of the God of Mountain," according to the Indian magazine.
Others on the list are Golden Gate Bridge (the US), Pont Alexandre III (France), The Twist (Norway), Rialto Bridge (Italy), Khaju Bridge (Iran), Charles Bridge (the Czech Republic), Helix Bridge (Singapore), Tower Bridge (the UK), and Harbour Bridge (Australia).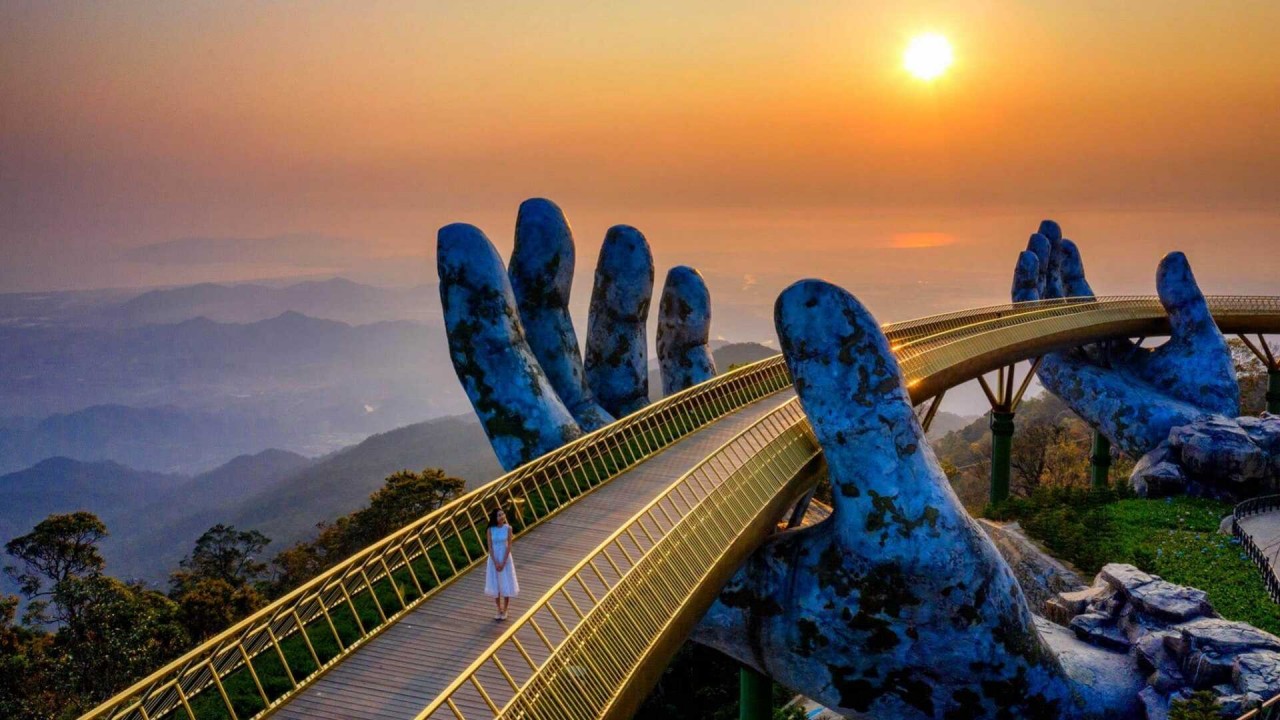 Photo: Da Nang Leisure
Nested at a height of 1,414m from sea level, the Golden Bridge is no less than an iconic architectural wonder that envisages a sash-like route across heaven. Spanning nearly 150m long in the Paradise Garden, this bridge is regarded as a special transit stop to deliver visitors from the mountain foot or the French Village to La Jardin D'Amour Gardens. The bridge measures 12.8m wide and nearly 150m long and comprises 8 arches, the longest of which is 21.2m.
Rewarded with many architecture competitions worldwide, the Golden Bridge in Vietnam features a harmonious blend of groundbreaking architecture and spectacular nature. Since its opening, the Da Nang Golden Bridge has become a host of many significant events, especially the "A Walk on a Cloud" fashion show of Fashion Voyage.
This architecture has inspired fashion designers to make superb collections thanks to its out-of-the-world structure. Besides, the bridge is a favorite spot for many couples to take their wedding photoshoot.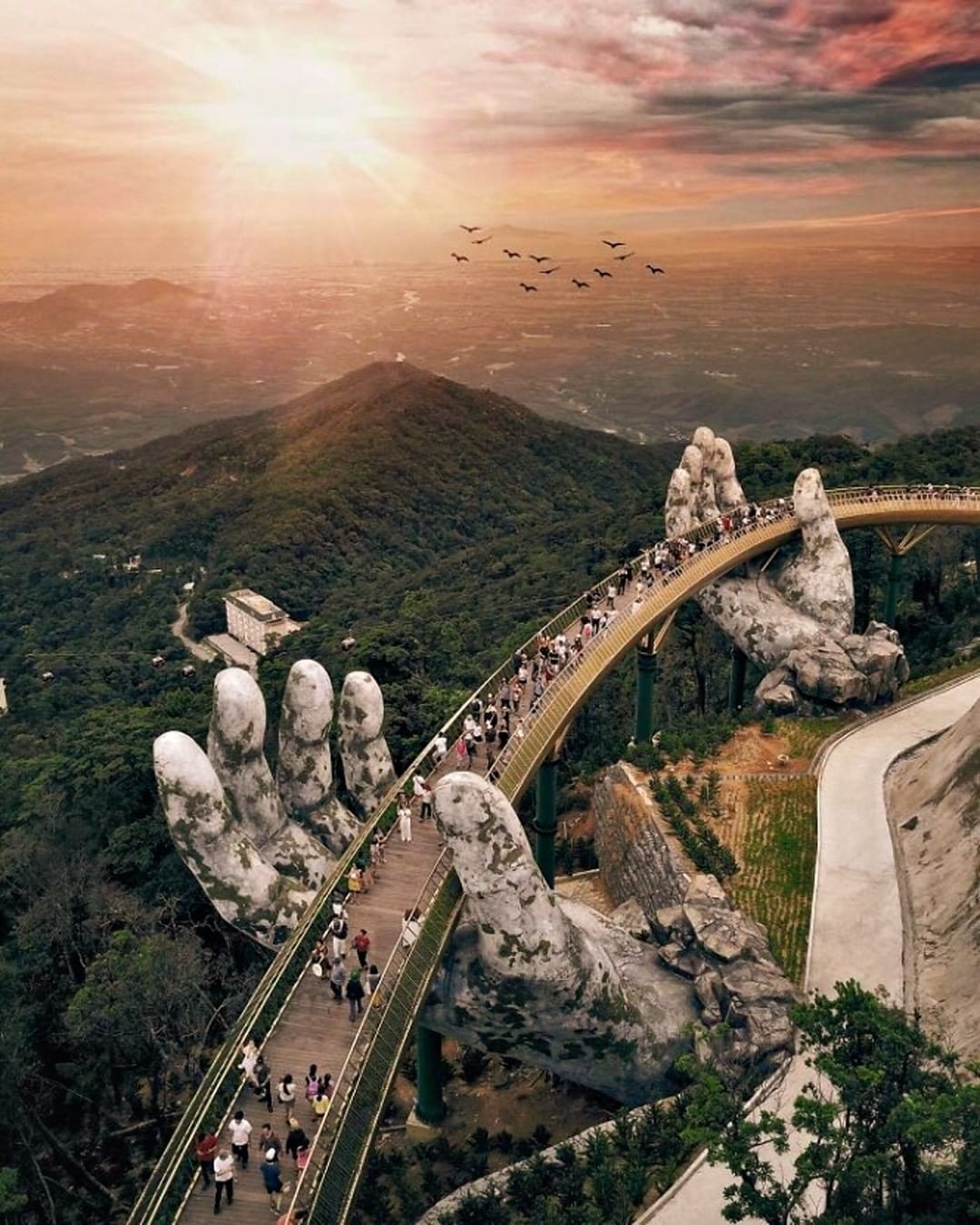 Photo: VietnamOnline
The Golden Bridge in Da Nang is a new architectural construction that sets the location inside the entertainment-tourism complex Ba Na Hills. The root of the name "Golden Bridge" comes from its gilded railing frame.
More than being a pure architecture piece, Golden Bridge has been asserting itself as a new symbol of Da Nang's tourism since its opening in June 2018.
Tourists flock here to take some pictures at the place where journalists and travel bloggers around the world are praising it for being majestic and impressive as a scene in "Game of Thrones" or "The Lords of the Rings".
The image of a huge couple of ancient hands (like the hands of the Mountain God) lifting the bridge as a shining golden silk strip toward the high blue sky with deep green forests below is not inferior to any blockbuster scenes.
Photo: Walk My World
Ba Na Hills attracts tourists with its beautiful scenery, cool atmosphere, and experiences 4 seasons a day: spring, summer, autumn, and winter, so tourists can visit the Da Nang Golden Bridge whenever they like.
According to some travel experiences, tourists should come here in the morning or afternoon. Mornings are the time of fog, creating dreamy pictures that can't be more beautiful. The time of dawn will also create great selfies. In the afternoon, when sunset falls will make the space more interesting and romantic.
The most popular ways to travel to Da Nang Golden Bridge are:
Motorbike rental: This is the best choice for travelers, especially those groups of young people who like to explore nature. This way of moving helps tourists be most active in the process of traveling and playing in Ba Na. Price ranges from US$4.26 - 6.38 /person.
Transfer car from Danang to Ba Na: Starting from 72 Nguyen Chi Thanh to Ba Na Hills. The round-trip ticket is US$2.98 /person. However, the car only operates during the period of 8:30 - 18:00, which is quite inconvenient if visitors want to visit Ba Na in the evening.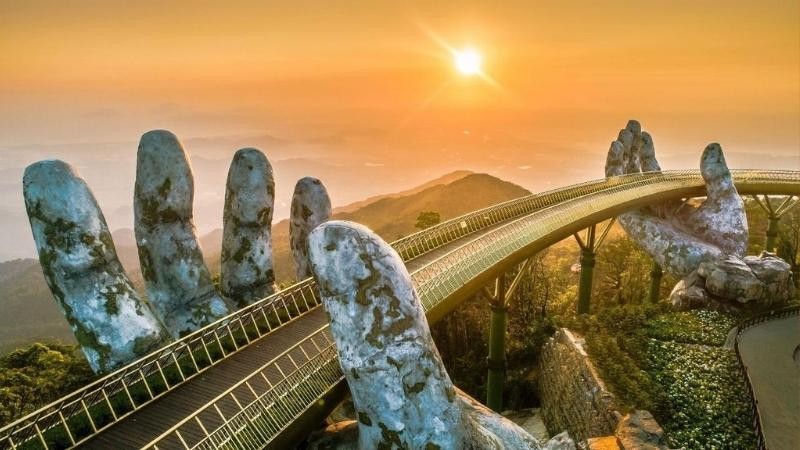 Photo: Transfer to Hoian
Bus to Ba Na: The bus comes from Da Nang to welcome tourists to Ba Na in about 75 minutes. The round-trip ticket is US$6.38 /person. However, this bus only picks up tourists in Da Nang from 7:30 to 8:30 and in Ba Na from 14:30 to 15:30, which is quite restrictive in time for travelers.
Taxi: With a group of 4 - 7 people, a taxi is the most reasonable means. The round-trip taxi price is about US$21.28 - 25.53
Car rental in Da Nang: For groups of 4 - 45 people, tourists should rent a car to travel in Da Nang for flexible time and cost savings. The round-trip price is about US$17.02 - 93.62.