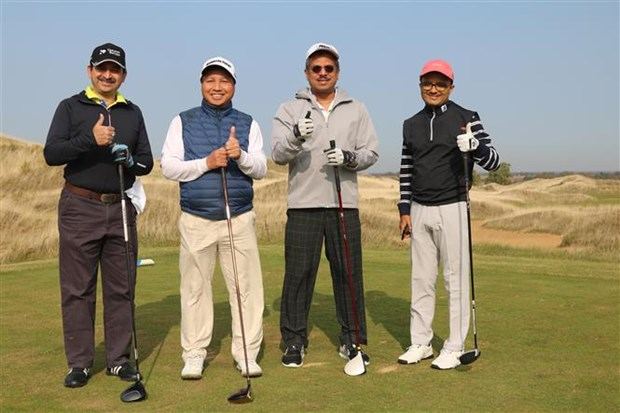 Vietnamese Ambassador to Russia Ngo Duc Manh (second from left) and participants pose for a group photo (Photo: VNA)
A golf tournament was recently held in Russia to celebrate the 70th anniversary of the Vietnam-Russia diplomatic relations.
Titled "Vietnam and Friends", the annual event was also to mark the Vietnam-Russia Friendship Yearand the Russia-Vietnam Friendship Year, drawing 65 Vietnamese and foreign golfers.
Speaking at the event, Vietnamese Ambassador to Russia Ngo Duc Manh affirmed that the Vietnam-Russia friendship is thriving despite the COVID-19 pandemic as two-way trade continues to expand.
Meanwhile, FC Sapa Praha, a football club of the Vietnamese community in the Czech Republic came third in a friendly football tournament organised by the Czech Senate.
The team won 2-1 against its rival from Romania in the third place playoff and received enthusiastic cheers from Vietnamese spectators, cited the vnplus.
A representative of the Vietnamese club Mai Xuan Mien said that the team triumphed at the tournament twice in 2011 and last year, out of its total 12 years of participation in the annual football tourney.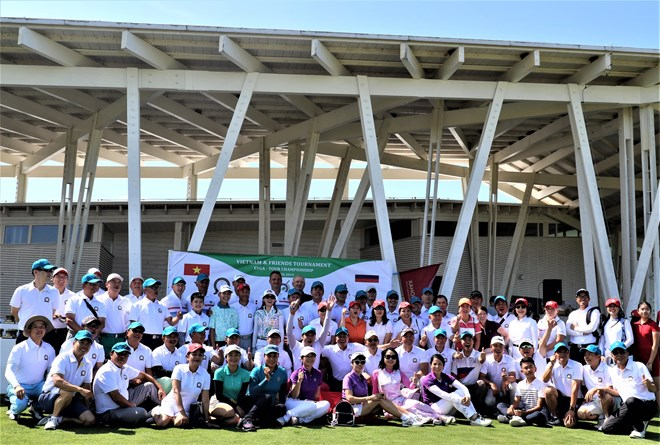 The annual golf tournament is the biggest of its kind organised by the Vietnam Golf Association in Russia (VGR). Since 2017, it has become part of the European Vietnam Golf Association's championships. Photo in 2019: VNA
The golf tourney, held annually at the end of June, was the biggest event of the year hosted by the VGR as it draws a relatively large number of competitors. Since 2017, the event has been included in the tournament system of the European Vietnam Golf Association.
This year, the event saw the presence of 21 squads.
Tarah Nguyen