Grenada, Vietnam Work on Agricultural Cooperation
Grenada and Vietnam are working to boost investment cooperation
A seminar on promoting investment cooperation between Vietnam and Grenada was held recently in both in-person and online formats to learn about, and evaluate the investment environment of the two countries, VOV reported Sunday.
At the seminar. Photo: baoquocte.vn
The event was co-hosted by the Vietnamese Embassy in Venezuela, concurrently in Grenada, in coordination with the Grenada Investment Development Corporation (GIDC) as part of the working visit to Grenada by Ambassador Le Viet Duyen.
In his address, GIDC Vice President Royston Cumberbatch briefed participants on investment areas that the Government of Grenada desires to promote as well as policies aimed at attracting foreign investors.
The GIDC representative stated that Grenada offers optimal conditions for investors to exploit, not only in tourism, but also in other potential fields such as agriculture, telecommunications, energy and education.
Foreign investors, when investing in Grenada, in addition to receiving preferential policies, also have the advantage of tax-free access to the US and EU markets.
Cumberbatch emphasized that the seminar held within the framework of Ambassador Duyen's working visit has opened up prospects ahead for bilateral cooperation in economy, trade and investment.
He expressed his wish that more experienced Vietnamese investors will come to Grenada to look for investment opportunities in the near future.
After 35 years of pursuing the Renewal process, Vietnam has become the 40th largest economy in the world with a total GDP of US$ 343 billion in 2021, while per capita income is seeing constant improvement.
Vietnam has a lot of experience in the field of agriculture and is currently the leading exporter of many agricultural products across the globe such as rice, coffee, pepper, and cashew nuts. Grenada businesses can find suppliers of high quality food and agricultural products from the Southeast Asian nation, the Vietnamese diplomat went on to say.
Besides, Vietnam also has many fast-growing and highly advantageous fields such as green economy, digital economy, electrical industry, electric car production.
Vietnamese businesses will be interested in learning about policies and preferential conditions given by the Government of Grenada. Duyen expressed his belief that with the cooperation of the GIDC and the Ministry of Foreign Affairs, the two sides will soon have investment cooperation projects in the future.
Also on this occasion, Ambassador Duyen had a meeting with Grenada Minister of Agriculture, Land, Forest and Labor Peter David.
During the meeting, David expressed his impression with Vietnam's development, especially the long-standing and diversified agriculture, which has made an important contribution to the national development.
He wishes to cooperate with Vietnam in the field of aquaculture, seafood, production of agricultural machinery to contribute to the development of the agricultural industry in Grenada.
Ambassador Le Viet Duyen noted his appreciation for Grenada's interest in cooperation with Vietnam in the field of agriculture, while emphasizing that Vietnam has strengths in production experience, human resources, and techniques, especially having experience in cooperation with Cuba and Venezuela in carrying out agricultural development projects such as seed breeding, rice cultivation, and aquaculture.
The two sides agreed to soon strengthen exchanges between the the two ministries of agriculture, and organize scientific seminars between the two sides to share experience in fields of shared concern towards the signing of an agreement on agricultural cooperation in the time ahead.
Vietnamese Ambassador Le Viet Duyen, his spouse and Governor General of Grenada, Cecile La Grenade. Photo: Photo: Vietnamese Embassy in Venezuela
Earlier, Ambassador Le Viet Duyen has presented his credentials to the Governor General of Grenada, Cecile La Grenade at the ceremony on March 24, reported VNA Saturday.
The ambassador affirmed that Vietnam attaches importance to developing cooperation with Grenada, pledged to make every effort to contribute to advancing the bilateral relationship to a new height.
Grenade lauded Vietnam for its development guidelines and socio-economic achievements over the past years, and noted her hope for stronger friendship with Vietnam.
The two sides should utilise their potential for cooperation in economy, trade, investment, education, vocational training, agriculture and climate change response, she suggested.
On this occasion, Duyen met with Grenada's Prime Minister Keith Mitchell, who expressed his hope that the two sides will soon conduct promotion activities to foster their bilateral cooperation.
Duyen stressed that Vietnam and Grenada have favourable conditions to enhance their collaboration, and become important partners of each other.
The Vietnamese Embassy will work to implement promising cooperation areas, promote the market and connect businesses of the two countries in the time ahead, he promised.
Earlier, the ambassador had meetings with Minister of Foreign Affairs Oliver Joseph and Permanent Deputy Minister of Foreign Affairs Roxie-Mc Leish Hutchinson.
Vietnam and Grenada established diplomatic ties on July 15, 1979.
Grenada is an island nation situated in the Caribbean with an area of 340 square kilometres and a population of approximately 111,500 people, making it one of the least populous countries in the world, but with a high population density. Grenada's per capita income stood at around US$ 9,000 in 2021.
Vietnamese Ambassador Le Viet Duyen and Minister of Foreign Affairs Oliver Joseph. Photo: Photo: Vietnamese Embassy in Venezuela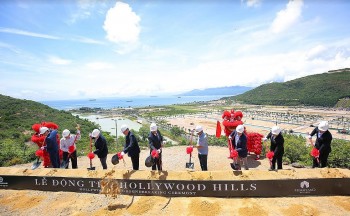 Economy
On October 2, at Hai Giang peninsula (Quy Nhon city, Binh Dinh), Hung Thinh Corporation held the groundbreaking ceremony of Hollywood Hills by YOO Inspired by Starck – a subdivision at MerryLand Quy Nhon. The event marks the first time that the world's No.1 ranked design and branded residence company YOO Inspired by Starck is officially present in Vietnam, with a collection of villas designed by creative director, Philippe Starck.