Hanoi Chairman orders raising COVID-19 alert to high level
Chairman of the Hanoi People's Committee Chu Ngoc Anh has ordered tightening COVID-19 prevention and control, raising the pandemic alert to a high level and drawing up anti-COVID-19 scenarios.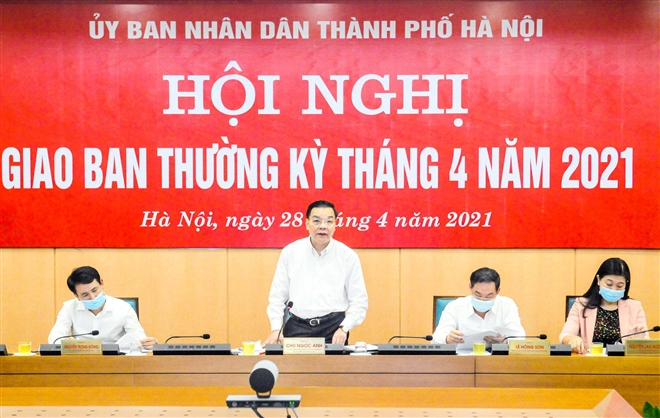 Chairman of the Hanoi People's Committee Chu Ngoc Anh speaks a the meeting on April 28. Photo: VTC News
Speaking at a meeting on April 28, Anh said the complex development of the pandemic requires the entire political system to carry forward solidarity and take drastic actions against the disease.
The work must be done in parallel with spurring economic growth, anticipating investment opportunities and fulfilling growth targets set for the city this year, as well as political tasks, the municipal leader stressed.
The most important task in May is ensuring the success of the upcoming elections of deputies to the 15th National Assembly, and all-level People's Councils for 2021-2026, he said.
In that spirit, he assigned the city Department of Health, steering committees for COVID-19 prevention and control in districts and towns, and relevant agencies to seriously follow instructions of the Prime Minister, the city Party Committee and the Chairman.
Ensuring safety during holidays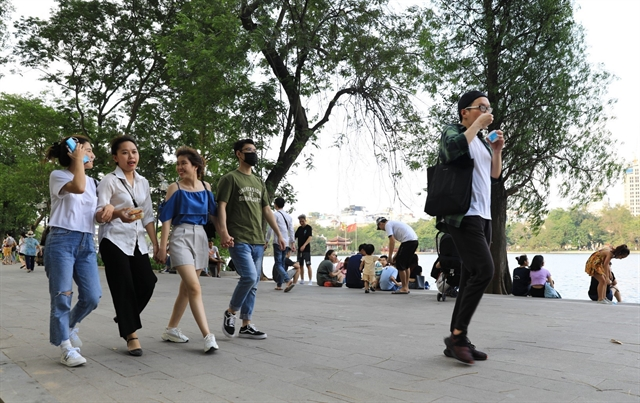 People walk around the pedestrian zone surrounding Hoan Kiem Lake in Hanoi. Photo: VNA
To ensure security, order and environmental hygiene during the National Reunification Day (April 30) and May Day holidays, and the upcoming elections, Anh urged the Department of Transport to step up inspections and mobilise forces at major sites in the city.
Local authorities decided on April 28 to halt festivals, close walking street areas, and limit unnecessary large gatherings in the capital city over coronavirus fears, Viet Nam News reported.
The move came as Hanoi has passed 71 days without new community transmissions, but concerns of new outbreaks remain high given the lax attitude of the public with COVID-19 prevention and control measures, imported risks from illegal entries as neighbouring countries are suffering a serious wave of infections, and the upcoming four-day public holidays.
When cases are detected, the authorities should immediately apply measures to localise the outbreak and conduct tracing and quarantine in order to prevent the spread. However, the city Party Committee has also noted the imposition of lockdown and quarantine measures must not be too excessive, to avoid causing adverse impacts on production, business activities, and social life.
Earlier, the capital city has also decided to cancel firework displays for the celebrations of the reunification day. HCM City, Da Nang, and other localities have also announced cancellations of fireworks and other major festivities. /.
Vietnam confirmed eight new imported COVID-19 cases, all Vietnamese citizens, in the past 12 hours to 6pm on April 28, according to the Health Ministry.
They were put under quarantine right upon their arrivals, including one in Nam Dinh, one in Da Nang and six in Khanh Hoa.
Vietnam has so far logged a total of 2,865 COVID-19 cases.
A total of 2,516 patients have been given all-clear from the coronavirus SARS-CoV-2 so far, while the death toll related to the disease remains at 35.
Among patients under treatment at medical establishments, 13 tested negative to the virus once, 15 twice and 20 thrice.
As many as 38,520 people who had close contact with patients or entered from pandemic-hit areas are under quarantine.
Hotline to support Vietnamese in India

In case that any Vietnamese need support or know Vietnamese living in difficult circumstances, he/she can contact Vietnam Embassy in India's Citizen Protection Hotline at ...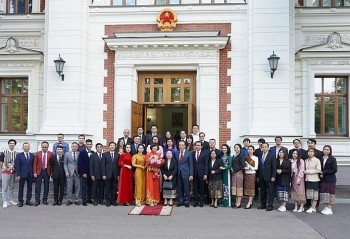 Friendship
The Vietnamese Embassy in Cuba will make efforts to consolidate and cultivate the special Vietnam-Laos relationship in the spirit of respect and support for mutual benefits.