Covid-19 in India: The real number of cases might go unreported, experts say
India, home to the world's worst ongoing coronavirus outbreak, has reported more than 17.6 million cases since the pandemic began last year, and experts fear that the real number is much higher than the public figure.
Health workers and scientists in India have long warned that Covid-19 infections and related deaths are significantly underreported for several reasons, including poor infrastructure, human error, and low testing levels, according to CNN.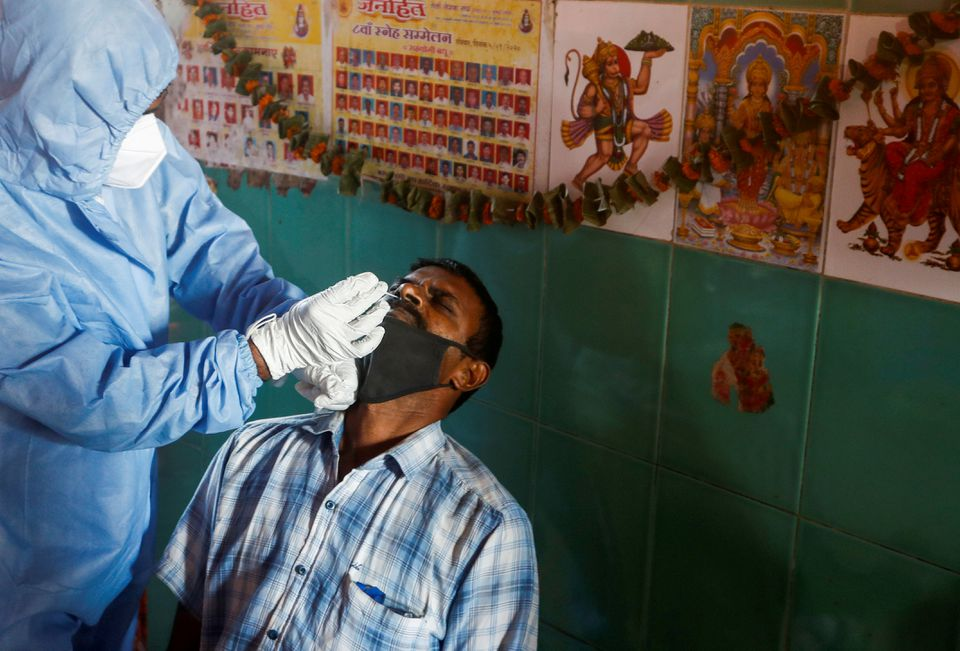 Photo: Reuters
Some things have changed since then -- testing has greatly increased in the wake of the first wave, for instance. But still, the true extent of the second wave now ravaging India is likely much worse than official numbers suggest.
As the first wave began to ebb in September last year, the government pointed to its low death rate as a sign of its success in handling the outbreak, and to support its decision to lift some restrictions. Prime Minister Narendra Modi celebrated the low figures as boosting "the confidence of people," and predicted that "the entire country will emerge victorious in the battle against Covid-19," according to a press release in August.
That battle is still ongoing. The country's daily death toll is now projected to continue climbing until mid-May, according to prediction models from the University of Washington's Institute for Health Metrics and Evaluations.
The death toll could peak at more than 13,000 a day -- more than four times the current daily death toll, the predictions show.
"I don't think any family has been spared a Covid death," said Laxminarayan. "There's a missing person in every family that I can think of."
Many Indians struggle to get coronavirus tests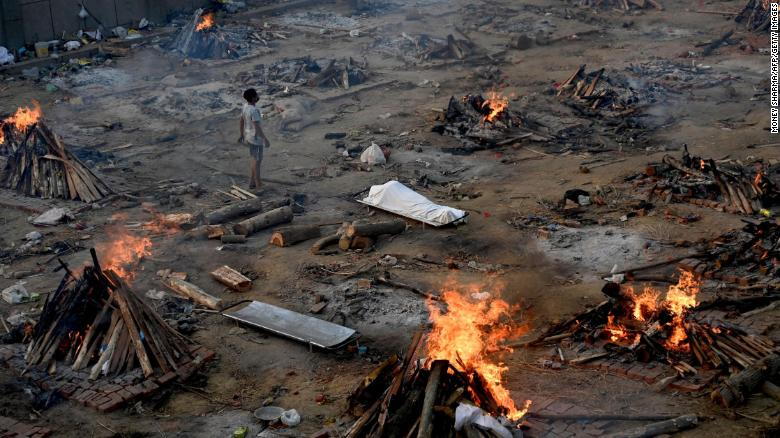 A man stands amid burning pyres of Covid-19 victims at a crematorium in New Delhi, India, on April 26. (Photo: CNN)
Diagnostics firms testing for coronavirus are nearing breaking point in cities like New Delhi and Mumbai as India battles its biggest surge in COVID-19, which may worsen the crisis as many sick people can't get tested fast enough to isolate themselves, Reuters reported.
"We can't cater to the demand," said Dr. Vidur Mahajan of Mahajan Imaging in the Indian capital, who has temporarily shut two of his three sample collection points due to a backlog of pre-booked tests, and to prioritise testing for government hospitals.
Officials from four diagnostics companies, including Mahajan, said samples currently being tested daily were between 300%-650% higher than February, putting infrastructure and personnel under severe pressure.
Doctors and patients in New Delhi and financial hub Mumbai said it was taking between three and eight days to find slots for the highly accurate RT-PCR tests and get their results.
If sample arrivals rise further, by 25% to 30%, "probably the testing facilities will crash, in terms of turn-around time at least," said A. Ganesan, group vice chairman of Neuberg Diagnostics, which runs 14 testing labs across India.
"We will have to turn back some of the patients without collecting their samples."
With hospitals full and oxygen and medicines in short supply, several cities are reporting far larger numbers of cremations and burials under coronavirus protocols than official COVID-19 death tolls, according to crematorium and cemetery workers, media and a review of government data.
There are a few reasons for the insufficient testing, according to Bhramar Mukherjee, professor of biostatistics and epidemiology at the University of Michigan. The most obvious is that asymptomatic patients -- also called "silent infections" -- may simply never know they were infected, and so never get tested.
According to CNN, there are also different case reporting structures across different cities and states, and testing may be less accessible in rural areas. Poorer residents might not be able to afford the time off work to get tested, or to travel to a test center.
Aid is coming to India, but its Covid-19 catastrophe is likely to continue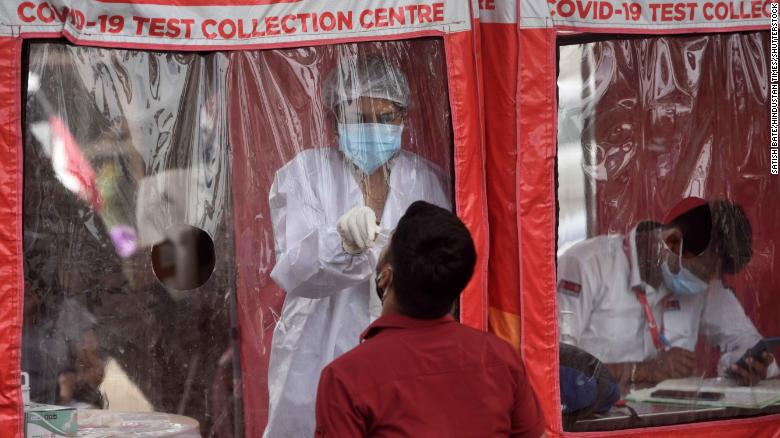 A healthcare worker collects swab samples at a Covid-19 testing center in Mumbai, India, on April 22. Photo: CNN
As a second wave of the pandemic rages in India, which logged more than 300,000 new coronavirus cases for the sixth consecutive day on Tuesday, countries around the world are trying to help. But their efforts to send oxygen and other critical aid are unlikely to plug enough holes in India's sinking health care system to end its deadly catastrophe.
Australia and the Philippines said on Tuesday they would pause commercial flights from India, joining Britain, Canada, Singapore and several other nations that have restricted travel from the country. Australia's prime minister, Scott Morrison, said his government would donate ventilators and protective equipment to help India contain the outbreak, according to NYTimes.
The emergency in India, where a worrying virus variant is spreading rapidly, is driving a new global surge in the pandemic. It also carries implications for countries relying on India for the AstraZeneca vaccine, millions of doses of which are manufactured there.
"It's a desperate situation out there," said Ramanan Laxminarayan, the founder and director of the Center for Disease Dynamics, Economics & Policy, adding that donations would be welcome but might make only a "dent on the problem."
Scientists fear that part of the problem is the emergence of a virus variant known as the "double mutant," B.1.617, because it contains genetic mutations found in two other difficult-to-control versions of the coronavirus. One of the mutations is present in the highly contagious variant that ripped through California earlier this year. The other is similar to one found in the variant dominant in South Africa and is believed to make the virus more resistant to vaccines.
Patients are suffocating in the capital, New Delhi, and other cities because hospitals' oxygen supplies have run out. Frantic relatives have appealed on social media for leads on intensive-care-unit beds and experimental drugs. The government has extended New Delhi's lockdown by another week.
Mr. Modi appears to be looking to the rest of the world to help India quell the wave. Britain, Germany, France, Saudi Arabia and the United Arab Emirates have promised oxygen generators or ventilators. The United States has pledged raw material for coronavirus vaccines and intends to share up to 60 million doses of the AstraZeneca vaccine with other nations, so long as the doses clear a safety review conducted by the Food and Drug Administration, officials said Monday. Indian-American businessmen have pledged millions in cash from the companies they lead.
The second wave of virus hit India
A man in protective suit digs earth to bury the body of a Covid-19 victim in Gauhati, India, on April 25. (Photo: CNN)
The underreporting could be partly why India was largely caught off guard by the second wave, said Mukherjee from the University of Michigan.
"If we had more accurate data in terms of cases, infections, as well as deaths, then of course, we'll be much more prepared and also anticipate the healthcare resource needs," she said. "(Faulty data) does not really change the truth. It only makes it worse for policymakers to anticipate the needs."
The second wave, which began in mid-March, hit the capital New Delhi hard, as well as the western state of Maharashtra. The union territory of Delhi, where New Delhi is located, was placed under lockdown on April 19. That lockdown has since been extended until May 3.
But cases are on the rise in other states, prompting some authorities to impose new restrictions in an attempt to avoid the kind of calamity seen in the capital, CNN reported.
The southern Karnataka state is imposing a 9 p.m. curfew for the next two weeks starting Tuesday, with only essential services allowed between 6 a.m. to 10 a.m., according to CNN affiliate News 18.
The northern state of Punjab also announced similar measures on Monday, including a night curfew and a weekend lockdown. "Urge you all to stay at home and step out only if absolutely necessary," tweeted the state's chief minister on Monday.
Handbook
Yoga has recently become one of the best exercise methods that bring many health benefits to people, but it also requires a lot of technique and training to avoid injuries. There are several ways to practice it home, and will still help you achieve your goals.