'Vietnam is highly vulnerable to new Covid-19 outbreak,' Deputy PM says
Vietnam is running a very high risk of a new Covid-19 outbreak triggered by either imported or local sources, Deputy Prime Minister Vu Duc Dam says.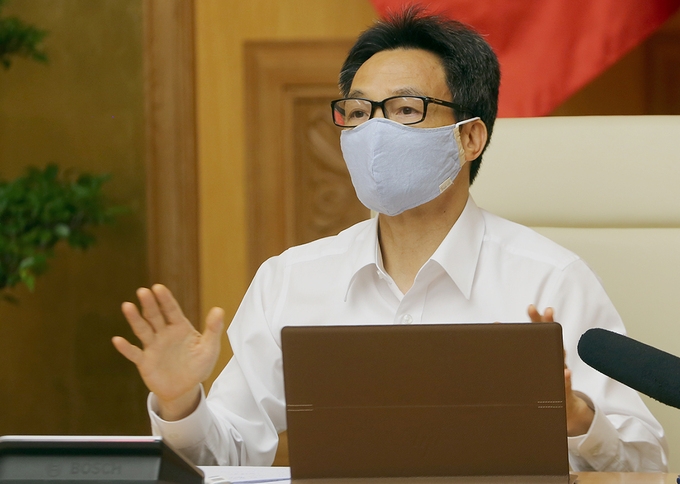 Deputy PM Vu Duc Dam (Photo: VNE)
"The risk of a new outbreak comes from both outside and inside Vietnam as we still receive experts and overseas Vietnamese returnees," Dam was quoted by VNE as saying. He further warned all localities to stay vigilant against this group, citing one hotel staff working at quarantine area contracted the novel virus while picking up the Indian expert team at airport.
"Therefore, authorities must crack down on regulations of Covid-19 prevention, detection, quarantine, localization, containment and treatment," the Deputy PM stressed.
He called for more stringent border control and early report of any suspected illegal entrants. Agencies should encourage overseas Vietnamese to stay put and comply with the host country's anti-epidemic regulations. In case it's really necessary to repatriate, returnees must follow legal repatriation rules.
Authorities are continuing to organize repatriation flights to bring Vietnamese nationals from remote areas, which is conducted in line with anti-pandemic protocols from both countries. In India, one of the world's current biggest epicenter, the Vietnamese Embassy to India has been continuously supporting and keeping close contact with Vietnamese Indians. To date, most of around 1,000 Vietnamese expats in India have been brought home safely in six rescue flights.
The National Steering Committee is proposing the Government not charge for testing and isolation among border entrants as most of them are in difficult situations, thereby minimizing trespassing.
In the meantime, all illegal entrants will receive hefty punishment. "We can't let several individuals jeopardize the whole country," a spokesperson from the Committee was quoted.
It tasked the Health Ministry to urgently complete testing plans and prepare technical capacity. In addition, the Ministry must update and import state-of-the-art medical technology from foreign countries while speeding up domestic researches to best prepared for any Covid-19 scenarios, especially at the advent of more perilous variants.
Relevant agencies must review response capacity at centralized quarantine areas, make sure surveillance cameras are installed at all facilities.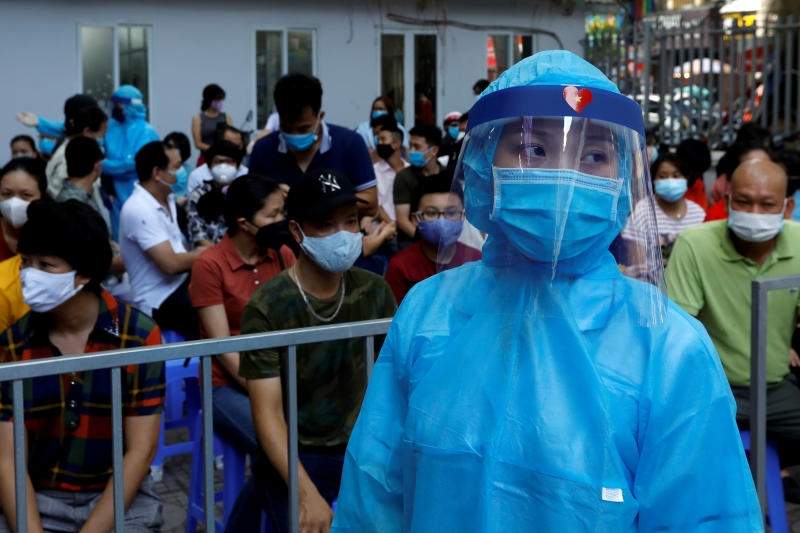 A healthcare worker wearing protective suit walks past as local residents wait at a coronavirus disease (Covid-19) testing center in Hanoi, Vietnam Aug 10, 2020. (Reuters)
New Covid-19 outbreaks have been surging in neighboring countries, including Cambodia, Thailand, Laos, etc.
Given this, Prime Minister Pham Minh Chinh has asked ministries, agencies, localities, units and individuals to remain vigilant against COVID-19 and raise the sense of responsibility for public health.
He reiterated the need to follow the Ministry of Health's 5K message: khau trang (facemask), khu khuan (disinfection), khoang cach (distance), khong tu tap (no gathering) and khai bao y te (health declaration).
Any violations should be strictly punished in line with regulations of the Party and law of the State, the PM noted.
The Ministry of National Defence, the Ministry of Public Security, provincial-level People's Committees and relevant ministries and agencies need to step up inspections over the observance of quarantine regulations, he continued.
He ordered limiting mass gatherings and wearing masks in public places, especially in festivals.
Northwestern border provinces should coordinate with the Ministries of National Defence and Public Security, and closely cooperate with neighboring countries in controlling immigration via roads and sea routes.
Meanwhile, the Ministry of Health should enhance international cooperation to expand the access to COVID-19 vaccines and quick testing techniques, while facilitating vaccine production at home, the PM said.
Two field hospitals with a 1000-patient-bed capacity will be established in Can Tho city to shoulder Covid-19 treatment in Western Vietnam.
"Can Tho hospital is ready for emergent events. If medical personnel from 44 hospitals in the city are all mobilized, we can manage around 1,200 Covid-19 cases," Mr. Nguyen Phuoc Ton, Deputy Director at Can Tho Department of Health was quoted by VNE as saying.
He further stressed that setting up field hospitals in advance was necessary given the surging pandemic worldwide. There have been constant warnings of a more devastating fourth wave in Vietnam.
Earlier, two makeshift hospitals were also set up in Ha Tien city.
Vietnam recorded five cases of COVID-19 from 6 am to 6 pm on April 27. Among the new patients, four are Vietnamese citizens returning from abroad and have been quarantined immediately after arrival. The fifth patient was a staff member at a hotel that is used as a quarantine facility in the northern province of Yen Bai, where several Indian experts are quarantined after arriving in Vietnam. This staff member has also been under medical monitoring since the first day he made contact with the Indian experts. Meanwhile, no new cases found on the morning of April 28, according to the Health Ministry
Hotline to support Vietnamese in India

In case that any Vietnamese need support or know Vietnamese living in difficult circumstances, he/she can contact Vietnam Embassy in India's Citizen Protection Hotline at ...