Hanoi CDC Deputy Director Khong Minh Tuan. (Photo: Vietnamnet)
On the afternoon of March 4, at the meeting of the Steering Committee for COVID-19 Prevention and Control in Hanoi, Ms. Tran Thi Van Anh, Deputy Director of the Hanoi Department of Culture and Sports, proposed to reopen the relics, communal houses, temples, and pagodas from March 8, not including spiritual festivals. In addition, she encouraged spiritual places to carry out ceremonies and festivals online to limit the gathering of people.
"Chairmen of the District People's Committees are responsible for the supervision and inspection of safety, prevention and fighting against the pandemic at spiritual, religious sites that are re-opened. On March 5, the Department of Culture and Sports will work with My Duc district to review the work of ensuring pandemic prevention at Huong pagoda. After that, there will be a specific proposal to the city about the activities of this spiritual center," said Ms. Van Anh.
In addition to the activities of the relic sites, the Deputy Director of the Department of Culture and Sports proposed that Hanoi allow sports activities within the scope of the competition but do not include crowded gatherings, trying to ensure that the best conditions for pandemic prevention.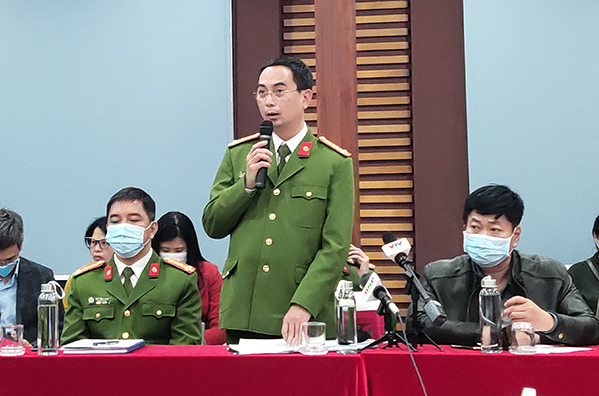 Mr. Pham Duc Thang - Deputy Head of Environment Police Department, Hanoi Police at the meeting. (Photo: Vietnamnet)
Facing the new development of the COVID-19 pandemic, Mr. Chu Xuan Dung, Vice Chairman of the People's Committee of Hanoi, said that the violation of regulations on pandemic prevention and control appears with higher frequency, especially in activities related to karaoke, sidewalks eateries, sidewalk beverage,... Dung suggested committees, local agencies, business establishments, transaction establishments related to passersby, service-related sites to complete health declarations through QR Code.
Also at the meeting, referring to the funding source to buy Covid-19 vaccine, Deputy Director of Hanoi CDC Khong Minh Tuan said that, according to the provisions of the Government's Resolution, the funding could come from three sources, including the state budget; funding and support of individuals and businesses; self-pay receivers.
According to Tuan, on February 19, the city issued a written request to the Ministry of Health to ensure enough vaccine sources for people over 18 years old, both the capital citizens and setters residing in the city.
Tuan said on February 24, the first batch of vaccines arrived in Vietnam. On March 6, the Ministry of Health will organize immunization training for the entire preventive medicine system of 63 provinces and cities. The date of vaccination in Hanoi also depends on the allocation of the Ministry of Health. "We have also specifically listed the priority group who are directly involved in the front line of the fight against the pandemic. The city will arrange vaccination in order of priority, and according to the number of distributed vaccines ", Mr. Tuan said.
Valerie Mai