Hanoi, Ho Chi Minh city impose drastic anti-pandemic measures
Comprehensive rules are being deployed in Vietnam's two biggest cities to stop the spread of Covid-19.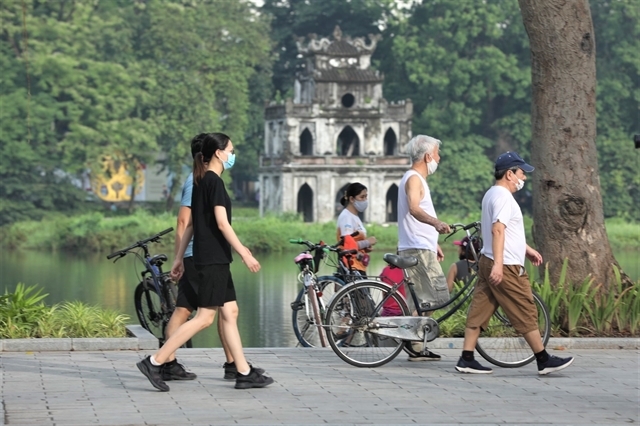 People walk around Hoan Kiem Lake on June 26. Photo: VNS
Hanoi suspends outdoor public exercises, inter-provincial public transport
Outdoor exercises and sports activities across Hanoi are halted starting 6 p.m. Thursday, 10 days after resumption order, according to the announcement of the municipal People's Committee on July 8 afternoon.
Meanwhile, catering services at indoor restaurants and cafés, reopened on June 22 after nearly two months of closure, are still allowed.
City authorities call on city-dwellers to strictly abide by Covid-19 preventive and control protocols and go out only when necessary.
Fixed and mobile checking points have been set up at high-risk areas such as industrial zones, education establishments, markets and trade centers, public places such as parks, flower beds, among others.
"This is an important time. There's no room for negligence," said Chu Xuan Dung, deputy chairman of Hanoi People's Committee.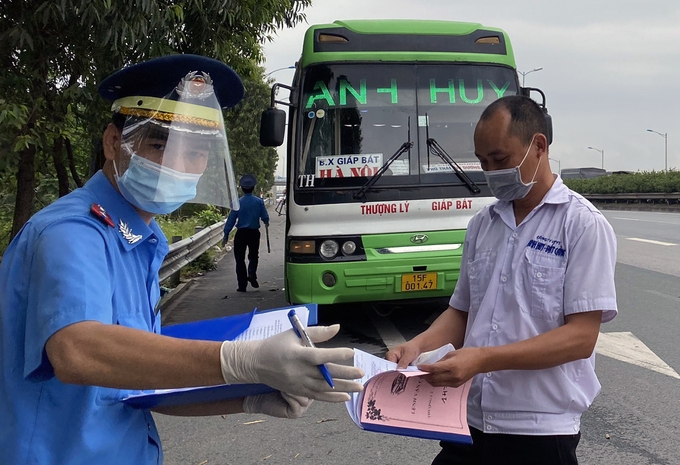 Public transport from Hanoi to 14 provinces and cities and vice versa is suspended. Photo: VNE
City leaders also imposed a suspension of mass transport (all buses, taxis, contract, tourist, and fixed-route buses) from Hanoi to 14 cities and provinces and vice versa starting July 8. The latest move is to address the rising coronavirus concerns as new infections are emerging in the capital.
The 14 localities in the ban list are Ho Chi Minh City, Binh Duong, Dong Nai, Khanh Hoa, Phu Yen, Dak Lak, Quang Ngai, Quang Nam, Da Nang, Thua Thien - Hue, Ha Tinh, Nghe An, Thanh Hoa, Ha Nam.
Bus routes still allowed to operate must follow preventive measures, including the strict control of passengers at checking points.
New local infections reported at an industrial zone in Hanoi on July 5 broke its streak of 10 consecutive days without such cases. Since then, the city has documented 18 new Covid patients, raising the fourth wave's tally to 276.
HCMC re-imposes social distancing order, stops lottery, takeaway services
Starting Friday, HCMC will halt all lottery services, either via retailers or street vendors, and food and drink takeaways for 15 days. The move is part of its social distancing measures put in place on July 9.
Traditional and ride-hailing motorcycle taxi drivers will also cease operation for the 15-day period. Shipping services, however, are to continue.
For the food and drink takeaways, even shipping services via food delivery apps must also be suspended, VNE reported.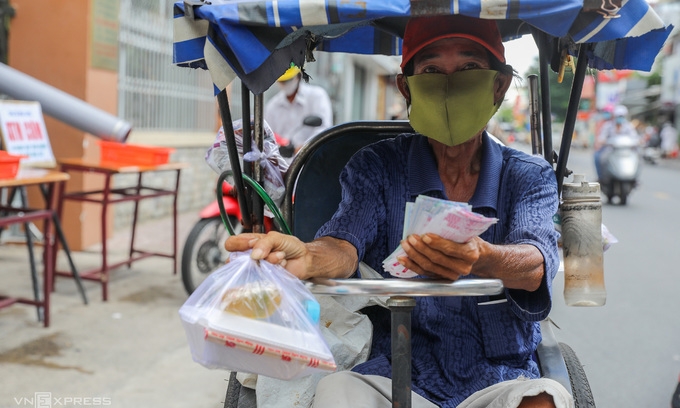 A lottery ticket vendor receives a charity meal from benefactors in HCMC, June 2021. Photo: VNE
The newly-imposed social distancing order under Directive 16 comprises the most stringent regulations, requires residents to stay at home and only go out for basic necessities like buying food or medicines or seek medical treatment, to work at factories or public offices that are allowed to open, or in case of funerals, fire or other disasters.
All residents must put on face masks and remain a proper distance from others at outdoor places. Apart from workplaces, schools, or hospitals, no more than two people can gather in public.
The majority of Saigon Railways has announced to suspend picking up and dropping off passengers in HCMC during the social distancing period.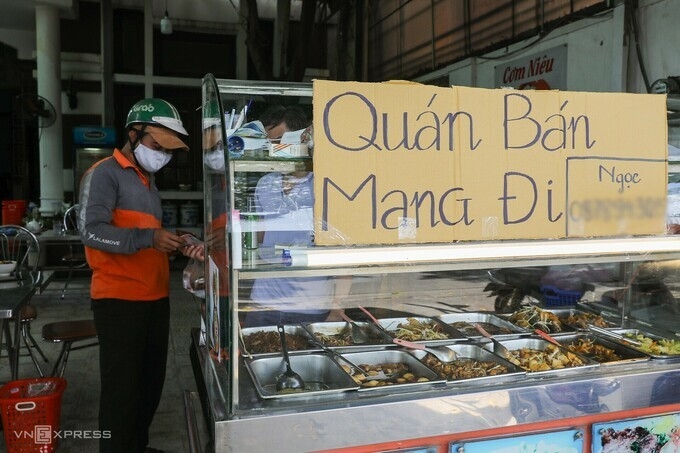 Photo: VNE
The majority of public transportation will be shut down and there will be no travel to other localities.
The city also assigned the Department of Transport to propose to the Ministry of Transport to restrict or suspend air and rail transport services to and from HCMC.
Saigon Railways has announced to suspend picking up and dropping off passengers in HCMC during the social distancing period.
The Department of Health was asked to deploy a treatment plan for 10,000 -20,000 Covid-19 infected cases. According to a report by the department, from April 27 to 6 pm on July 7, the city recorded 8,151 coronavirus infections in the community, including 45 deaths. The city is currently treating 7,118 patients.