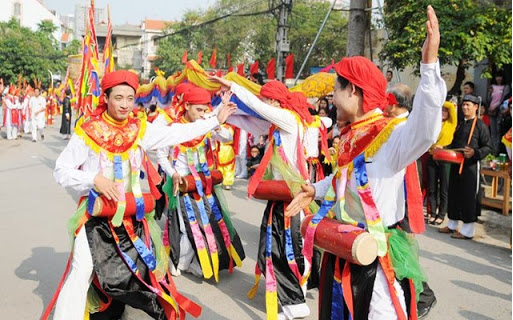 Illustrative photo: Daidoanket Newspaper
The Hanoi People's Committee Office has released an Announcement which states conclusion of Vice Chairman of the municipal People's Committee Chu Xuan Dung about the organization of festivals in the locality, the preparation to welcome the 13th National Party Congress and Lunar New Year (Tet) 2021, Vietnamnet reported.
Under the document, in order to well carry out the organization and management of the Lunar New Year 2021 festivals amidst the complicated development of the Covid-19 pandemic, the city leader assigned the Department of Culture and Sports to direct and coordinate with relevant units to establish the inspection group to monitor the festival organization and management.
Hanoi leader also asked to strictly handle violations on festival organization and management as well as promptly report to the City People's Committee on cases beyond the powers to deal with.
Department of Culture and Sports, in coordination with the Department of Information and Communications, the People's Committee of districts and towns to continue propagating the implementation of the Code of Conduct at relic sites, places of interest, etc.
The units need to strengthen to popularize regulations on Covid-19 prevention and control, monitor and update the epidemic situation, and especially remind residents to wear face masks in public spaces.
The relevant authorities order tourist sites to regularly disinfect and provide hand sanitizers for festival-goers.
In case that Covid-19 breaks out and poses a high risk of community transmission, based on the actual situation, festivals need to be suspended.
The Ministry of Health on the morning of January 29 reported the discovery of a further 9 community-associated cases, with one in Hai Phong, one in Bac Ninh, 2 in Quang Ninh, 4 in Hai Phong, and one in Hanoi, according to VOV.
Both patients in Hai Phong and Bac Ninh have addresses in the northern province of Hai Duong province and epidemiology linked to an outbreak in Chi Linh city in Hai Duong, the current biggest coronavirus hotspot.
Earlier on January 28, 10 cases were diagnosed with the SARS-CoV-2 virus in Quang Ninh, while two more were confirmed on January 29 morning which were epidemiologically related to the original case, a staff member of Van Don International Airport in the province.
Four new cases detected on January 29 morning in the northern province of Hai Duong are involved in epidemiology with the coronavirus hotspot in Chi Linh city.
A fresh case found in the capital city of Hanoi lives in Hai Ba Trung district and is also related to the original case in Quang Ninh.
As of 6 am January 29, Vietnam has registered a total of 786 cases of COVID-19 in the community, and 865 imported cases.
Malie Nguyen