Vietnam Covid-19 Updates (September 8): Hanoi Aims to Control Pandemic by Sept. 15
The nation has so far vaccinated more than 22.6 million people, including 3.44 million people who have received two full doses.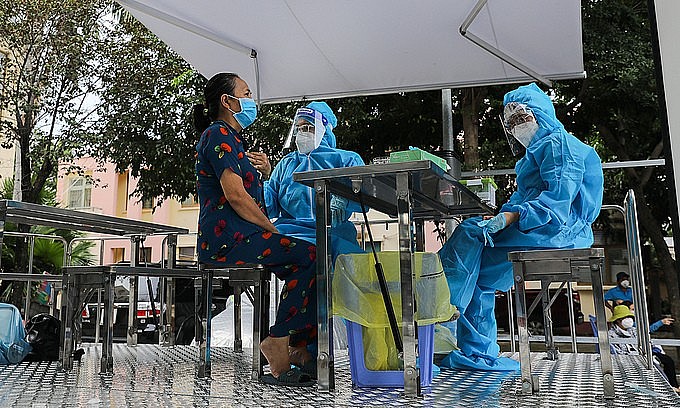 Photo: VN Express
Vietnam logs 14,208 new Covid-19 cases
A total of 14,208 new cases of Covid-19, including 15 imported infections were recorded, while more than 10,250 patients were declared free from the SARS-CoV-2 virus, said the Ministry of Health in its September 7 update. 8,161 cases were detected within the community with unclear sources of transmission, while the remaining infections were contained in quarantine and lockdown areas.
The two localities with the highest number of new domestic cases continued to be Ho Chi Minh City with 7,310 and its neighbour Binh Duong with 3,966. Several localities also recorded hundreds of local cases, including Dong Nai with 945, Long An with 490, Kien Giang with 242, Tien Giang with 183, and Quang Binh with 182.
A total of 316 deaths were confirmed on September 7 across 9 localities, with the majority of them occurring in Ho Chi Minh City with 253.
Photo: VNA
Hanoi aims to put Covid-19 under good control by Sept. 15
Hanoi sets a target of controlling Covid-19 by September 15 and giving at least one shot of vaccine to all of its residents from 18 years old. A dispatch sent from Chairman of the municipal People's Committee Chu Ngoc Anh to localities across the capital city on Sept. 6 clarified that the city will conduct testing on all locals by Sept. 12. To this end, Hanoi will apply the principle of dividing the city into different zones depending on the level of risk to take suitable pandemic control measure for each zone.
Under the document, the city leader also asked localities to give optimal conditions for locals to maintain their normal activities, ensuring social welfare and major demands of people. Localities were also requested to guide people, businesses and agencies to maintain safe operations and production in line with pandemic prevention and control regulations, thus avoiding the disruption of production chains.
The municipal Department of Planning and Investment was assigned to coordinate with relevant agencies to build plans to recover and boost economic development following the city's Covid control progress.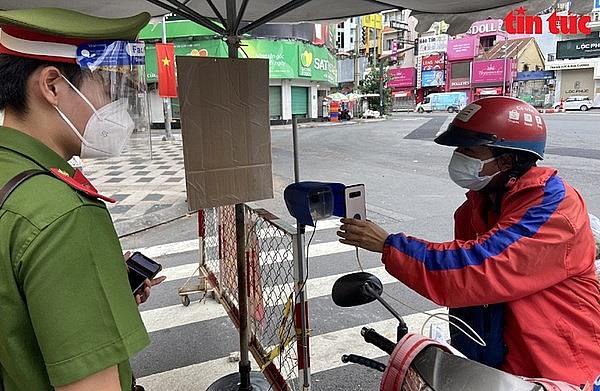 Photo: VNA
HCM City installs 100 QR code scanning cameras at checkpoints
Ho Chi Minh City's police said on September 7 that they are installing 100 QR code scanning cameras at Covid-19 checkpoints to minimize the contact and risk of disease transmission. According to a representative of the Ho Chi Minh City Department of Public Security, the installation of cameras will create favorable conditions for people to move through the checkpoints and reduce the risk of infections among forces working there.
Previously, the city's police piloted the installment of cameras to replace the use of personal phones for officers in Districts 1 and 3 and it proved to be effective.
Major Le Manh Ha, of the Ho Chi Minh City Department of Public Security, said that they are updating the list of travel permit holders as well as those who are allowed to travel on the road without a permit into the national population database. Ha said local police will use QR codes, which are used for making declarations, to oversee the travel of people. Officers at checkpoints will simply scan the QR codes of commuters to know whether they are eligible for travel or not It will help prevent the case that a person, who is a patient, still go out, he said.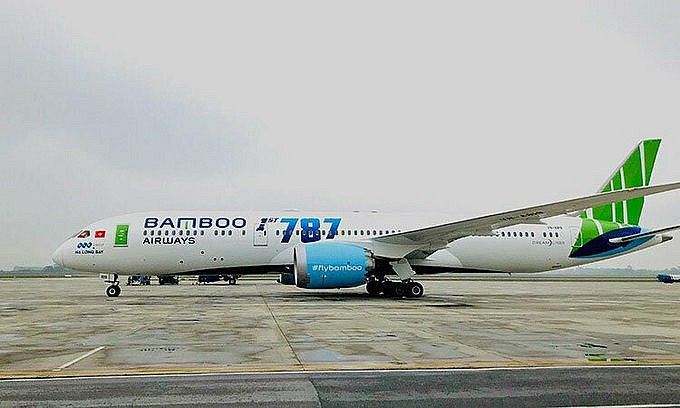 Photo: VN Express
Bamboo Airways to resume commercial flights to Tokyo, Taipei
Bamboo Airways will reopen international commercial flights connecting Hanoi with Tokyo and Taipei from November. Flights from Hanoi to Tokyo are scheduled to depart every Tuesday starting Nov. 2 while Hanoi-Taipei flights depart every Wednesday starting Nov. 3. Tickets for the Hanoi-Tokyo route cost from VND 8.3 million (US$ 364.36) while the other route is priced from VND 7 million.
On return trips, the carrier would only transport Vietnamese repatriates or foreign experts with permission to enter the country. Vietnam is yet to open its doors to foreign tourists.
A representative of the carrier said resumption of these international routes are meant to meet growing travel demand among Vietnamese citizens wishing to study and work abroad as well as stranded foreigners longing to return home.
Last July, Vietnam Airlines reopened international commercial flights connecting Hanoi and Ho Chi Minh City with Australia along with several Asian and European destinations. Vietnam closed national borders and canceled all international flights in March last year with only Vietnamese repatriates, foreign experts and highly-skilled workers allowed in since then with stringent conditions. Aviation authorities late last month requested airlines to stop selling tickets for domestic flights until further notice as the country grapples with its most challenging outbreak that began in late April with over 530,000 infections.
Following the latest additions, the country's total number of infections since Covid-19 initially broke out in the nation in early 2020 amounts to 550,996, ranking 51st among 222 countries and territories globally.
The overall number of recoveries also climbed to 311,710 following an additional 10,253 patients being released from hospital.
The nation has so far vaccinated more than 22.6 million people, including 3.44 million people who have received two full doses.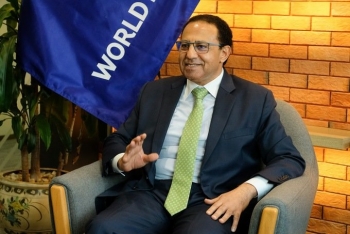 Economy
Vietnam's agriculture is transforming from quantity targets towards profit, environment and farmer income targets. Ahmed Eiweida, Vietnam Sector Leader for Sustainable Development (World Bank).