Hanoi halts festive activities and Walking Street to shield against Covid-19
Hanoi Party Committee on Tuesday tasked all districts to comprehensively activate the anti-pandemic system, ensuring absolute safety during upcoming holidays and election.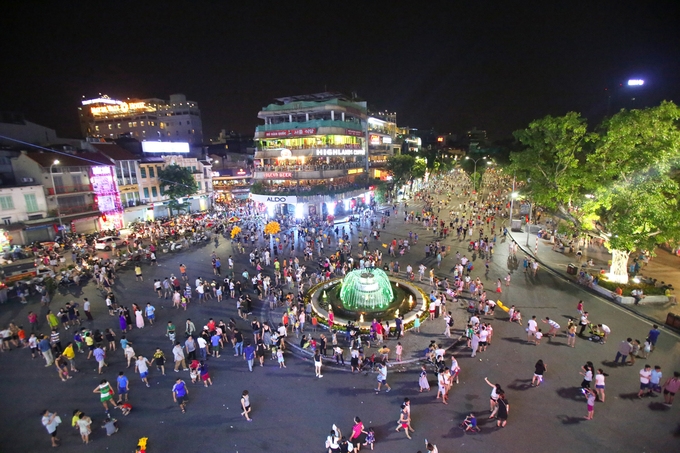 A bird-eye view of Hanoi Walking Street (Photo: VNE)
The request was issued in the face of high Covid-19 risk in Vietnam as the pandemic is taking a heavy toll in neighboring countries.
"Temporarily suspend all festive activities and the operation of Walking Street and continue to limit unnecessary events and activities that draw large gatherings," Hanoi leader said. He further added that important conferences and events must be organized strictly in line with Covid-19 prevention and control protocols.
In case new Covid-19 cases are detected, authorities must immediately deploy measures to localize, contract trace, isolate to prevent the novel virus from spreading on large scale. The Party Committee, however, stressed that isolation, lockdown and social distancing measures must be suitably implemented based on the scale of the outbreak, thereby minimizing the adverse impacts on production and trade activities as well as people's life.
As of April 27, Hanoi has gone 71 days without new community infections. Most of the city's medical forces have been tested and came out negative for nCoV.
Hanoi is among the localities with highest initial Covid-19 vaccination rate (over 8,500 doses. In the second vaccination round, the city plans to administer 53,000 more prioritized individuals, including medical personnel, members of the Steering Committee for Covid-19 Prevention and Control of all levels.
Meanwhile Quang Ninh, provincial leaders decided to reduce the scale of the festive events marking the Reunification Day (April 30), fireworks display, and tourism stimulus events. Secretary of the Provincial Party Committee Nguyen Xuan Ky asked all heads of Departments, branches and localities to work on holidays to promptly respond to any Covid-19 scenarios in the province.
Earlier last week, Hanoi also announced to scrap Reunification Day fireworks plan over Covid-19 outbreak fear. It had previously planned to light up the sky with fireworks at dozens of major spots. This is the second time (after Lunar New Year's Eve) in 2021 Hanoi canceled its firework plan to celebrate Vietnam's big holidays.
A number of cities and provinces, including Ho Chi Minh City, Nghe An, Da Nang etc., have followed suit just days later.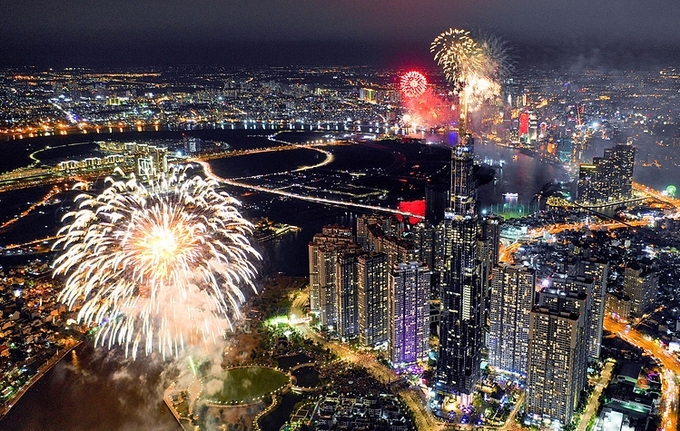 Fireworks displays seen from the Landmark 81, Vietnam's highest building in Binh Thanh District, Ho Chi Minh City, 2019. Photo by VnExpress/Huu Khoa.
Prime Minister Pham Minh Chinh on April 27 asked ministries, agencies, localities, units and individuals to remain vigilant against COVID-19 and raise the sense of responsibility for public health.
He made the request during a Cabinet meeting on COVID-19 prevention and control on April 26 morning, which was held amid the complex developments of the pandemic in the world.
According to a document on the meeting outcomes, issued by the Government Office, the PM pointed out the high risk of pandemic resurgence in Vietnam as its neighboring countries are facing spikes in cases, Nhan Dan Newspaper reported.
Given this, it is hard to complete the dual tasks of socio-economic development and pandemic combat, he said.
The leader urged ministries, agencies and localities to get updated on the COVID-19 situation at home and in foreign countries, and seriously implement prevention and control measures.
He reiterated the need to follow the Ministry of Health's 5K message: khau trang (facemask), khu khuan (disinfection), khoang cach (distance), khong tu tap (no gathering) and khai bao y te (health declaration).
Any violations should be strictly punished in line with regulations of the Party and law of the State, the PM noted.
Vietnam recorded five cases of COVID-19 from 6 am to 6 pm on April 27. Among the new patients, four are Vietnamese citizens returning from abroad and have been quarantined immediately after arrival. The fifth patient was a staff member at a hotel that is used as a quarantine facility in the northern province of Yen Bai, where several Indian experts are quarantined after arriving in Vietnam. This staff member has also been under medical monitoring since the first day he made contact with the Indian experts. Meanwhile, no new cases found on the morning of April 28, according to the Health Ministry.