WHO: Vietnam needs to remain alert against Covid-19
The World Health Organization has advised Vietnam to remain alert for Covid19 outbreaks despite the recent absence of community transmissions and an ongoing vaccination campaign.
Vietnam needs to stay vigilant before the looming threat of new coronavirus outbreaks coming from beyond its border, even during an ongoing vaccination campaign, Kidong Park, the WHO representative in Vietnam, said Tuesday.
"The risk of case introduction to Vietnam including onward community transmission is high especially if cases among the illegal incoming travelers go undetected," Park said.
Cambodia has been in the grip of a new wave since late February. Its caseload has crossed 11,700, after recording only around 400 cases the whole of last year.
The Lao government last Friday closed the country's borders and announced a two-week lockdown in capital Vientiane. On Monday, the country recorded 113 new cases, its highest single-day tally. There were 93 new cases on Wednesday, taking the national Covid toll to 604.
Thailand reported 2,012 new Covid-19 cases Wednesday, the sixth straight day it recorded more than 2,000 daily cases, taking the total to 61,699 so far. Last year it had detected less than 7,000 cases.
Despite Vietnam's successful record in the coronavirus fight, the recent surges in certain countries including India show that the crisis can worsen anytime and there's still a "long way to go as a global community," he said.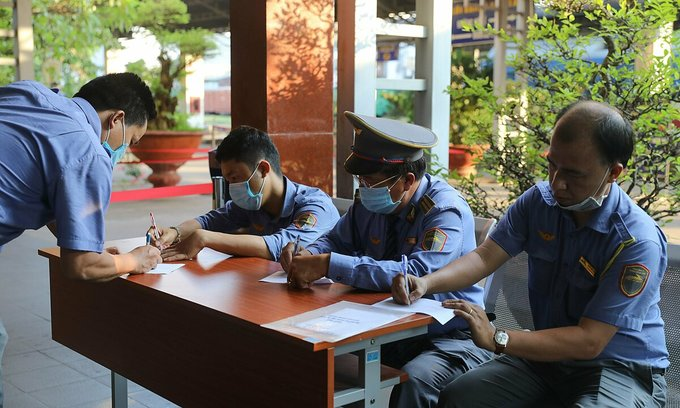 People sign up for Covid-19 tests at the Saigon Train Station in HCMC, February 18, 2021. Photo by VnExpress/Nhu Quynh
Officially, the number of cases in India surged by 362,902 in just 24 hours. As of Thursday, the country of 1.3 billion people has recorded more than 18.3 million infections and 204,812 Covid deaths, after 3,647 more died overnight.
Globally, 5.7 million cases and 88 000 deaths were reported to WHO last year.
"We are nearing 150 million cases of Covid-19 and 3.1 million deaths since the start of the pandemic. These are worrying trends as we continue to see the impact of variants, opening up of societies, and inequitable vaccine rollout," Park said.
In Vietnam, the public needs to be kept informed of the risks and public health measures to be adhered to, even as a national Covid-19 vaccination program is being rolled out, he advised.
The government also needs to be alert and active in risk assessment, preparing for possible resurgence of cases by ramping up border surveillance and control, setting up field hospitals in areas close to the border and advising its citizens in other countries to avoid illegal entry, among other measures, he added.
Vietnam has not recorded any new community transmission in over a month, but officials have been warning that the threat of another Covid-19 outbreak is imminent, especially via illegal entrants.
So far, over 300,000 people have been vaccinated with a Covid-19 vaccine made by British-Swedish firm AstraZeneca. Most of them are frontline workers in the coronavirus fight, including doctors, soldiers and police personnel.
Border control tightened as Vietnam eyes Cambodia, Laos outbreaks
Provinces bordering Cambodia and Laos have prepared themselves for the worst-case scenario should Vietnam's two neighbors fail to contain their Covid-19 outbreaks.
For more than a week, following the spike of locally-transmitted Covid-19 cases in Cambodia, Ha Tien Town in southern Kien Giang Province has ordered mobile police, militia and self-defense forces to work closely with border guards to prevent people from crossing the border illegally and possibly bringing the virus to Vietnam, which has gone a month without local transmissions, according to Vnexpress.
Phu Quoc Island off mainland Kien Giang has been identified as a hotspot for illegal entries.
In the past week, seven posts and 50 soldiers have been sent to the island, raising its capacity to 27 posts and 100 soldiers.
In An Giang, 200 posts and stations have been set up to watch over a border of 100 kilometers with Cambodia.
Major Nguyen Truong Phong, Head of Vinh Nguon border guard station, said with many rivers and canals adjacent to localities in Cambodia, An Giang provides the perfect conditions for people to break into Vietnam.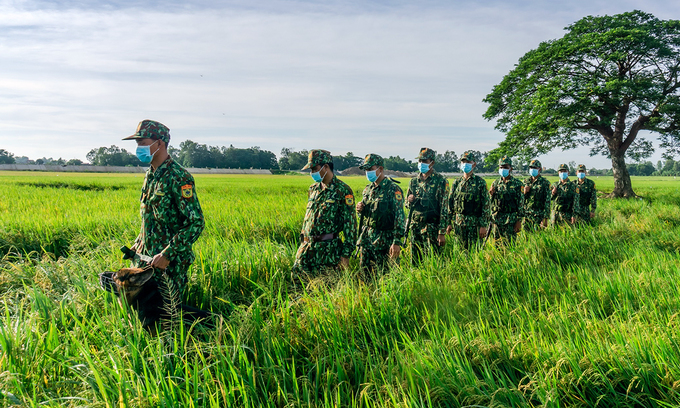 A patrol group of the An Giang provincial border guard forces do their job. Photo by VnExpress/Thanh Nam.
Cambodia has been in the grip of a Covid-19 spread since late February. Its caseload has crossed 10,000, with 580 new infections reported Monday alone, after recording only around 400 cases in the whole of last year.
With a border of 50 kilometers along Cambodia, Dong Thap has set up 16 mobile patrol teams aside from the existing 17 posts to watch over the frontier.
Forces in northern and central Vietnam are also halting illegal entries from the Vietnam-Lao border, which runs 2,161 kilometers across 10 provinces.
Captain Hoang Kim Bac at a border station in Quang Tri Province's Huong Hoa District said this season, water levels in rivers are low, making them ideal routes for illegal border crossings.
On April 23 and 24, nine people were caught breaking into Vietnam via the commune.
Another border station in the district has been supplied with 48 members for militia and self-defense forces to help reinforce the patrol task.
Ha Tinh Province this week set up 11 guard posts with 10 staff each, with five more members held in reserve should the situation intensify.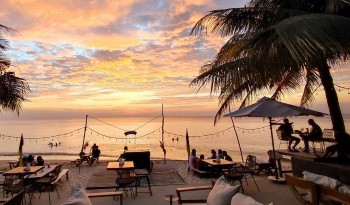 National
Vietnam News Today (Jan. 27): Vietnam confirms 15,885 local cases; Vietnam among top 20 World's Best Places to Retire in 2022; HCM City continues with vaccination during Lunar New Year festival; Vietnam enjoys trade surplus from 54 export markets globally.