Hanoi's Mute Lady's snail stall: 30 years of hand gestures ordering
Hanoi, the 1000 - year - history capital, well-known for its lot of great eating houses, especially tasty snail dishes, but not everyone knows that there is a very special snail stall on the food street Tong Duy Tan called Oc Ba Cam (Mute Lady's snail). Over the past 30 years, the owners and their clients have been communicating only by hand gestures and the eatery still surprisingly attracts a lot of visitors.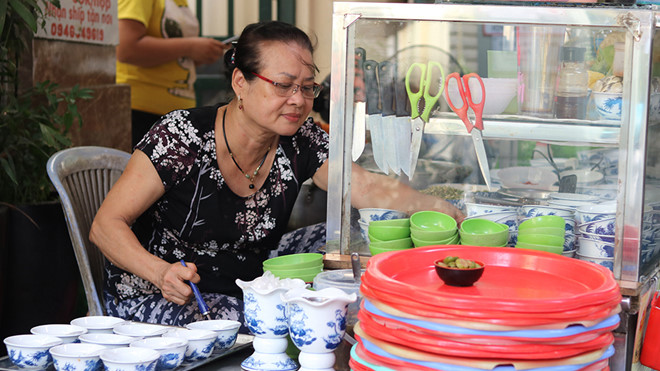 Mrs Khanh's snail stall, where hand gestures have been reigning for the last 30 years. (Photo: thanh nien)
The snail stall owned by Mrs Han Tuyet Khanh and her husband lies nestled in the heart of the food street Tong Duy Tan. Specializing in snail dishes for almost 30 years, the Mute Lady's stall became famous among the Hanoian fans of snails.
What makes Mrs Khanh's eatery special is that all its staff including both the owners and the employees are hearing-impaired. That's why the snail stall is known in the neighborhood as "the mute lady's snail stall".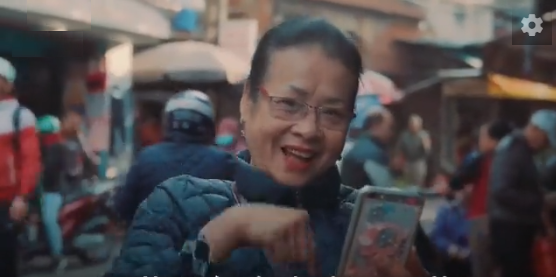 Both the owners and the employees are hearing-impaired but always smile.
All customers visiting the stall can order whatever they love to enjoy by hand gestures. What special of eatery is that no menu there, only well-arranged dishes of big snails, small snails, oysters, fermented pork rolls, fruit beams, etc. placed on the trays. Customers choose the dishes they wish to taste and point them out, showing the amount of each dish by the fingers. It sounds complicated but in fact everything goes smoothly and the customers come in and out all the time, sometimes you should wait in a queue for a table.
Everyday Mrs Khanh gets up at 6am to go to the Dong Xuan market to buy snails which she chooses one by one to make sure they are all good and tasty. At first glance, it seems that the snails are simple to cook, but actually it requires an extremely elaborate work to deliver a fascinating specialty from snails. The shelled gastropods should be washed thoroughly by soaking in the water used to rinse rice for a while before cooking so that all the mud were spitted out.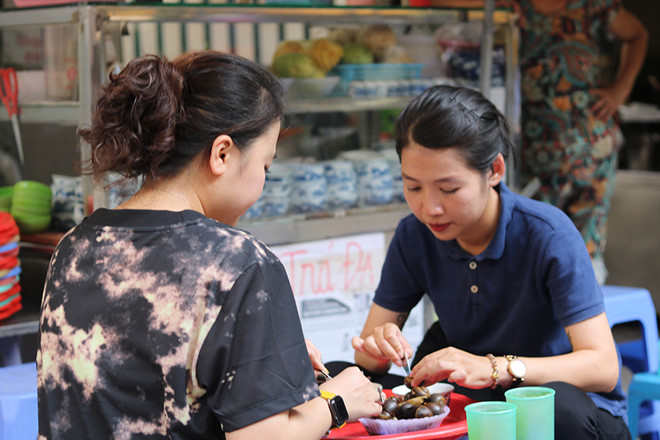 The snail stall is not very big but never lack customers. (Photo: thanhnien)
To give the snail dishes an attractive scent, Mrs Khanh would add a few lime or pomelo leaves and put some citronellas on the bottom of the pot as well as on the snails before boiling them. She would also marinate the snails with a bit of fermented steamed rice to drown out their fishy smell.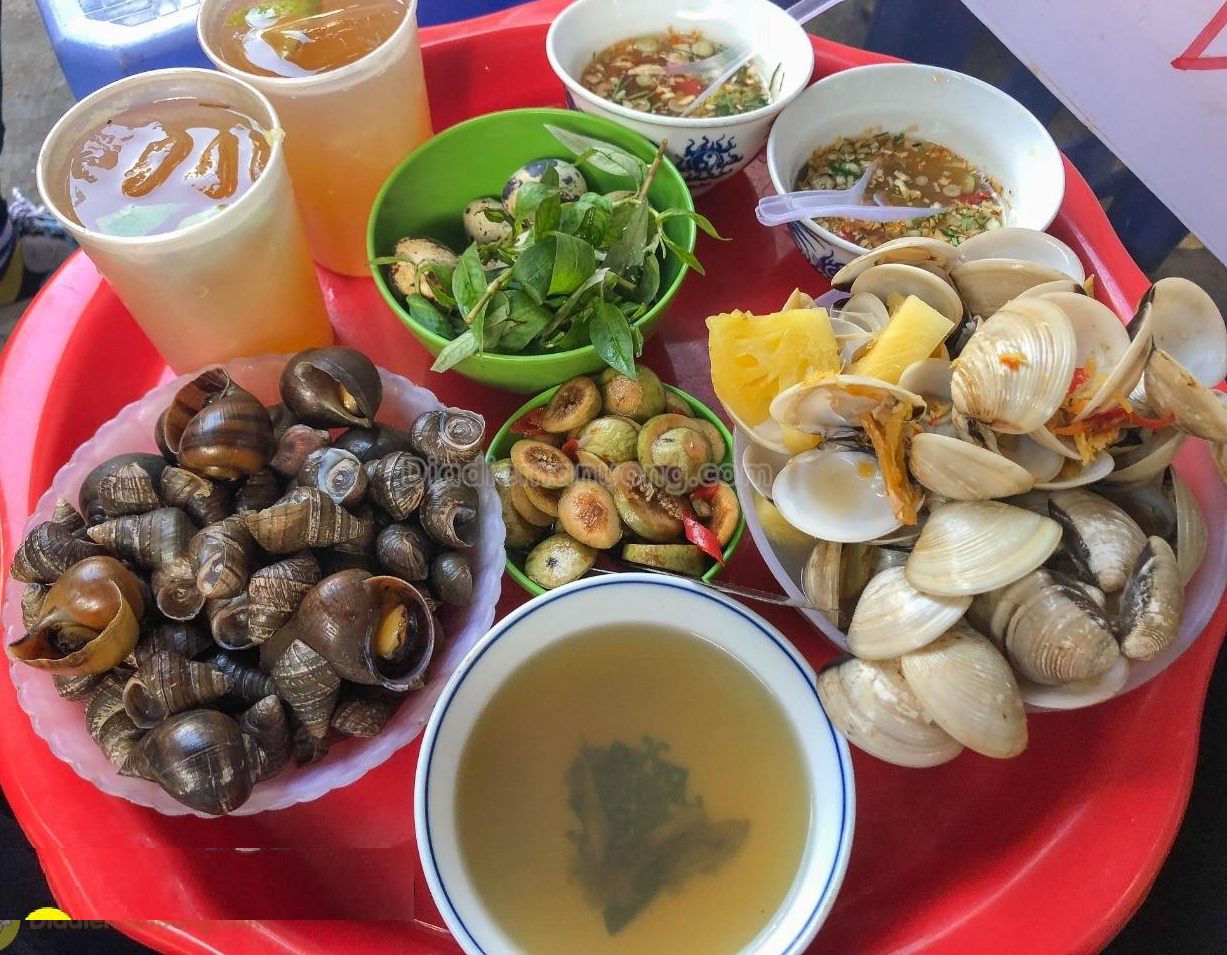 Her dishes looks simple but very delicious and special.
In addition to the boiled snails, there are also a lot of other tasty dishes at Mrs Khanh's eatery: fresh oysters, delicious fried fermented pork rolls, hot-selling and not very expensive pickled chicken legs (~US$2,16/10 pcs). That's why the stall is always full of customers, including local gourmands and tourists from all over Vietnam and abroad.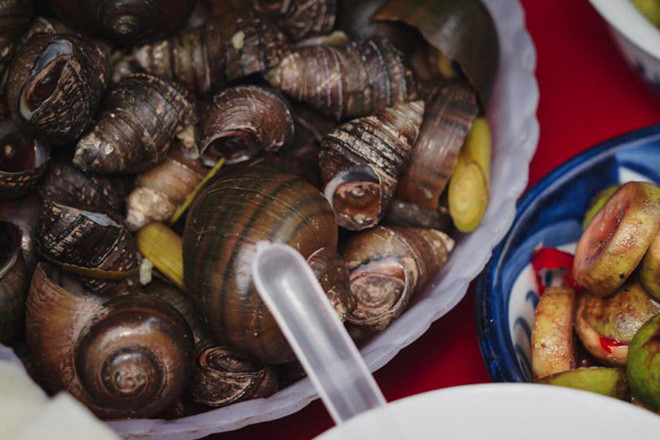 The yummy snails that lots of gourmands are longing for over the last 30 years)
Diep Ai Linh (Mrs Khanh's daughter) has confided: "My parents are not born hearing-impaired, but became deaf because of the overdose of antibiotics. After getting married they had to work many jobs to earn a living. Before this snail stall, my mother sold crab cellophane noodles in the Old quarter and she had to go from one house to another to do that. Sympathetic to the other poor people who suffer the same situation as herself, she recruited the hearing-impaired to work at her small snail eatery to help them."
Nguyen Hoai Anh, a regular customer of the stall, shared with us: "At first I came here out of curiosity, but then I keep coming back because the snail dishes here are extremely delicious and because the lady owner of the stall and staffs with disabilities alway look optimistic and cheerful."
This kind woman has been flavoring the snail and oyster dishes with all of her heart for the past 3 decades, so the special thing that makes the customers crave her snails is not only the yummy taste but also the friendly atmosphere waiting for them in the eatery.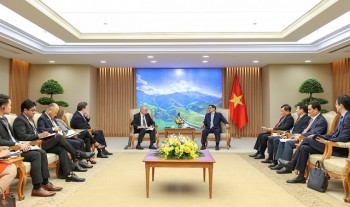 National
Vietnam News Today (Dec. 6): Vietnam records 427 new Covid-19 cases on December 5; PM hosts USABC, US corporation leaders in Hanoi; Proper investment needed to develop night-time economy; Vietnam welcomes New Zealand investors for win-win partnership.