Hanoi's Top Desserts Paradise to Try This Summer
This summer, a lasting heat may overwhelm newcomers to Hanoi. Here is how to survive Hanoi's inescapabe heat with some delicious summer snacks!
Tao pho - Soybean curd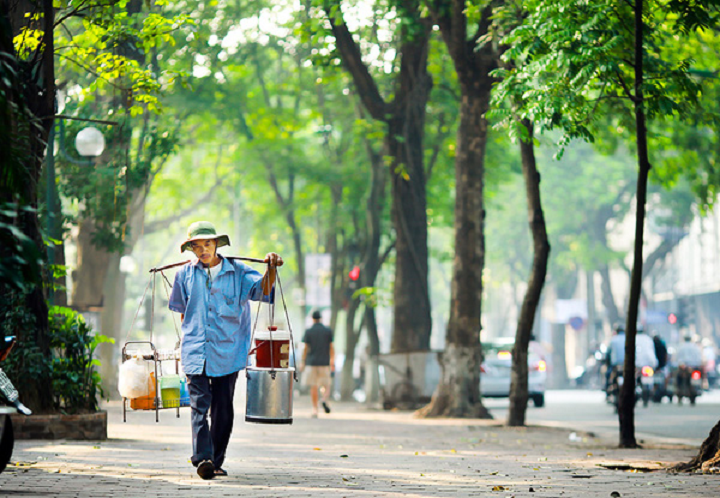 The vendor of tao pho. Photo: Yeu Ha Noi
Tao Pho (soybean curd), with a rustic flavor, is a favorite dish of many Vietnamese people because it brings back many childhood memories.
Some people said that it comes from the Chinese word "tofu". And when you walk the streets of Hanoi, Tao Pho sellers on their bikes with holler "Tao Pho! Tao Pho!" many times. That is when every child would rush out, stop the seller to ask for a bowl of this refreshing summer treat.
Tao Pho is made from finely ground soybeans, filtered out the residue like tofu but more carefully, then boiled and then cooled, frozen. When eating Tao Pho, we add a little ice and immediately have a bowl of Tao Pho that is cool, easy to eat, light on the stomach, suitable for cooling in the summer sun.
Now you can find many Tao Pho shops in Hanoi. The seller uses a spoon, or mussel shell, to put each spoonful of thin "Pho" into the bowl so that it's really comparable and fits, and then adds sugar water, a few ice cubes.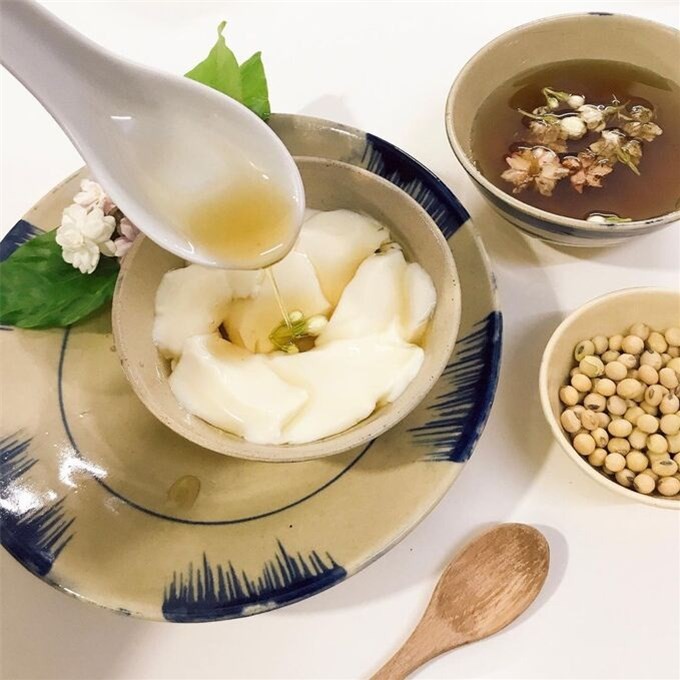 A standard bowl of Tao Pho in Hanoi is sugar water that is not too sweet, has jasmine flavour, light on the stomach, comfortable. Photo: Haileyanh/ Instagram
Sau da - Iced Dracontomelon
This is a must-try traditional juice in hot days. Dracontomelon is the icon of Hanoi's summer because the dracontomelon trees have been all around the streets of Hanoi for a long time.
The breed in Hanoi is probably the only one that edible on its own. With thin skin, small seeds, and thick flesh, its sourness is really pleasant.
Sau da used dracontomelons syrup becasue the fruit itself is too sour to drink.
Making the drink will take you less than two minutes but the step to make dracontomelons syrup is more time-consuming.
Here is how to make Sau da: A batch of skinned dracontomelons is soaked in sugar and shredded ginger until they produce a brown syrup, which is then mixed with water and ice into a ubiquitous street drink.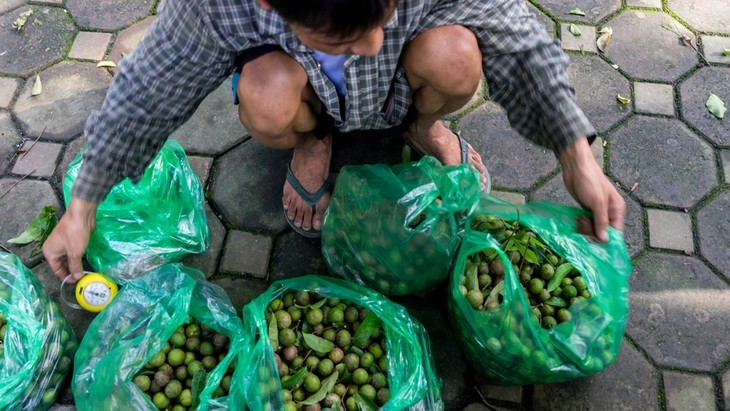 The dracontomelon season in Hanoi often lasts between June and September. Photo: VOV
Also, dracontomelons are a common spice in the daily meals of Hanoians and can be used in a bunch of soups. Or dracontomelons are made into "o mai" (dried sugar coated fruits), an iconic snack and souvenir in Hanoi.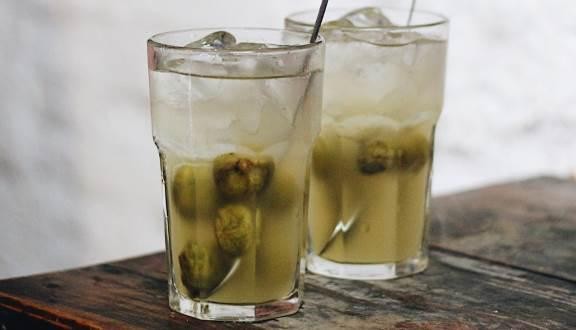 Photo: 24H
Pho cuon - Pho roll
You probably are familiar with the famous Pho noodles of Hanoi, but have you tried Pho roll? You heard it right, your bowl of Pho comes in the bite size of a spring roll.
Rolled Pho is loved by many thanks to its simple recipe, attractive taste and healthy ingredients.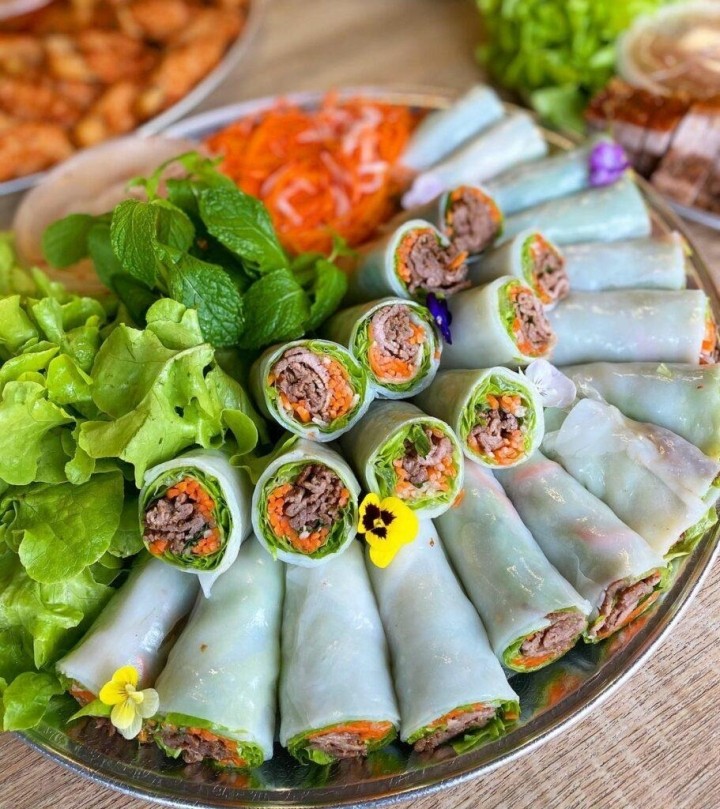 Photo: VTC
Bun oc nguoi - Cool snail noodles
Another Hanoi's simple yet sophisticated dish, and it is perfect for summer.
Cool snail noodles (Bún ốc nguội) is a popular and simple dish but "reaches the most sophisticated cuisine art of the Hanoian" as once praised by Vietnam's famous writer Vu Bang.
Unlike the feast of the hot version of bun oc is, cold snail soup is almost unique for its utmost simplicity. One serving, costing VND30,000 ( US $1.31), involves two bowls, one each of noodles and snails in snail broth.
At many cold snail noodle stalls in Hanoi, the noodles are bar-shaped vermicelli. But this stall serves tangled noodle strands. Many customers find this combination intrigued since the thin strands of noodle go well with the coolness of the dish.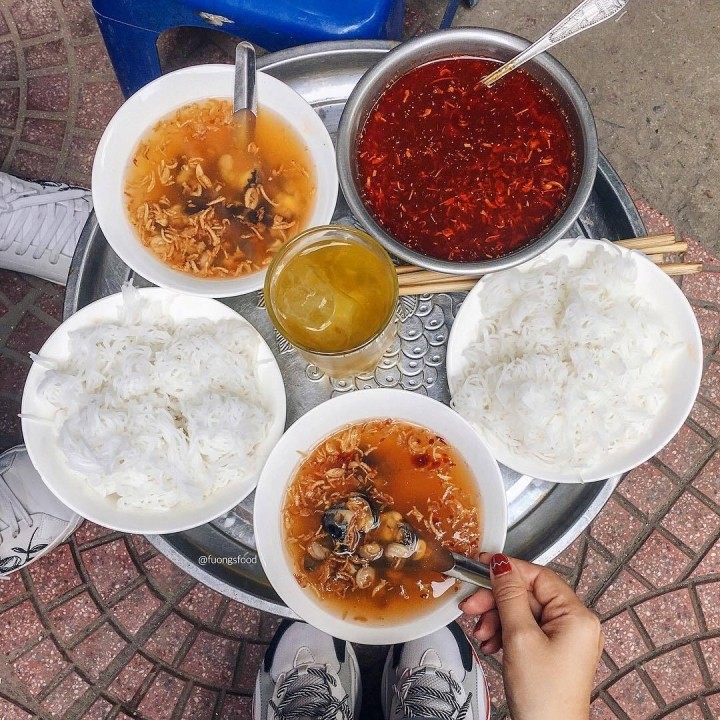 Photo: fuongsfood
Bun Dau - Fried tofu noodles
About the origins of Bun dau are unknown, one thing is for sure. It has become an important part of the culture in Hanoi, thanks to the fried tofu, the noodles and the shrimp sauce.
Bun is the white, soft rice noodles, which are very popular in Vietnam. A dipping sauce makes it even more enjoyable.
Dau is tofu in Vietnamese. The tofu is deep fried until the outside is yellow but the inside is still white and juicy. The secret is frying the whole bar of tofu, and customers love it when the tofu in Bun Dau is always crispy on the outside and tender on the inside.
The main flavor to this signature dish is mam tom, fermented shrimp paste sauce. The sauce creates a sweet and savory flavor combined with the spiciness of chili.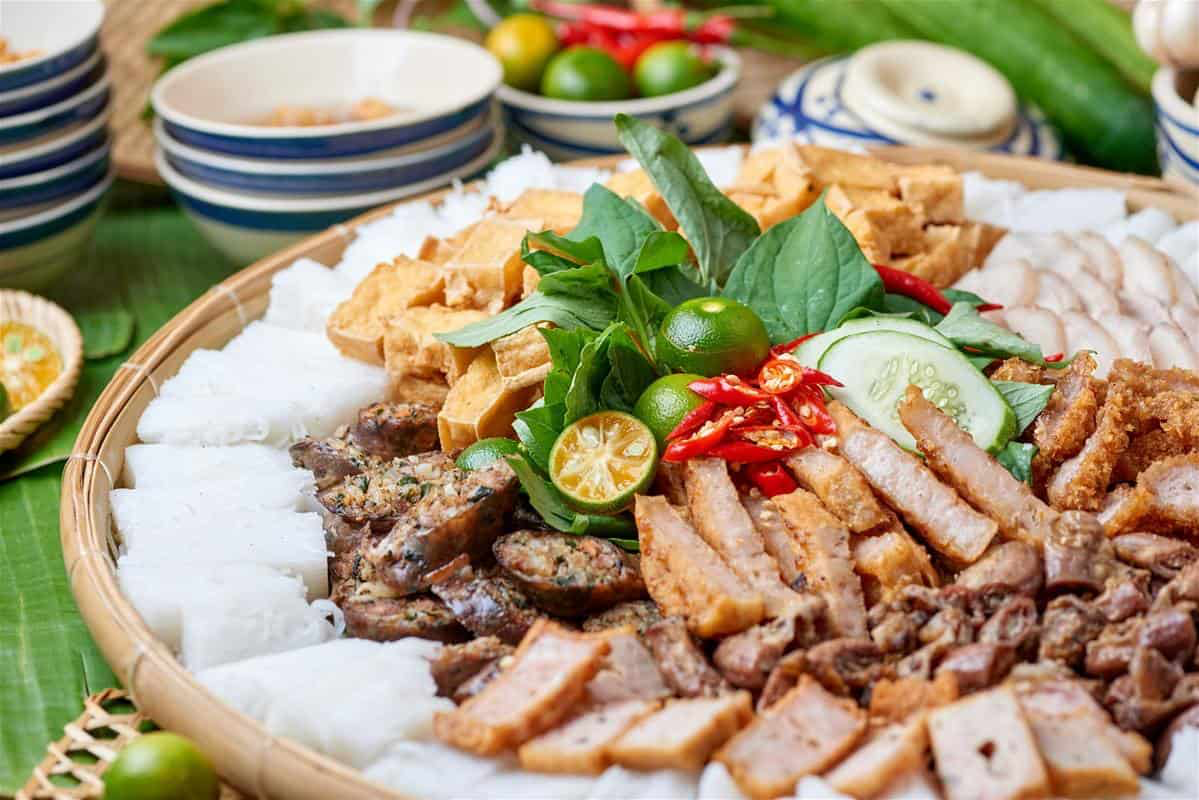 Bun Dau Mam Tom - a typical dish. Photo: bestpricetravel of Vietnamese cuisine.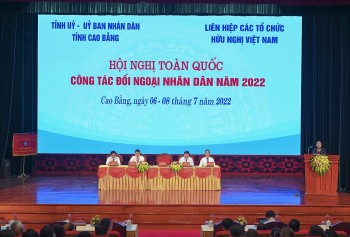 Friendship
During the event, many important issues will be discussed, and constructive suggestions and solutions will be provided to promote more effective people-to-people diplomacy operations.