HCM City: Tracking five passengers on same flight as COVID-19 carrier
Ho Chi Minh City's Centre for Disease Control (CDC) is locating five passengers on same Vietnam Airlines' VN814 flight as a Japanese passenger, who was positive for COVID-19.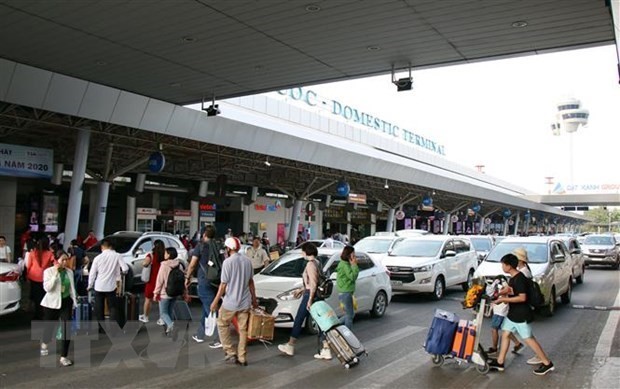 Passengers at Tan Son Nhat airport (Photo: VNA)
The Ministry of Health had confirmed late on Wednesday (March 4) evening that one of the passengers on a connecting flight VN340, which had arrived in HCM City from Siem Reap (Cambodia) on March 3, tested positive for COVID-19.
MoH said it has started contact tracing for flight passengers who may have had contact with the case while the person was infectious.
Flight VN814 carried 67 passengers and six cabin crew from Siem Reap, to the city-based Tan Son Nhat International Airport. Sixty-one passengers had connecting flights that night to London (the United Kingdom), Narita and Nagoya (Japan), Busan (the Republic of Korea) and Manila (the Philippines).
Six passengers checked into Vietnam including one Vietnamese, three French, one Australian and one Filipino. The Filipino then flew home on March 4.
HCM City's CDC is coordinating with relevant agencies to verify the identities and addresses of those five passengers.
According to MoH, the Japanese passenger boarded flight VN340, to Nagoya (Japan), on early March 4 and tested positive for COVID-19 after arriving in Japan with a fever.
Flight crews on flight VN340 returned to Vietnam on flight VN341, which landed at Tan Son Nhat Airport at 1:55 pm on March 4. The flight has a total of 73 guests and 12 crewmembers. Accordingly, passengers entering Vietnam and all crew have been put into quarantine.
After getting information on the case, the National Steering Committee for COVID-19 Prevention and Control sent a dispatch to the Ministry of Public Security and the HCM City People's Committee on locating their whereabouts of those who had contact and boarded the same flight with the Japanese passenger.
Both Vietnamese and Japanese agencies are investigating itinerary of the Japanese patient in Cambodia.
Vietnam has recorded no new COVID-19 infection cases since February 13./.