Vietnam hopes to receive Covid-19 vaccine technology from Japan
Chairman of the National Assembly Vuong Dinh Hue voiced his hopes Japan will share and transfer the Covid-19 vaccine production technology for Vietnam.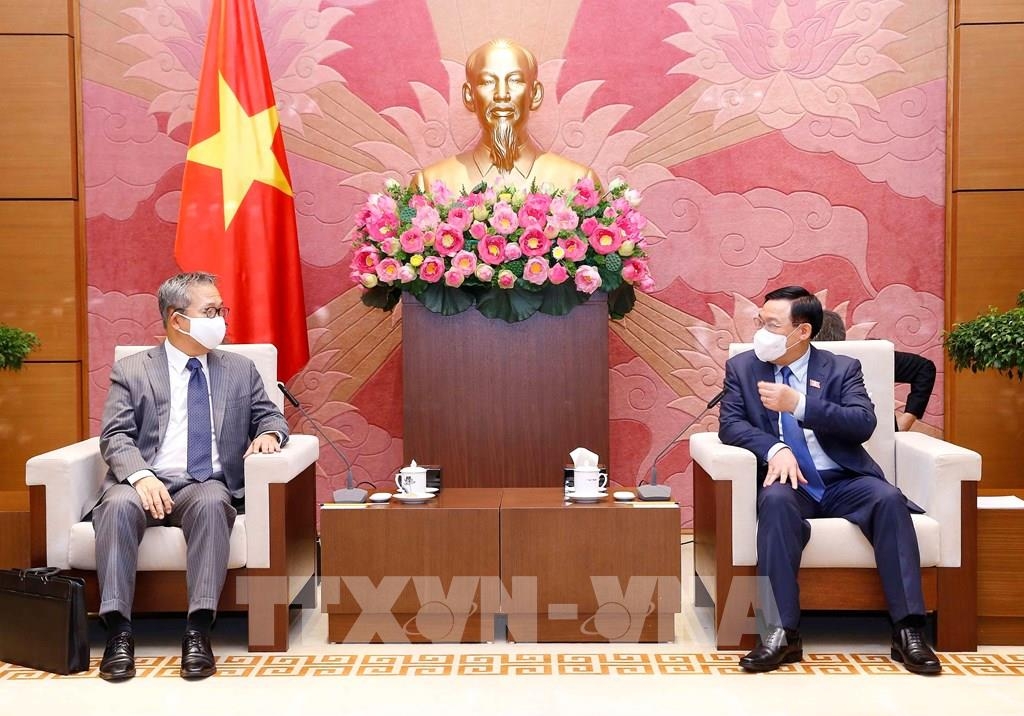 Chairman of the National Assembly Vuong Dinh Hue (R) and Japanese Ambassador to Vietnam Yamada Takio. Photo: VNA
According to VNA, Hue on May 14 received Japanese Ambassador to Vietnam Yamada Takio, who expressed his strong wish for Hue's further support for boosting the two countries' relations in his new post.
Chairman Hue lauded the role of the ambassador and the embassy in fostering the nations' extensive strategic partnership over the past time.
He said Yamada has made contribution to promoting Japanese Prime Minister Suga Yoshihide's visit to Vietnam – his first trip overseas after taking office in October last year, and to enhancing exchanges between the two countries' high-ranking leaders, particularly recent phone talks between Party General Secretary Nguyen Phu Trong and State President Nguyen Xuan Phuc and PM Suga.
The top legislator said he is pleased to see that, on the basis of their bilateral political trust, the two countries' economic, trade and investment cooperation has continued to develop and achieve impressive results.
He affirmed Vietnam always considers Japan an important and long-term partner, and supports Japan in making positive contributions to peace and development in the region and in the world.
Vietnam also appreciates and attaches importance to Japan's ODA for the nation, he said. He took the occasion to thank Japan for its provision of a cold chain for Vietnam's preservation of Covid-19 vaccines. Hue said he hopes Japan will share and transfer the vaccine production technology for Vietnam.
Vietnam has documented 2,357 domestically-transmitted infections, and 1,459 imported cases so far. As many as 787 new cases were recorded since the latest outbreak hit the nation on April 27.
Expressing his delight at progresses recorded in cooperation between Vietnamese and Japanese law-making bodies, Hue expected the ambassador will pay attention to strengthening exchanges between parliamentarians of the two countries, especially young and female parliamentarians; and boosting information and experience cooperation and exchange in legislative work, supervision and decision-making regarding important national issues.
Chairman of the National Assembly Vuong Dinh Hue (R) and Japanese Ambassador to Vietnam Yamada Takio. Photo: VNA
For his part, Yamada said he will forward Hue's practical recommendations to the President of the House of Councillors and Speaker of the House of Representatives of Japan
The diplomat said a recent survey by the Japan Bank for International Cooperation showed that the Japanese business community considers Vietnam the most attractive investment destination in the ASEAN region.
This shows that Japan attaches great importance to Vietnam and predicts more active works from the nation in Vietnam in the future, he said, adding that the embassy make efforts to fully convey Japanese firms' opinions to the National Assembly of Vietnam.
The Vietnam-Japan relationship is developing fruitfully across spheres, and Japan is now Vietnam's largest ODA supplier with about 27 billion USD.
Japan is also Vietnam's second foreign investor with accumulated investment amounting to 60.3 billion USD, making up 15.7% of total foreign investment in the country.
Japan is the fourth largest trade partner of Vietnam, with bilateral trade reaching 60 billion USD last year./.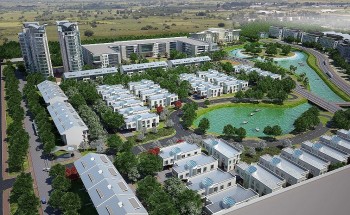 Economy
Recently, the Eco-Industrial Park Project Management Board in Vietnam, the Ministry of Planning and Investment in collaboration with the Vietnam Cleaner Production Center held an online capacity development workshop on. "Resource efficiency, Cleaner production and Industrial symbiosis".