Overseas Vietnamese feel 'more secure' after getting COVID-19 vaccine
Some Vietnamese nationals in the US and Russia who are lucky enough to get the early shots against nCoV say they feel more secure in public places.
Mr. Phuong at the vaccination site in Texas (Photo courtesy of Phuong Nguyen)
"After getting the vaccine, I feel safer and more confident getting out of my house", Ta Phuong Thao, a Vietnamese student in Moscow, Russia was quoted by Zing News. Thao was encouraged by her parents – who are confident in the safety and effectiveness of Sputnik V - to sign up for the injection.
Vaccination for the safety of the community
In the US, the prioritized groups for COVID-19 vaccines includes frontline doctors and medical staff, those whose jobs involving high mobility.
As an insurance employee with regular communes, Mr. Phuong Nguyen, a Vietnamese American living in Houston, Texas, is among the first COVID-19 vaccine recipients.
"Before the long business trip, I had registered for the vaccination. It's a great way to protect myself and customers", he said.
Phuong chose a spacious square among the many vaccination sites in the US to register and get the vaccine. Everyone must strictly follow social distancing order.
"At first, I followed one staff to the registration zone, then got my body temperature checked at another corner. At the consultation desk, you will have to declare your personal information and epidemiological history", Phuong recalled.
According to the young man, doctors will instruct and explain possible side effects post-vaccination. Recipients must stay for at least 15 mins after getting the jab for further health monitoring.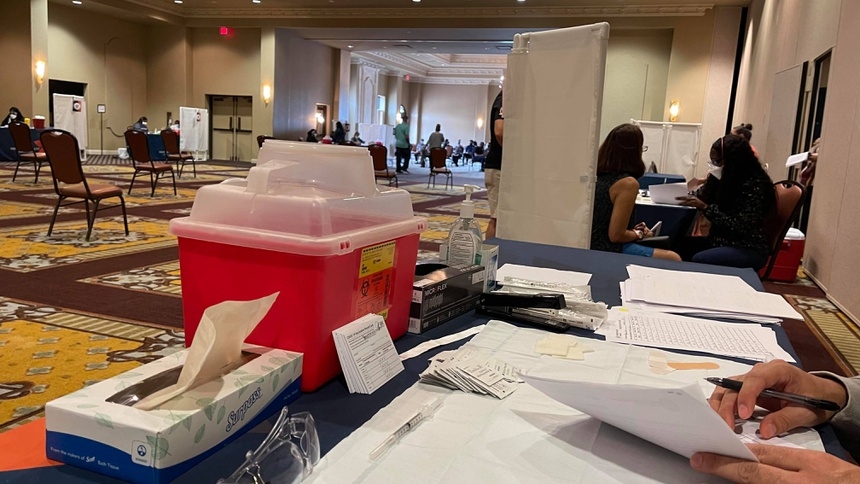 Social distancing at one vaccination site in Texas (Photo courtesy of Phuong Nguyen)
Free vaccine policy
In Russia, when the government piloted the vaccination a few months ago, everyone could register to their wish and get the vaccine free of charge. Since early February, inoculation campaigns have been launched across the country, with vaccination sites sprung up in places like hospitals, shopping centers, medical clinics, universities.
Ms. Ta Phuong Thao, an overseas Vietnamese chose a nearby shopping center for "it has a large space". "Vaccination appointments are carefully scheduled, thus the medical personnel could control the numbers of people and ensure social distancing", she said.
In Russia, the required staying time post-vaccination is 30 mins. Phuong felt sleepy and experienced tight and aching muscles, mild fever.
"The doctors have told me about such reactions, thus it's no surprise for me and they are not at all dangerous", Thao said, adding that the government would only grant free vaccination for the first one million doses for those living in Moscow. Foreigners living and working in Russia would have to pay for themselves in the near future.
Ms. Nguyen Thi Thuy Ngan, another overseas Vietnamese student in Moscow, said she was lucky to get the free shot thanks to the Russian government's policy. "When I got there, all the recipients were Russians, except me and my friend", she said.
To date, Ngan has been fully vaccinated with two doses, 21 days apart.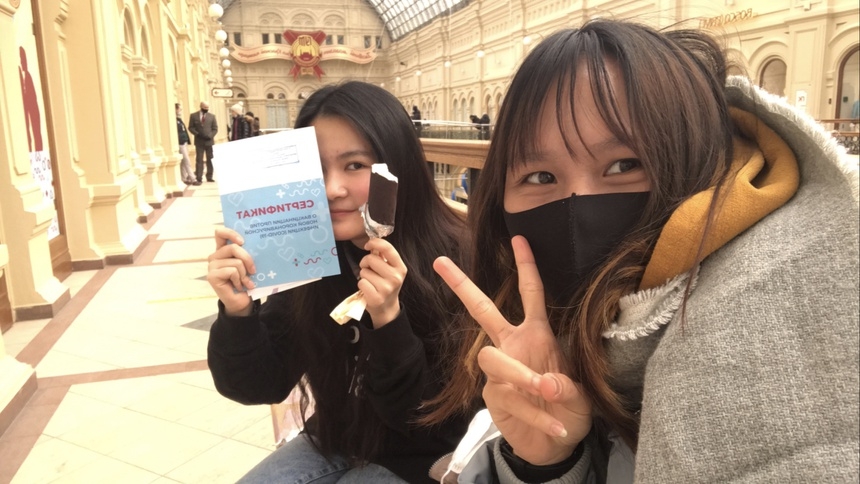 Phuong Thao and her friend holding the vaccination certificate (Photo courtesy of Phuong Thao)
Three cases of COVID-19 were reported in the past 12 hours to 6 pm March 18 with two in the northern province of Hai Duong, and one imported case in the south-central province of Ninh Thuan, according to the Health Ministry. The two new patients in Hai Duong were F1 of previous cases, while the patient in Ninh Thuan returned from the Philippines.
On the morning of March 19, Vietnam has no new cases to report. As of 6 am on March 19, Vietnam had a total of 1601 COVID-19 cases due to domestic infections, of which the number of new cases since January 27 is 908 cases.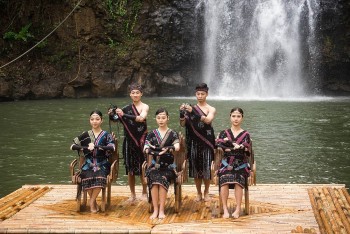 Travel
Many passengers applaud the creativity of the flight instruction video that Vietnam Airlines has recently introduced on their flights. This video not only creatively conveys the message of flight safety but also helps to spread globally the unique, indigenous cultural values ​​of the country and people of Vietnam.