Vietnam continues vaccination campaign with AstraZeneca vaccine
Given there is no blood clots in injected people after five days into the vaccination program, Vietnam continues to give prioritized groups the imported AstraZeneca vaccines.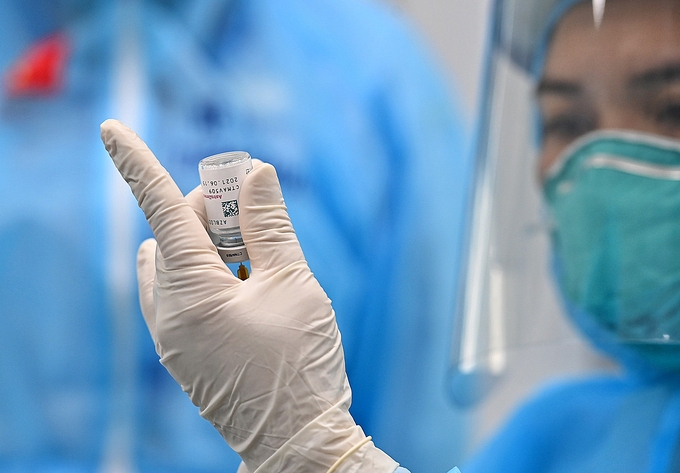 One medical staff preparing for the AstraZeneca vaccine injection (Photo: VNE)
"Vietnam would continue to implement the vaccination program as planned. Recipients would have their health closely monitored after the injection", Professor Dang Duc Anh, Director of the Central Institute of Hygiene and Epidemiology (NIHE), Head of the Steering Committee of the Expanded Immunization Project, was quoted by VNE as saying March 12 morning.
Vietnam has gone 5 days since its first COVID-19 vaccination program kicks off last Monday. Over 1,600 front-line workers have received the first dose of AstraZeneca vaccine. Medical authorities have recorded 6 cases develop grade 2 anaphylaxis following the AstraZeneca injection, all are in stable condition now and under doctor's monitoring. No formation of blood clots reported so far.
The blood clots complication post AstraZeneca injection have reported in several countries in Europe. Following the incident, 9 European countries, including Denmark, Norway, Iceland on March 11, 12 announced to suspend or ban AstraZeneca's vaccine in their COVID-19 innoculation programs. Local authorities are investigating the new dangerous complication.
The European Medicines Agency (EMA), however, advocates the use of the UK's candidate. It said there are just 30 cases displaying blood clots out of over 5 million vaccinated individuals in Europe. Scientists are currently scrutinizing every report of side-effects post AstraZeneca inoculation.
The UK-developed vaccine has been used in 25 nations across the world, including Vietnam. So far, statistics said the most common reactions after getting the vaccine, accounting for over 10 percent, are headache, nausea, muscle pain, joint pain, tenderness, fatigue, restlessness, fever, chills, etc. Less than 10 percent develop redness and swelling at the injection site. Reports from 4 clinical trials with nearly 24,000 volunteers show these symptoms would disappear within 7 days. Such reactions after the second dose are at a much lower rate than the first one.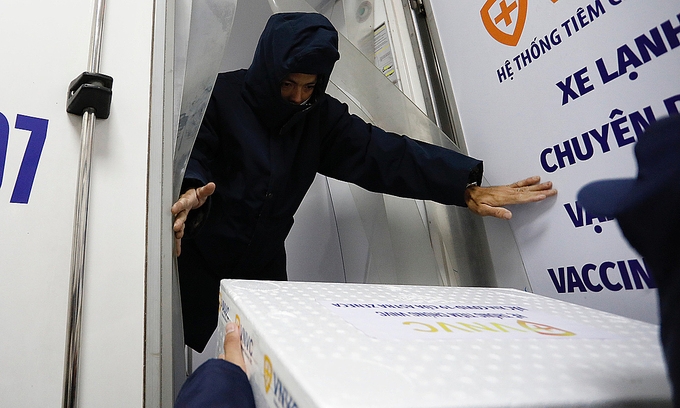 A batch of Covid-19 vaccine is transported from cold storage at the Vietnam Vaccine JSC (VNVC) to the HCMC Hospital for Tropical Diseases for vaccination, March 8, 2021. (Photo: VNE)
The Health Ministry's ongoing COVID-19 vaccination campaign, which uses only UK's AstraZeneca-Oxford vaccine touted as the biggest one in Vietnam so far, has been running in 9 provinces and cities, namely Hai Duong, Hanoi, Gia Lai, Ho Chi Minh City, Hai Phong, Hung Yen, Bac Ninh, Bac Giang, Long An.
On March 11 morning, 630 more prioritized individuals have got the jabs. All are medical staff directly treat and take care of COVID-19 patients, those sampling and testing suspected cases, members of anti-pandemic groups.
The Vietnam Vaccine JSC (VNVC) has ordered 30 million Covid-19 vaccine doses from British-Swedish firm AstraZeneca, with the first batch of 117,600 doses having arrived last month. The batch, produced by South Korean firm SK Bioscience, is being kept in VNVC cold storage to be distributed to 13 cities and provinces with recent coronavirus outbreaks. While exact fees have yet to be disclosed, a $30 million deposit as per the firm's purchase contract has been confirmed.
VNVC and AstraZeneca first began negotiations back in the second quarter of 2020, when the AstraZeneca vaccine had entered its third phase of human trials. For the past six months, VNVC has been developing its own cold chain and storage equipment to house the vaccines, besides training personnel on how to handle them properly, VNE reported. Its handover means the ministry will actively handle the vaccination process.
Besides the 30 million doses ordered, Vietnam would receive an additional 4.1 million, also from AstraZeneca, via global vaccine access mechanism Covax by April. Another 25.9 million doses would be transported to Vietnam, also through Covax, between August and November.
Vietnam is also negotiating with other vaccine manufacturers in the U.S., Russia and some other countries to ensure it could obtain a total of 150 million doses this year to cover 70 percent of its population.
The coronavirus tally so far in Vietnam is 2,535, with 487 active cases.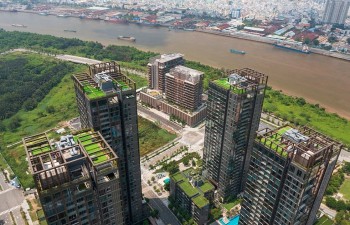 Economy
Vietnam Business & Weather Briefing (August 11): Vietnam to increase coal imports in 2025-2035 period, ten tonnes of Vietnamese longan exported to Australia.