Health Minister: Coronavirus is multiplying twice faster
Authorities are going all out to inhibit the coronavirus, especially the more infectious variants in hotspots before they spread to other localities.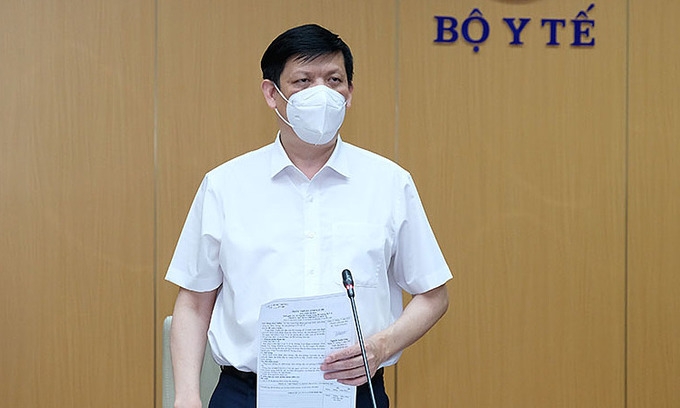 Health Minister Nguyen Thanh Long at the meeting (Photo: VNE)
The new coronavirus variants are more infectious, and can multiply and spread at a much faster speed, Health Minister Nguyen Thanh Long said at an urgent meeting of the Ministry of Health Tuesday afternoon as he called for more drastic testing efforts in hotspots.
Viral gene sequencing of some Covid-19 patients in Bac Giang province, one of the two epicenters in Vietnam, showed the Indian variant has been spreading in the community. WHO has earlier listed the variant as a dangerous coronavirus strain whose infection rate is 1.7 times faster than others. It can evade antibodies and is airborne transmissible.
According to the minister, 55% of F1 (those having close contact with Covid-19 patients) in one industrial company in Bac Giang have contracted the virus. The northern province has been receiving medical support from leading experts across Vietnam, ramping up contact tracing, testing and treatment efforts and cracking down on preventive measures.
"We must contain the virus in Bac Giang by all means or else it would spread to other localities," Long said.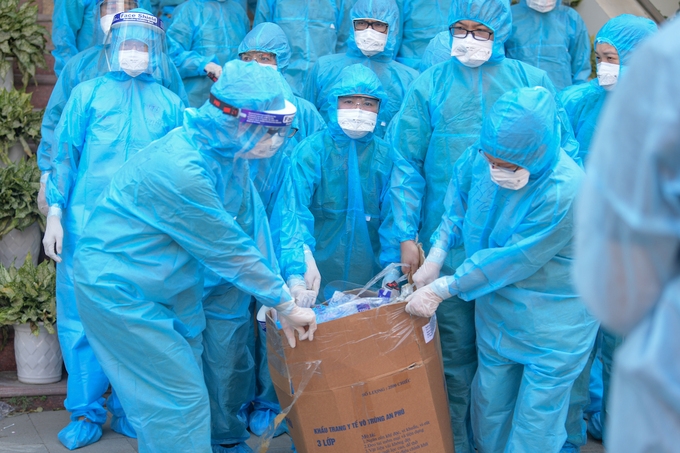 Medical staff transporting samples of workers in one industrial park in Bac Giang (Photo: VNE)
A month into the new wave that started April 27, Vietnam has recorded 2,873 local Covid-19 cases in 30 cities and provinces. Bac Giang and Bac Ninh have suffered the highest infections with 1,454 and 556 cases, respectively. Many industrial parks and companies in the two provinces have been shut, leaving thousands of workers unemployed.
"We are very concerned. Compared to the second wave in the central city of Da Nang, this time, we must step up testing efforts 10 times faster to win over the spreading speed of the new variants," the minister said. "New personnel can undertake the frontline tasks so that others can rest after days of hard work."
The health ministry also assigned four major hospitals in Vietnam to dispatch top experts to Bac Giang for medical assistance. It also called for authorities to devise plans for responding to over 3,000-patient scenarios.
At the GGovernment's regular meeting on Monday, Prime Minister Pham Minh Chinh also tasked agencies to go all out to implement a speedier, more drastic, and effective vaccine strategy. He considered it "a very important factor" in the Covid-19 fight.
Chinh also called for the Ministry of Science and Technology, the Academy of Science and Technology and experts to join Covid-19 vaccine research and production. Authorities must devise appropriate strategies for vaccine rollout, with frontline workers prioritized for the jabs.
The prime minister also suggested establishing a Covid-19 vaccine fund to mobilize resources for the strategy. The money would be sourced from the state budget and donations from organizations, enterprises and benefactors. Donations to and use of the fund must be transparent.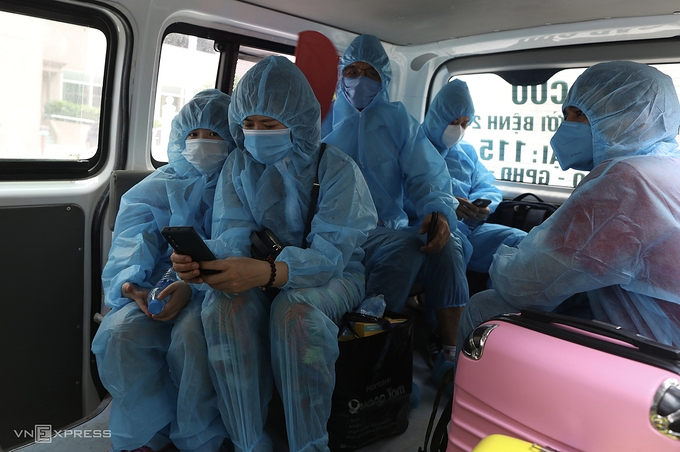 Suspected patients in Hanoi on the way to quarantine centers (Photo: VNE)
Meanwhile, the Vietnam General Confederation of Labor on May 25 proposed that the government add workers to its Covid-19 vaccine priority list. The proposal, if approved, would help protect a large number of industrial workers who are vulnerable to coronavirus but crucial to supply chains.
The list earlier comprised frontline medical workers, other medical staff, soldiers, police officers, teachers, diplomatic personnel, customs and immigration officers, those working in essential services like transport, people aged 65 and above, poor people, those with chronic diseases, people seeking to study or work abroad, and those living in pandemic-hit areas, according to VNE.
The fourth wave of the virus has been predicted as more prolonged and complicated. However, it has basically been put under control as most of the new cases are either under quarantine or from blockaded areas. Infection sources have also been effectively traced.