Health Ministry requires Bac Ninh to ensure safety for medical workers
Deputy Health Minister has required hospitals in Bac Ninh Province to ensure safety for medical workers.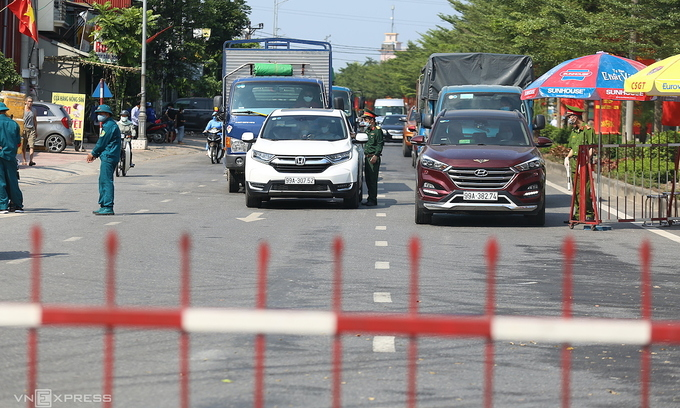 Vehicles are stopped at a Covid-19 checkpoint in Bac Ninh Province, where a social distancing order due to Covid-19 is applied. Photo: VnExpress
Deputy Minister of Health Nguyen Truong Son requested hospitals in Bac Ninh Province to develop processes to prevent cross-infection to ensure safety for medical workers during May 25 visit to inspect the Covid-19 prevention and control in the province.
The deputy minister emphasized the first main goal of the Bac Ninh health sector was receiving, treating, resuscitating and saving from mildly to critically ill Covid-19 patients, Zing News reported.
The second was ensuring absolute safety for patients (including both Covid-19 and common ones) and health workers. He has required hospitals in the province to focus on conducting regular testing and develop processes to avert the cross-transmission.
At the meeting, Director of Bac Ninh Provincial General Hospital Ha Ba Chan said it had screened patients in accordance with the guidance in the National Steering Committee's official dispatch.
The hospital has also applied social distancing at the examination areas and dispensed medicine up to three months for outpatients with stable chronic diseases.
Family members of patients have been given hospital entrant tickets. Each patient has only one caregiver.
In addition, the hospital has established a group to closely monitor the Covid-19 prevention and control in the area.
A month into the new wave that started April 27, Vietnam has recorded 2,873 local Covid-19 cases in 30 cities and provinces. Bac Giang and Bac Ninh suffer the highest infections with 1,454 and 556.

On Tuesday, the nation's daily Covid-19 tally rises to all-time high with 444 cases recorded.