Health ministry: Fourth coronavirus wave basically under control
The latest coronavirus outbreak in Vietnam starts to abate after over one month.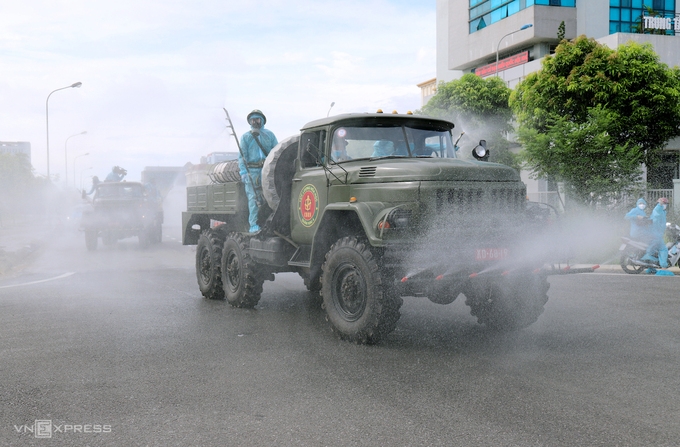 Medical personnel sprays disinfectants in Ha Tinh (Photo: VNE)
As new infections start to slow down, Vietnam has virtually contained the latest resurgence. Still, some cases may appear, scattered in different localities in the coming time, the Ministry of Health said Tuesday afternoon.
Since the onset of the fourth wave on April 27, Vietnam has documented 6,045 infections and 18 deaths. Of the 39 stricken localities, 16 have gone two weeks without new infection, 7 recorded no individuals contracting the virus after close contact with Covid patients.
Most of the new patients at five epicenters, Ho Chi Minh City, Bac Giang, Bac Ninh, Ha Noi, Da Nang, are reportedly either under centralized quarantine or self-isolation.
If provinces and cities well manage the spread of the virus, Vietnam stands high chance of suppressing Covid-19 pandemic in June. However, sporadic cases will still scatter the country, including illegal entrants and individuals having unwitting exposure with coronavirus at old clusters, according to National Steering Committee for Covid-19 Prevention and Control members.
Authorities of Ha Tinh, a new Covid hotspot in central region, on Tuesday issued social distancing order on the entire province as it recorded 10 local infections. The tally as of Wednesday has climbed to 18. Eight of the patients have been discharged from hospitals, 8 under treatment at local medical facilities while 2 critical ones transferred to Hanoi-based Hospital for Infectious Diseases.
Residents are requested to only go out for daily essentials, or for urgent purposes. Anti-pandemic protocols have been strictly deployed. Top experts from Nghe An province are heading to its neighbor for medical assistance.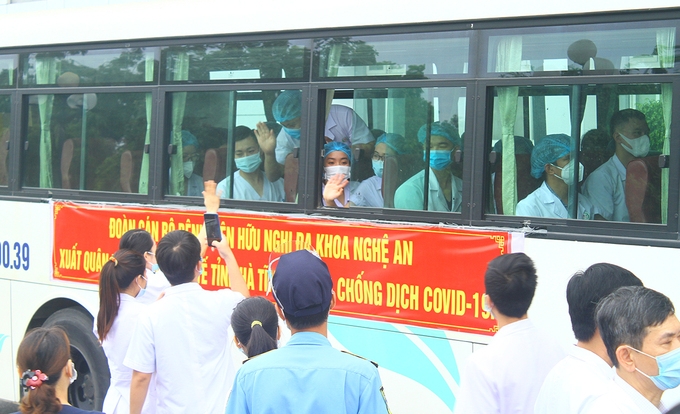 52 medical experts leave Nghe An province for Ha Tinh on June 9 morning (Photo: VNE)
In HCMC, medical staff have taken samples for over 450,000 suspected patients. The sampling and contact tracing efforts is ongoing. The city is treating 507 patients, 32 under serious conditions have been placed in Extracorporeal Membrane Oxygenation (EMCO).
Municipal authorities predict HCMC would still detect new infections in weeks to come, however to a lesser extent than the past few weeks. The city have received over 70,000 doses of AstraZeneca vaccine for the third vaccine rollout which scheduled to finish before August 15.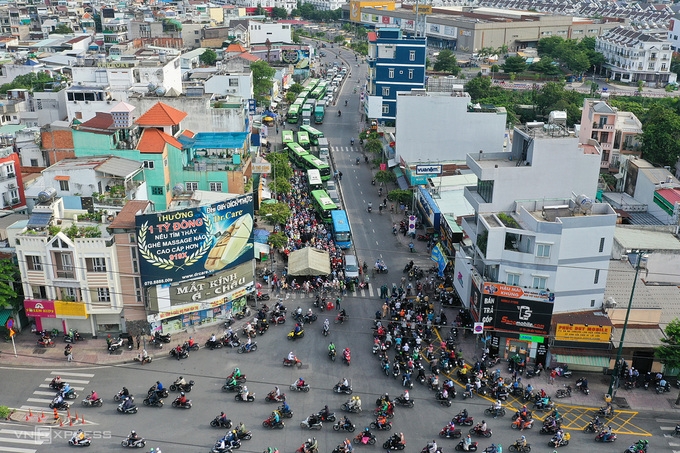 The number of new infections in HCMC has been slowing down (Photo: VNE)
In the last two days, Hanoi found two vegetable vendors at Cua Hang Moi market, Dong Anh district. At least 216 related individuals have been put under centralized quarantine or at-home isolation. The northern metropolis on June 3 detected one new local infection in Ha Dong district after six consecutive days of no such case. The patient's positive test result came out as most of the new cases in the city were from centralized quarantine zones.
(Photo: Lao Dong)
The situation in two hotspots with the largest infection tally, Bac Giang and Bac Ninh is also controlled after enlisting support from other localities. Bac Giang counts 3,333 cases on Wednesday morning while Bac Ninh's stays at 1,164.
Vietnam began its nationwide vaccine rollout on March 8, prioritizing frontline workers like medical personnel, border and police force, Steering Committee for Covid-19 prevention and control members, among others. Over a million shots have been given, around 28,800 recipients have been fully vaccinated.
The country is expecting around 110 million Covid-19 vaccine doses by late 2021. 38.9 million of the doses are from Covax, 30 million via Vietnam Vaccine JSC's contract, 31 million from Pfizer-BioNTech.
Authorities have reportedly been going all out to raise the number to 150 million doses, targeting to cover 75% of the population.
Indigenous vaccines are also being developed, with human trials underway for Nanocovax by Nanogen Pharmaceutical Biotechnology JSC and Covivac by the Institute of Vaccines and Medical Biologicals.
Nanocovax is expected to begin the third phase of trials next week on 13,000 volunteers, and, if everything goes well, could enter production as early as September.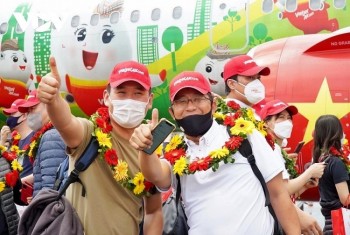 National
Vietnam News Today (Jan. 26): Vietnam reports 15,699 more domestic Covid-19 cases; Vietnam told to reopen to international tourism ahead of SEA Games 31; Germany donates four million more vaccine doses to Vietnam; Vietnam has opportunity to become global leader in renewable energy.