Crowded religious activities to be suspended over Covid concerns
The proposal was made as the authorities try to avoid large gatherings following a new cluster linked to a religious mission in Ho Chi Minh City.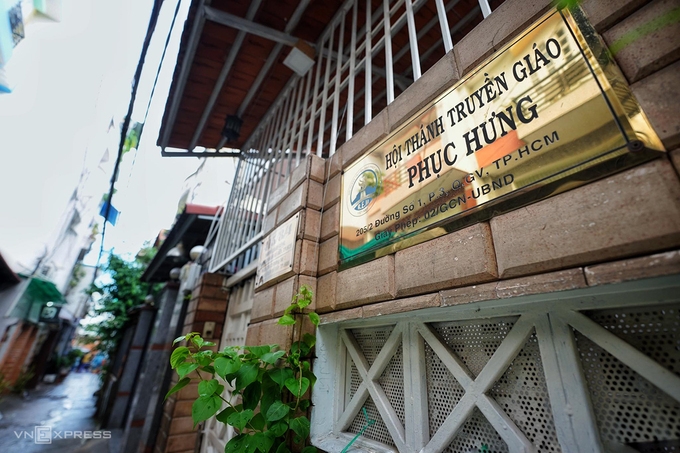 The headquarter of the Revival Ekklesia Mission in Go Vap District, Ho Chi Minh City where the latest cluster broke out (Photo: VNE)
The Government Committee for Religious Affairs requested Friday leaders of religious organizations to halt all gathering activities at places of worship and display warning signs at entrances.
It tasked localities with thorough anti-pandemic guides to dignitaries and devotees. In case there are patients or suspected patients detected, leaders of establishments must immediately work with local authorities for prompt health declarations and contact tracing.
"The fourth wave has new coronavirus variants that are more infectious and deadly, making it more difficult to trace, localize and stamp out the pandemic," the committee wrote.
Therefore, it called for places of worship to promote communication activities to encourage dignitaries, followers, and establishments to strictly adhere to pandemic control protocols, especially those at remote areas or epicenters.
Leaders of religious organizations, establishments, and congregations will be held accountable if their places of worship fail to follow anti-pandemic regulations, resulting in virus transmission in the community.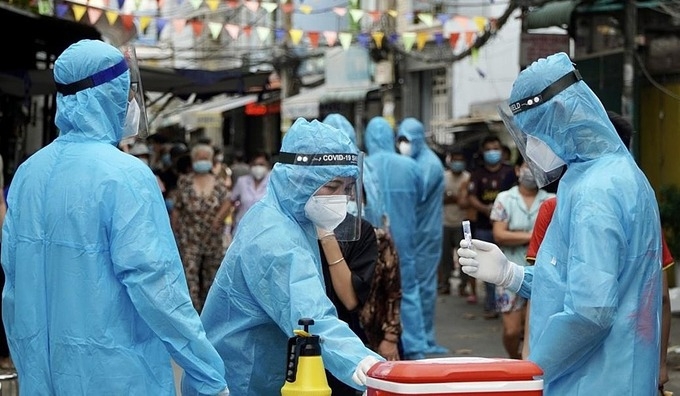 Medical staff takes sample for Covid-19 test at District 8, Ho Chi Minh City on May 31 (Photo: VNE)
The document was issued as Ho Chi Minh city battles its biggest coronavirus outbreak yet, most of the cases are linked to the Revival Ekklesia Mission cluster which has spread to 20 affiliating districts and 8 other localities. Over 400,000 suspected patients with direct or indirect contact with patients have been documented so far. The number is expected to climb.
Covid-19 preventive measures at many religious establishments are still lax, especially at small-sized facilities, resulting in unexpected consequences, according to the document.
The southern metropolis has earlier suspended all religious activities assembling 10 people or over, following the detection of the Revival Ekklesia Mission cluster in Go Vap district on May 26.
On May 3, Nguyen Thanh Phong, chairman of the municipal People's Committee ordered the temporary closure of massage parlors, saunas, cinemas, theatres, and gaming facilities.
Scheduled conferences and workshops were required to reduce the number of attendees. Bars, discos and karaoke parlors were also closed.
Educational establishments across the city switched to online classes. The national high school and university exams, supposed to take place in June and July, are also postponed until further notice.
With a total of 388 infections to date, Ho Chi Minh City authorities are going all out to contain the spread. Last week, the municipal health department said the city would ramp up testing efforts, trying to double daily testing capacity to 100,000 samples, prioritizing the hardest-hit and vulnerable areas.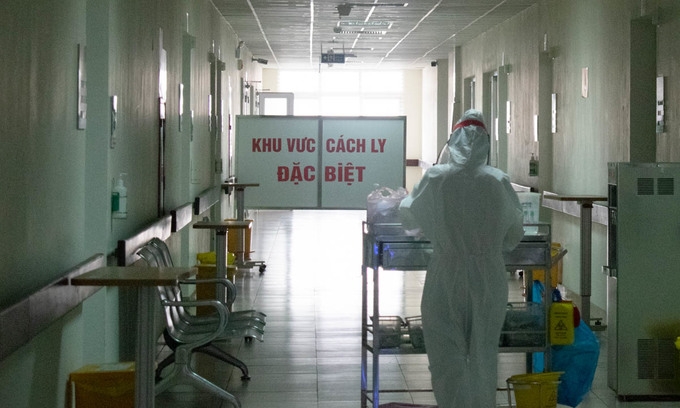 A medical worker prepares drugs and Covid-19 testing samples in a quarantine zone inside Hanoi's National Hospital for Tropical Diseases, February 3, 2021 (Photo: VNE)
Hanoi People's Committee on May 28 signed a document on the suspension of activities at all religious sites and institutions across the capital starting midnight May 29.
All organizations, dignitaries, monks, followers of all religions in Hanoi were asked to strictly comply with anti-pandemic measures and raise their awareness and responsibility. The committee asked city-dwellers to immediately report any suspected patients to local authorities for prompt localization and quarantine.
The municipal committee also encouraged online or broadcast religious activities and rituals to avoid gatherings. Monks and church-goers are advised against inviting foreigners to join religious practices, especially those having been to pandemic-hit areas. Domestic sites should also avoid sending monks and followers abroad for religious purposes during this time.
The heads or representatives of religious sites or institutions will also be held accountable if their organizations disregard Covid-19 prevention and control protocols, including the newly issued suspension.
The novel coronavirus, which stemmed from Wuhan city, China's Hubei province, has spread to 220 countries and territories. In Vietnam, it has affected 8,791 patients, claiming 53 lives. While the two northern provinces of Bac Giang and Bac Ninh are struggling with growing daily tally, central Vietnam is the least affected of the three regions.
In the fourth wave alone, which started on April 27, the nationwide tally has topped 5,666 cases, 17 deaths.