Ho Chi Minh City to receive additional 56,000 Covid-19 vaccine doses
Ho Chi Minh City will receive additional 56,000 doses of the Covid-19 vaccine and give priority to inoculate 42,000 medical workers, 10,000 security and airport staff, etc.
The information was confirmed by the Director of HCMC Department of Health Nguyen Tan Binh at the meeting of the city's Steering Committee on Covid-19 Prevention and Control on April 12 morning. The meeting took place in the context that neighboring countries such as Cambodia and Thailand have reported a surge of new Covid-19 cases in recent days, Vnexpress reported.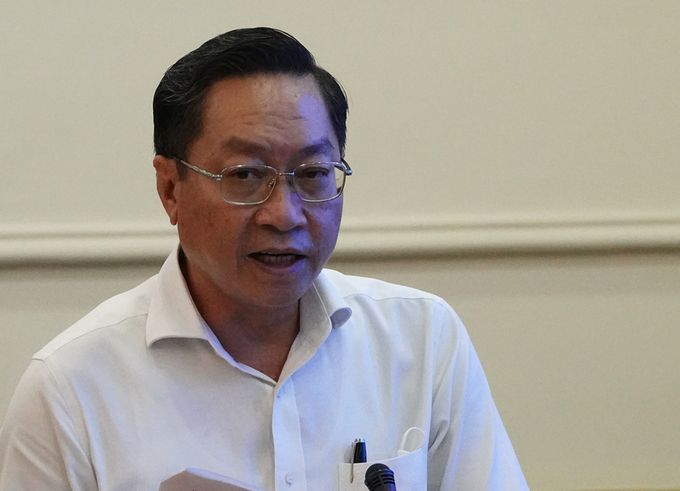 Director of HCMC Department of Health Nguyen Tan Binh at the meeting. Photo: Vnexpress
"The Health Department has mapped out plans and made a list of prioritized groups receiving the vaccine", Binh said, adding that this vaccination phase would be completed before May 15, in accordance with the Health's Ministry general plan.
Binh added that as of April 10, as many as 7.530 medical workers and 1000 police officers involving in epidemic prevention and control in the city have been administered the vaccine. The city Center for Disease Control is expected to receive 1.600 vaccine doses from VNVC this week. This vaccine number will be given to employees at hotels where entrants are put under centralized quarantine.
Chairman of HCMC People's Committee Nguyen Thanh Phong praised medical workers' efforts in implementing the first phase of the immunization campaign.
"HCMC has been allocated the largest number of vaccine, however, the vaccine is only effective in a short time, can't guarantee to cover administration for all residents. The risk of infection remains high, hence, the localities need to stay vigilant and prepare scenarios for each situation", Phong emphasized.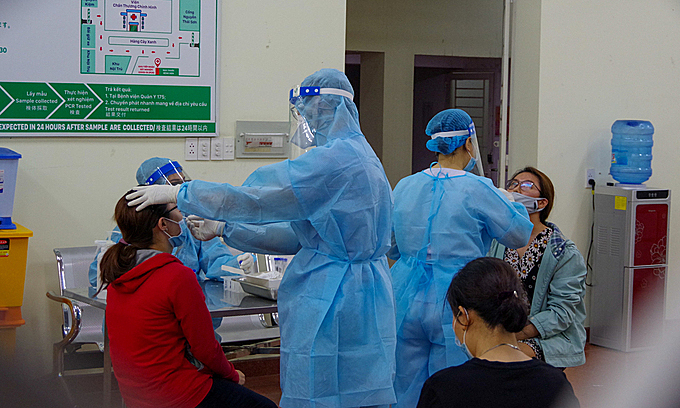 Medical staff in HCMC take samples of residents in infected areas for coronavirus testing. Photo: Vnexpress
HCMC leader said only on April 10, Cambodia and Thailand recorded 477 and 800 Covid-19 cases respectively. The epidemic situation in these two neighboring countries has complicatedly developed. Thus, the city needs to strengthen the pandemic prevention measures even though it hasn't logged any cases over the last two months.
"It's essential to closely monitor the illegal entrants. The city has been facing high risks of infection from the neighboring countries", said Phong, while requiring each locality to actively review the number of entrants. The municipal police need to cooperate with the military units to ensure safety in the reception, transportation, and quarantine towards those illegally entering.
The Southern Metropolis has gone two months without any community transmission cases.
Since Covid-19 broke out in Vietnam, the city has documented 227 cases. 216 people have recovered. 11 people have been under treatment. As many as 2.125 people have been quarantined at centralized facilities and 3 people at home.
Vietnam recorded three new COVID-19 cases in the past 12 hours to 6 am on April 12, lifting the national tally to 2,696, the Ministry of Health (MoH) said.

All the new infections are imported cases and have been quarantined since their arrival in the country.

According to the MoH's Medical Service Administration, 2,429 patients have successfully recovered as of April 10, while the death toll remained at 35.

Among active patients undergoing treatment at medical establishments nationwide, 22 tested negative to coronavirus SARS-CoV-2 once, 11 twice and 17 others thrice.

The ministry reported that an additional 6,005 people were given COVID-19 vaccinations from April 5-11, bringing the total number of vaccinated people to 58,418.