Hearty Chicken Soup Recipes for Chilly Nights
Cozy up this autumn with these fall soups.
Research suggests that any soup (as well as hot drinks) can loosen congestion and help keep you hydrated when you're feeling under the weather. These chicken soup recipes can still help you get back on your feet fast.
Lotus Root and Chicken Soup
Lotus roots contain many different nutritious that has many benefits for your health. Not only is it a versatile ingredient in the kitchen, but it's also incredibly healthy. High in fiber, Vitamin C, magnesium and completely fat-free, lotus root is great for controlling blood circulation, blood pressure and overall digestive health.
Lotus roots are still main material for many dishes as lotus root soup. There are several ways to cook the dish but the most popular one is to stew lotus roots with pork/chicken leg.
Ingredients:
1/2 kg chicken, cut into big pieces; 350 g lotus root, sliced; 2 carrots, cut into chunks; 1/4 cup dried peanuts/red beans; 3 dried scallop, soaked overnight (optional); 1 L water; 3 cups chicken broth.
Preparation:
Blanch chicken in a pot of boiling water for 5-8 minutes. Rinse chicken with water and set aside.
Wash and cut all the ingredients. Bring 2.5L of water to rolling boil, add all the ingredients and over medium high fire boil it for 30 minutes.
Turn fire to low and simmer for 1.5-2 hours. Season the soup with Chicken Stock Cube and salt, taste and adjust the seasonings to your preference. Continue to cook for another 15 minutes. Serve hot.
Chicken Soup with Pineapple and Bitter Melon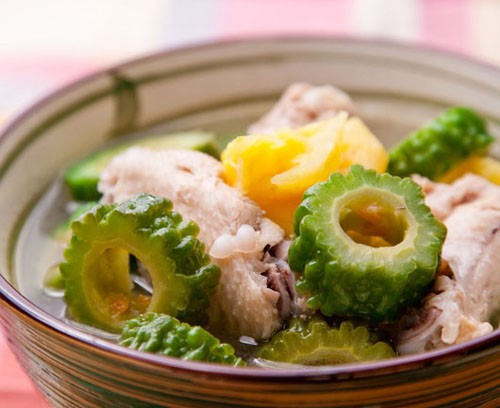 Chicken Soup with Pineapple and Bitter Melon (Sup ga voi dua va muop dang)
Chicken Soup with Pineapple and Bitter Melon comes from many amazing Vietnamese chicken recipes. If you love chicken, but get boring with old ways for cooking. This is a good choice, especially in hot days. Moreover, if you want to get perfect body, especially men, eating chicken is always a good choice. Bitter melon is really fresh. It can help reduce heat inside body and make your skin more beautiful.
Ingredients:
300gr chicken meat; 1 bitter melon (medium size); ¼ pineapple fruit; 700ml chicken/pork broth; salt, coriander.
Preparation:
Clean chicken meat in water added a little salt. Wait to dry and chop into medium pieces. Clean bitter melon, throw away seeds. Then, slice thick (2cm). Peel off the cover of pineapple, cut off eyes. Clean and slice into medium pieces.
Boil broth with medium heat, then add chopped chicken meat + ½ teaspoon salt into pot, cook about 15 – 20 minutes. Sometime, you should spoon away dirty bubble on face of broth.
Add sliced pineapple into pot and cook more 5 – 7 minutes. Then add more sliced bitter melon, cook more 1 -2 minutes. Next, season to suit your flavor. Turn off the heat.
Finally, your dish is ready to serve. Using with boiled rice is absolutely delicious. You can use when it is hot or cold. Before using, remember add more sliced coriander on soup.
Stewed Spicy Chicken with Vegetable
The natural sweetness from vegetables is combined in chicken with a little spicy flavor will create a fantastic dish for your family meal. When the weather changes colder, this dish is the best choice. Eating with steamed rice never let you down.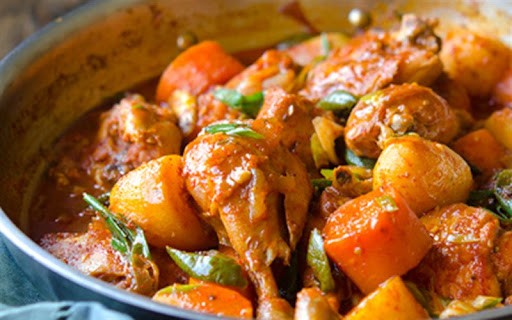 Stewed Spicy Chicken with Vegetable (Ga nau rau cu cay)
Ingredients:
1,5kg chicken meat; 2 carrots, 1 onion, 500g potatoes; 3 tablespoons Korean chili paste; 4 tablespoons soy sauce; 2 teaspoons sesame oil; 1 tablespoon chili powder; spring onion and garlic.
Preparation:
Clean well chicken, chop into medium slices. Mix soy sauce, sesame oil, Korean chili paste, chili powder, miced garlic into bowl and stir well.
Pour sliced chicken into bow and use hands to mix with spices you made earlier. Wait in 1 – 2 hours.
Pour chicken into pot, pour more hot water until it reaches the top of chicken meat, cook with medium heat. Cook until it boils again and reduce the heat to small, continue cooking until the chicken is cooked.
Then, add sliced carrot and onion into pot Cover the pot and cook until carrot is soft. Continue adding more sliced spring onion on top. Finally, you can turn off the heat and serve when it is hot.
Chunky Chicken Noodle Soup
The veggies and hearty noodles in this homemade soup pack some filling fiber into the warming dish. Opting for whole-wheat noodles will add even more. While sodium is still high in this recipe, stirring up your own pot cuts down on the amount typical store-bought brands have.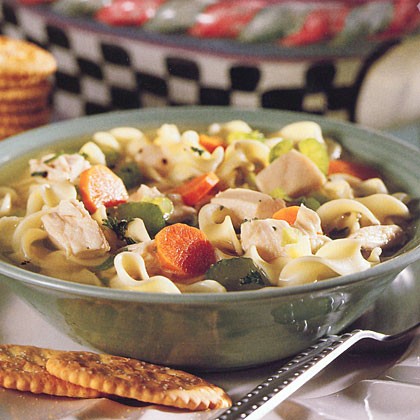 This soup is crafted with big pieces of chicken meat with no antibiotics, chunks of quality vegetables and enriched egg noodles.
Ingredients:
1 (3-pound) broiler-fryer, cut up and skinned; 4 cups water; 3/4 teaspoon poultry seasoning; 1/4 teaspoon dried thyme; 3 celery tops; 2 cups water; 2 ounces uncooked medium egg noodles; 1/2 cup sliced celery; 1/2 cup sliced carrot; 1/3 cup sliced green onions; 2 tablespoons minced fresh parsley; 2 teaspoons chicken-flavored bouillon granules; 1/4 teaspoon coarsely ground black pepper; 1 bay leaf; additional coarsely ground black pepper (optional).
Preparation:
Combine first 5 ingredients in a Dutch oven; bring to a boil. Cover, reduce heat, and simmer 45 minutes or until chicken is tender. Remove chicken from broth, discarding celery and reserving broth.
Skim fat from broth. Add 2 cups water and next 8 ingredients to broth; bring to a boil. Cover, reduce heat, and simmer 20 minutes.
Bone and chop chicken; add to broth mixture. Cook 5 minutes or until thoroughly heated. Discard bay leaf. Ladle soup into bowls, and sprinkle with additional pepper, if desired.
Chicken and Wild Rice Soup
Light cheese and a flour-and-milk mixture keep this soup creamy but surprisingly low in fat. Wild rice, a whole grain, adds an earthy flavor and a host of vitamins and nutrients to the dish.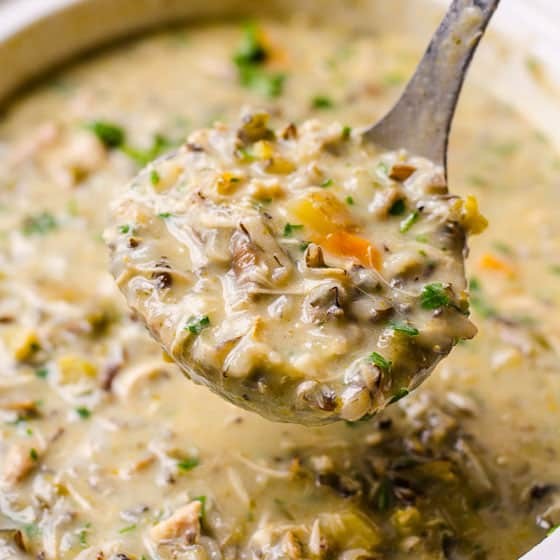 Slow cooker chicken and wild rice soup.
Ingredients:
1 cup uncooked quick-cooking wild rice; cooking spray; 1 cup chopped onion; 2 garlic cloves, minced; 3 cups chicken broth; 1 1/2 cups cubed peeled baking potato; 3 cups 2% reduced-fat milk; 1/3 cup all-purpose flour; 10 ounce light processed cheese, cubed (such as Velveeta Light); 2 cups chopped roasted skinless, boneless chicken breasts (about 2 breasts); 1/2 teaspoon freshly ground black pepper; 1/4 teaspoon salt; 1/4 cup chopped fresh parsley (optional).
Preparation:
Cook rice according to package directions, omitting salt and fat.
Heat a large Dutch oven over medium-high heat. Coat pan with cooking spray. Add onion and garlic; sauté 3 minutes. Add broth and potato; bring to a boil over medium-high heat. Cover, reduce heat, and simmer 5 minutes or until potato is tender.
Combine milk and flour, stirring well with a whisk. Add the milk mixture to potato mixture; cook 5 minutes or until slightly thick, stirring constantly. Remove from heat; add cheese, stirring until cheese melts. Stir in rice, chicken, pepper, and salt. Garnish with parsley, if desired.
Chicken Noodle Soup with Spinach
Leafy greens like baby spinach are a great source of immune-boosting vitamin C. Flavorful Parmesan cheese and zesty nutmeg will please even the stuffiest of noses.
Ingredients:
2 teaspoons olive oil; 1 teaspoon minced garlic; 3 (14-ounce) cups chicken broth; 2 skinless, boneless chicken-breast halves; 1 (1-inch) cube Parmesan cheese, preferably with rind; 1/4 teaspoon salt; 1/4 teaspoon freshly ground black pepper; 1/4 teaspoon grated whole nutmeg; 1/2 cup uncooked tubetti (tiny tube-shaped pasta) or other small pasta; 1 (5-ounce) package baby spinach; 1/4 cup shaved fresh Parmesan cheese.
Preparation:
Heat oil in a large stockpot over medium-low heat. Add garlic; cook 10 seconds or until fragrant. Add broth, chicken, Parmesan cube, salt, pepper, and nutmeg. Bring to a boil; reduce heat to medium, and simmer 10 minutes. Remove chicken; set aside. Remove Parmesan cube; discard.
Return broth mixture to a boil. Add pasta; simmer 9 minutes or until pasta is tender.
Cut chicken-breast halves into thin strips; return to soup. Stir in spinach, and simmer 1 minute or until wilted. Divide soup evenly among 4 bowls; sprinkle with 1/4 cup shaved Parmesan cheese.
Chicken and White Bean Soup with Greens
Beans are packed with protein and fiber to help keep you full when you're feeling under the weather. Kale and spinach offer a host of feel-better vitamins and nutrients.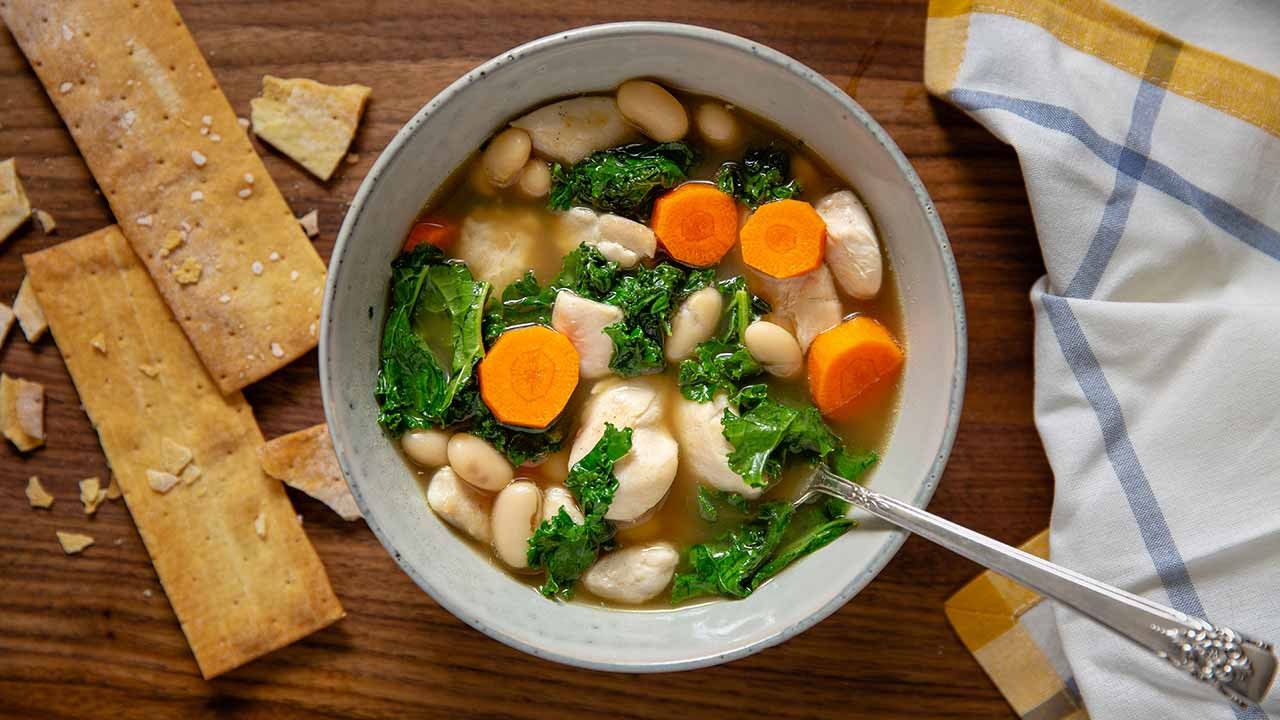 This soup has simple, clean flavors, and most of the cooking time is an unattended simmer.
Ingredients:
1 tablespoon olive oil; 1 1/4 cups thinly sliced leeks, white part only; 1 large garlic clove, crushed; 1/2 cup (1/4-inch-thick) slices carrot; 6 cups chicken broth; 1 1/2 cups skinless, boneless, shredded, rotisserie chicken; 1 (2-inch) fresh rosemary sprig; 1 (19-ounce) can cannellini beans, rinsed and drained; 1 cup packed roughly chopped fresh kale; 1 cup packed baby spinach; 1/4 teaspoon salt; 1/4 teaspoon freshly ground black pepper; 1 tablespoon chopped fresh parsley.
Preparation:
Heat oil in a stockpot or Dutch oven over medium heat. Add leeks and garlic; cook, stirring occasionally, 3–4 minutes or until tender but not browned. Add carrots, and cook, stirring for 1 minute. Add broth, chicken, and rosemary; bring to a boil. Reduce heat, and simmer 5 minutes, skimming occasionally.
Add beans and kale, and simmer for about 5 minutes more. Add spinach, and cook 2–3 minutes more or until tender. Season with salt and pepper.
Remove rosemary sprig and garlic clove. Ladle soup into 6 warm bowls; sprinkle each with 1/2 teaspoon parsley.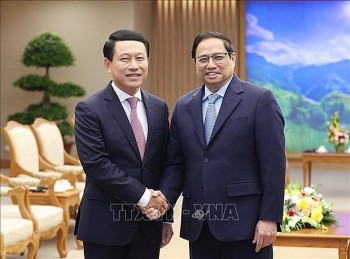 Friendship
Lao Foreign Minister Saleumxay Kommasith visited Vietnam to co-chair a conference to raise knowledge about policies and laws related to the Vietnam-Laos border, held in the central province of Nghe An from December 5 to 7.