H'Hen Nie, Israeli Diplomat Call for End to Violence Against Women
Let's Orange the World to end violence against women on in response to International Day for the Elimination of Violence Against Women - November 25
H'Hen Nie, Miss Universe Vietnam 2017, joined Shirel Levi, deputy ambassador of Israel to Vietnam, in a video clip calling for greater protection of women and no violence against women in response to International Day for the Elimination of Violence Against Women.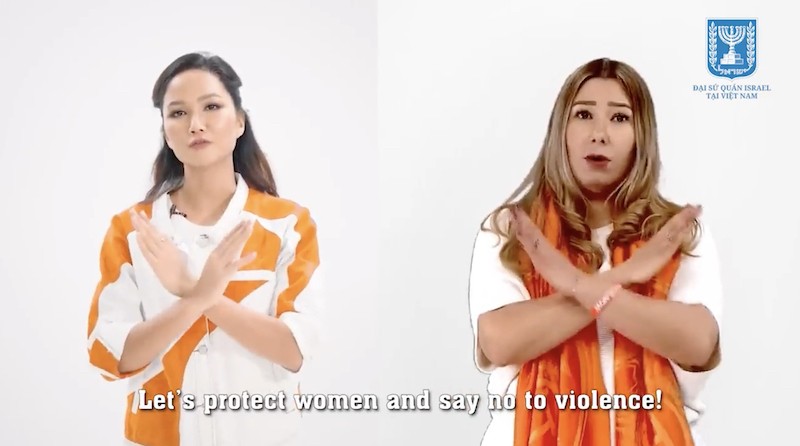 Ending violence against women is everyone's business. Photo: English VOV
Women and girls continue to suffer discrimination and violence across the world. Gender equality is not only a fundamental human right, but a necessary condition for a prosperous, sustainable and peaceful world.
Nie shared that 2 out of 3 women in Vietnam suffered from physical, mental, sexual violence and economic violence. They are also victims of behavioral control from their husbands. They are not safe in their own homes and this leaded to serious consequences in life.
These forms of abuse take place all around us whether it is in private or public places. In addition, there is an increasing amount of violence happening on the Internet.
According to UN Women Vietnam, H'Hen Nie is active in promoting positive messages and actions on gender equality, such as her question about the global movement #MeToo. In particular, at Miss Universe 2018, she emphasized that "I don't think #MeToo has gone too far because protecting people, protecting women against sexual abuse is a significant part of human rights. We need protection and freedom in everyday life."
COVID-19 has exacerbated all the risk factors for Violence Against Women and Girls (VAWG), including unemployment and poverty, and reinforced many of the root causes such as gender stereotypes and harmful social norms.
According to UNWOMEN, it has been estimated that 11 million girls may not return to school because of COVID-19, thereby increasing their risk of child marriage. The economic fallout is expected to push 47 million more women and girls into extreme poverty in 2021, reversing decades of progress and perpetuating structural inequalities that reinforce VAWG.
Among Nie, Deputy Ambassador Shirel Navy stressed that 58% of Vietnamese woman was reported to be victims of at least one form of family violence: physical, mental, and sexual. Thus, during the Covid-19 pandemic, violence against women has increased.
Female population demanded violence against women to be part of the country's national response to COVID-19, and male allies challenged harmful ideas about masculinities.
The two feminists called for greater effort to achieve these goals and stated that it is high time we all understand what is Violence Against Women and Girls (VAWG) and learn to respect all genders. For women and girls across the country, they are encouraged to seek for help when suffering from any kind of violence and abuse.
The video sent the message that ending violence against women is everyone's business and you can make a difference by simply speaking up if encounter women and girls being mistreated or abused.
Finally, in perfect harmony, they both chanted "Let's protect women and say no to violence!".
Video source: VOV
Orange Day: The world turns orange
The color orange is chosen by UN Women to symbolize a future without violence against women. Photo: ElleMaraa
Every 25 November is the International Day for combating all forms of discrimination and violence against women, established in 1999 by the United Nations General Assembly.
The day is also known as Orange Day because the color orange is recognized across the world as that chosen by UN Women to symbolize a future without violence against women.
This date was chosen to commemorate the brutal killing of the Mirabal sisters, political activists in the Dominican Republic. On 25 November 1960, three women went to visit their husbands in prison when they were stopped on the road by military intelligence officers. They were tortured, massacred, and then thrown off a cliff in their car to make it look like an accident. It was immediately obvious to the public that the Mirabal sisters had been murdered. The ensuing rebellion soon led to the death of the country's dictator.
If you live in Vietnam and suffer from violence, please contact:
CSAGA: 024 3333 55 99
Peace House Shelter: 1900 969 680
Anh Duong House: 1800 1769
National hotline for child protection: 111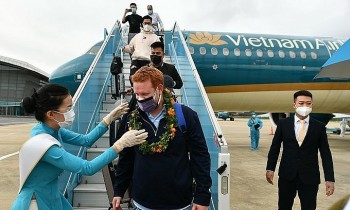 National
Vietnam News Today (Jan. 29): Vietnam records 14,892 new local Covid-19 cases; PM orders prioritizing pandemic control for safe and warm Tet; Vietnam scraps rapid Covid test requirements for int'l passengers; Vietnam-Australia trade hits all time high in 2021.