Ho Chi Minh city police hunt for Chinese escapees from quarantine facility
Relevant agencies are hunting for two Chinese citizens who managed to escape from a concentrated quarantine facility in Ho Chi Minh City's Cu Chi district.
The two escapees, with one born in 1999 and the other in 2000, are Chinese who are among 11 Chinese citizens illegally entering Vietnam, according to Nguyen Huu Hoai Phu, chairman of the Cu Chi District administration, VOV reported.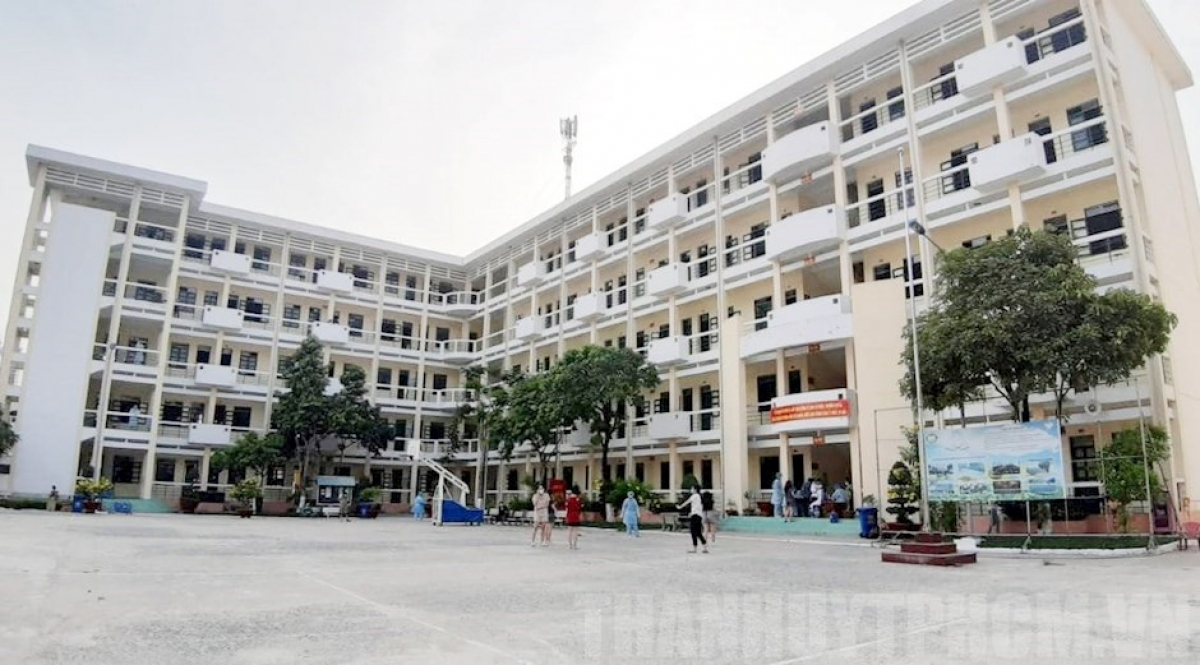 A concentrated quarantine facility in HCM City. Photo: VOV
"The group was transferred to Cu Chi for quarantine and medical surveillance according to COVID-19 rules five days ago," said Phu at a meeting of the HCM City Steering Committee on COVID-19 Prevention and Control on May 3.
"The two Chinese citizens might have fled to neighboring districts," the official speculated, adding that the Cu Chi facility is now quarantining a person who had come into close contact with a COVID-19 patient of Ha Nam province.
At the meeting, Nguyen Thanh Phong, chairman of the municipal government, asked relevant agencies to tighten COVID-19 prevention and control measures, especially for illegal entrants.
"We need to make sure that there are no loopholes in the management and monitoring in concentrated quarantine facilities," said Phong.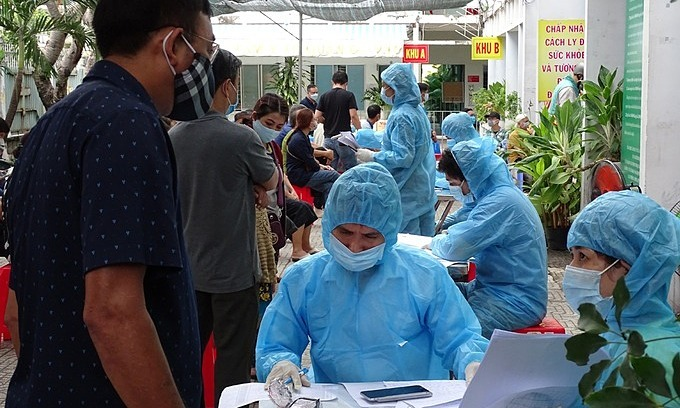 HCMC medics take samples from people arriving from Da Nang, then a Covid-19 hotspot, for testing, July 31, 2020. Photo by VnExpress/Ha An.
He also unveiled that relevant forces have detained more than 100 illegal entrants during the past month, but warned the real figure could be much higher.
"For these cases, our view is to strictly handle according to the law," said Phong.
The maritime border unit under the HCMC Border Guard Command has set up five checkpoints to control the spread of Covid-19, said Colonel Nguyen Quoc Hung, deputy head of the HCMC Border Guard Command cum Head of the Steering Committee for Covid-19 prevention and control at border gates in HCMC.
The checkpoints are responsible for frontline border control operations at sea, controlling all incoming and outgoing vessel traffic to prevent illegal entry to the mainland for the purpose of guarding against the virus.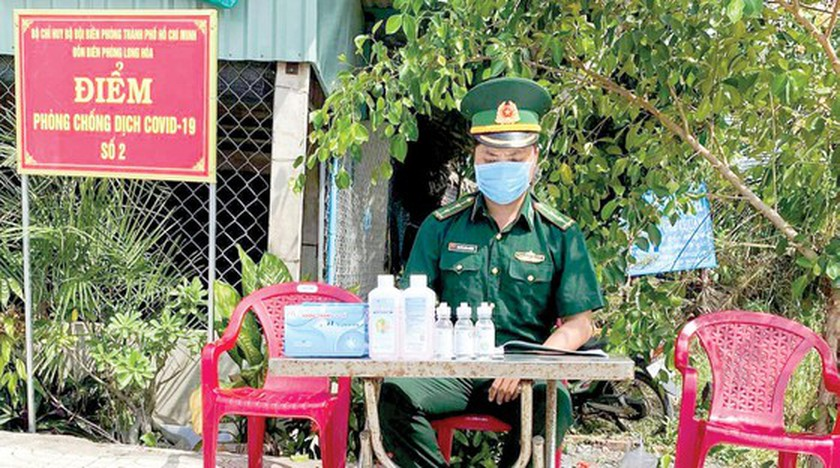 Long Hoa border station in Long Hoa Commune, HCMC's Can Gio District. Photo: Sggpnews
Only vessels are allowed to dock at ports to pick up and deliver goods while crew members are banned to leave the ship to enter the city.
In addition, the maritime border unit has also established 24 monitoring teams that will coordinate with ports and international quarantine agencies to stop sailors' illegal entries into the city. A system of inspection cameras will be available 24 hours a day, 7 days a week at ports, according to Sggpnews.
Ho Chi Minh City shut its theatres, massage parlors, spas, and gaming cafes starting Monday afternoon amid new coronavirus outbreaks.
In HCMC, the businesses have been ordered closed from 6 p.m. Monday, said Nguyen Thanh Phong, chairman of the municipal People's Committee.
Sporting events and non-urgent meetings and conferences would also be suspended, he said. If they are conducted within this week, the number of attendees must be limited, he added.
Religious institutions would also have to limit the number of participants for their events, he said.
Phong said people would return to HCMC following the 4-day holiday ending Monday in large numbers, so control must be tighter than ever.
Previously, the southern metropolis had suspended all its bars, dance clubs and karaoke parlors starting April 30, the first day of the four-day Reunification Day and International Workers' Day holiday, amid recent coronavirus outbreaks recorded in the country since last Thursday.
Phong noted several facilities in the city have neglected coronavirus prevention measures like mask wearing or keeping a safe distance. The Dam Sen water park in District 11 has had to suspend operations for a week starting Monday due to its negligence, he added.
Vietnam has 19 new cases of COVID-19 to report for the past 12 hours to 6pm of May 3, according to the Health Ministry.
Nine of the new cases were imported ones. The domestic cases were eight in Vinh Phuc and two in Ha Nam.
The new cases brought the national count to 2,981.
Also on May 3, 11 patients were given the all-clear, raising the total recoveries to 2,560 patients. The death toll remains at 35.
Among the patients under treatment, 24 have tested negative for the coronavirus once, 12 twice and 38 thrice.
A total of 39,870 people who had close contact with COVID-19 patients or arrived from pandemic-hit areas are being quarantined nationwide.
After locally infected cases were detected in late April, localities around the country are tightening epidemic prevention measures.