Ho Chi Minh City Strengthens Efforts Against COVID-19 Spread
Ho Chi Minh City, the nation's current largest hotspot for COVID-19 infections (F0s), are stepping up measures to curb the outbreak in the country's biggest city.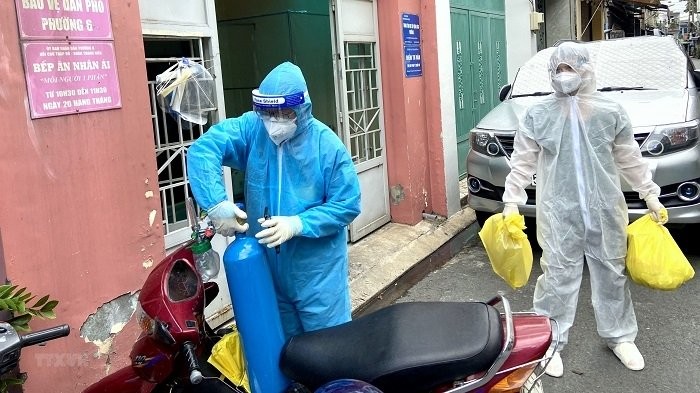 Military medical staff at Mobile Medical Station No. 1, Ward 6, Tan Binh District, Ho Chi Minh City, bring necessary equipment to the houses of COVID-19 infections for home treatment. (Photo: VNA)
On August 26, Politburo member cum Secretary of the Ho Chi Minh City Party Committee Nguyen Van Nen held a working session on epidemic prevention and control with authorities in Vinh Loc B Commune, Binh Chanh District.
Nen praised Binh Chanh District in general and Vinh Loc B Commune in particular for their great efforts and solutions to prevent the spread of COVID-19 in the community, while effectively implementing social security measures.
On the same day, Deputy Prime Minister Vu Duc Dam inspected the prevention and control of COVID-19 in District 6 and Binh Tan District, during which he requested mobile medical stations to closely follow the people, with the support of military medical forces, thus responding immediately to all requests for support regarding people's healthcare.
As of August 25, 403 mobile medical stations have been established across the southern hub, according to the Ministry of Health (MOH).
Dam urged the districts to continue to implement strict social distancing, ensure the well-being of 100% of local people, and respond or visit as soon as possible when people call to ask for help. The districts also need to deploy further testing teams in less dense areas, and also in temporary safe areas, to closely assess the situation for the preparation of drugs and isolation camps.
Also on August 26, Deputy Prime Minister Le Van Thanh inspected industrial parks and export processing zones in Ho Chi Minh City. He emphasised the requirement that, before going into production, businesses must ensure that workers have tested negative for SARS-CoV-2 and that the production line is properly arranged to ensure the distancing rules, ensuring absolute safety against the disease while the production must also be safe. This is the premise for maintaining and ensuring production amid COVID-19, Thanh stressed.
That same day, at the inspection in Ward 5, District 8, Health Minister Nguyen Thanh Long suggested that local authorities closely follow each residential group, each alley and each person to thoroughly ensure that everyone strictly observes the regulations on epidemic prevention and control, while operating mobile medical stations to bring medical care to the nearest people.
From August 27, the MOH and the Department of Health of Ho Chi Minh City will introduce the home-grown antiviral drug Molnupiravir into the community to treat F0s. More than 2.3 million Molnupiravir 400 mg capsules, manufactured by Stellapharm Vietnam Joint Venture Company Limited, will be provided to 116,000 F0s in the community in Ho Chi Minh City.
The ministry has allocated 103,680 vials of Remdesivir to 33 units for the treatment of COVID-19, including 12 hospitals and 21 health departments of provinces and cities. To date, over 173,000 vials of Remdesivir have been issued to treat severe, high-risk COVID-19 patients (people over 65), and those with underlying diseases and obesity.
Nhan Dan Online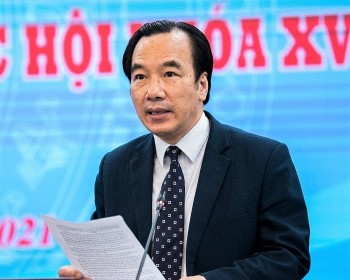 Focus
Consolidation of personnel; building and expanding the network of Malaysian partners; strengthening communication, and contributing to introducing to the people, especially the young generations of the two countries about the country and people of each side... are the focus of the Vietnam-Malaysia Friendship Association in the coming time. Chairman of the Association, Ngo Sach Thuc hopes that "people-to-people diplomacy will continue to be a pioneer in bringing the two countries and cultures closer to the goal of cooperation and integration".